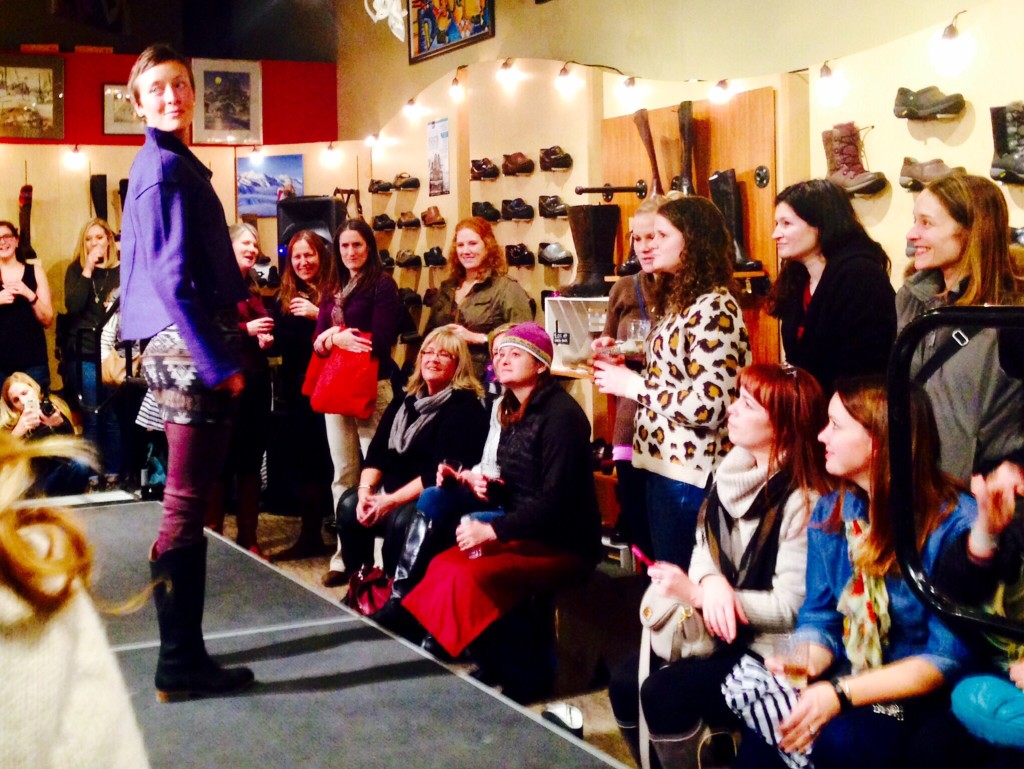 The Skinny Raven Best in Boots fashion show should have been part of my hottest tickets in town post… except that THIS year, I scored a ticket! And boy oh boy, it did not disappoint!
The event, a fundraiser for the YWCA (all ticket sales go to the nonprofit), is a potent combination of wine,  apps, music (awesome as always, DJ Spencer Lee!), fun and friendly salespeople, bunches of friends, and local athletes/fashionistas modeling beautiful clothing (and boots, of course!) that you already want to buy, but now you have the added incentive of a 30% off coupon… trouble for the ol' pocketbook for sure and an easy win for Skinny Raven. I think sales were pretty brisk last night!
The runway snaked through the store and even though it was crowded, everyone could catch a glimpse of the clothes being modeled; my favorites were an "I Love Coffee" shirt, a blue and gold Smartwool jacket, Ariat boots with a Pendleton blanket detail, and surprisingly, all things Sorel*… truthfully though, I loved just about everything I saw. Attendees received Baggu gift bags with Smart Wool socks, a coupon for a free KBC coffee, Frye weatherproofing dressing for leather footwear, an the aforementioned coupons for Skinny Raven and Her Tern.
As I looked around the room, I felt like it was the epicenter of what I consider Anchorage style. A far cry from the runways of New York, Paris, and Milan but utterly perfect for our little piece of the world. Layers, colors, patterns, wool, fleece, all things puffy, and of course boots, boots, boots. I couldn't help but think that our look is sooooo much more interesting and far less pretentious than the dictates of Fashion Week. Probably because it's not just a look, it's a lifestyle, a lifestyle in a place where you never know what the weather will bring (snow, we hope!!!), where you can go from playing outside to dining on something delicious without an outfit change, where your "coolness" is measured by your exuberance for life, and style is whatever you make it.
Cheers to Anchorage style and a ridiculously fun evening with Skinny Raven!
*When did Sorel get so stylish? About three years ago I stared noticing that their boots were decidedly better looking than the clodhoppers of my childhood and they get better every year. Whatever you're doing, Sorel, keep doing it! Comfy, good on snow and ice, and CUTE. Can't go wrong there!