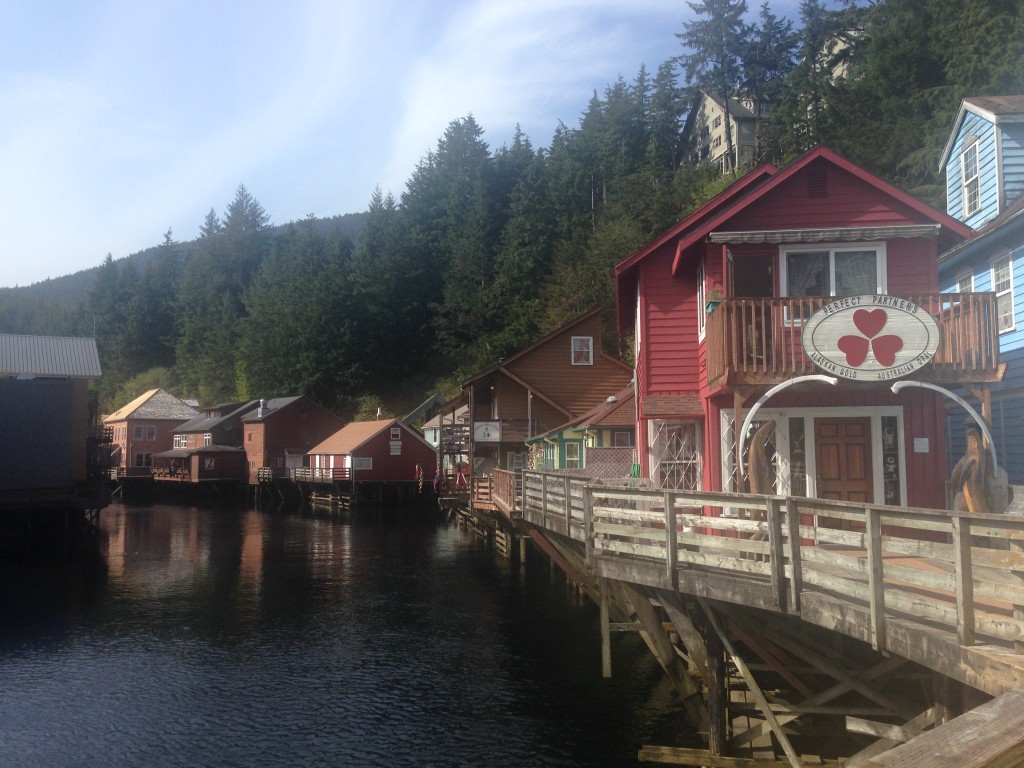 Last week was my first visit to Alaska's first city: Ketchikan. Like the other Southeast Alaska towns I've visited (and loved!) it offers the ocean on one side and mountains on the other – the best of both worlds! It was 60 degrees and sunny while I was there, and I didn't touch my rubber boots or raincoat once; apparently, this is not normal.
Here are a few highlights to share with you:
The maritime culture in Ketchikan is strong; it's home to fisherman and shipbuilders, and nautical themes are everywhere. Except that in Ketchikan, it's not a theme, it's a lifestyle.
When you fly into Ketchikan, you land on Gravina Island, and then take a five-minute ferry ride to town, which seems a bit inefficient but was so much fun (the novelty probably wears off when you live there, but I loved it).
We visited Totem Bight State Park, which includes a Clan House and traditionally made copies of original totem poles. Standing in the evening light with the totems behind us and the ocean in front of us, smelling the scent of the sea mixed with sun-warmed pines was one of those perfectly peaceful moments that you cannot plan, only appreciate when it comes along.
Riding the Cape Fox funicular offered great city views and a small thrill of danger – there were rumors it wasn't working properly; unfounded apparently. We arrived safely a Creek Street.
Speaking of Creek Street (pictured above), it's just as cute in person as it is in pictures. Based on the informational signs, a startling number of the houses seem to have been brothels back in the day (boasting "bootlegged booze, loose women, hot music and rowdy customers"); now, they're mostly galleries like Ray Troll's Soho Coho, gift shops, and restaurants. I loved leaning over the railing and watching the minnows swim below, and wondered if anyone ever just jumps in for a quick swim.
If you visit Ketchikan and your energy is flagging, stop by The Point for one of Barb's Anti-Depressant Fiber and Protein Cookies (dark chocolate, cherries, pistachios, and oatmeal – so good). If you get lucky, you can watch a seal playing in the harbor next door while you eat a treat in the name of rejuvenation.
We stopped by a community party at the Great Alaskan Lumberjack Show grounds (no real lumberjacks were spotted, although there was a preponderance of flannel shirts and beards mixed in with the boho/hippie/patagucci vibe) for tacos and live music in the sunshine.
Fat Stans is a wine bar/bottle shop with funky  multicolored vinyl diner-style seating, and is great for people watching.
The experience was made even sweeter because of my fantastic traveling companions/colleagues who kept even the mundane parts of travel hilarious and interesting, and who added an extra layer of fun to the trip. Thank you, Katie and Stephen.
And of course, it wouldn't be a trip to SE AK without a brief visit to Juneau, where I lucked into an invite to Alaskan Brewing Company's summer kick-off party at the Twisted Fish, enjoyed a 100% delicious dinner at The Rookery Cafe (the Champagne and three cheese fondu with fresh croutons is a must for any cheese lover) with three of my favorite locals, and not one, but TWO stops at Heritage Coffee. I also experienced parking in Juneau (aka mission nearly impossible) – after 30 minutes I finally found a spot labeled "Parking for bagel lovers" and figured it was meant for me (thank you Silverbow Bakery).
Parking woes aside, my love affair with Southeast continues…