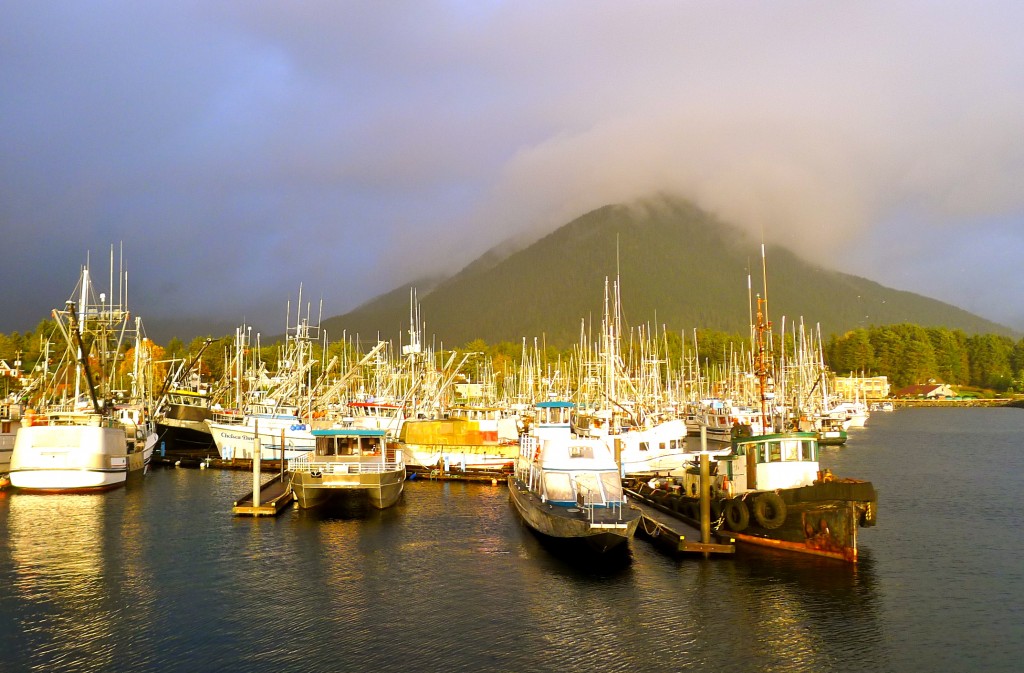 Shortly after my trip to New Hampshire (shortly as in about 12 hours) I visited Sitka, Alaska for the first time. I wasn't entirely sure what to expect – other than the Sitka Summer Music Festival and the Sheldon Jackson Fine Arts Camp I didn't really know much about Sitka at all.
When I arrived, it was late, dark, and slightly drizzly. I crawled into bed and shivered through the night, telling myself that I was a hardy Alaska girl and sometimes you just have to deal with freezing-feeling temperatures (two days later, I found the thermostat…oops).
The next morning, I emerged from my cold little cottage to cloudy sunshine sparkling on the water, kids laughing on a playground (I was staying across from an elementary school), and the lure of hot coffee (much needed to accelerate my thawing out) three blocks away. Sitka was looking pretty good, and it only got better from there.
A few things I learned (and love!) about Sitka:
There are incredibly good dining options in Sitka. I missed out on trying Ludvig's Bistro (everyone I talked to said that this is THE place to eat at in Sitka) but I did have a glass of wine and some tapas at Ludvig's newly opened wine bar, Rios. Very, very good. I also had fresh green juice (locally grown kale and chard) and a smoked salmon and kelp pickle crêpe at the Homeport Eatery. Both excellent. And Highliner coffee was a favorite for the breakfast burritos and what was quite possibly the best almond croissant I've had, anywhere, ever.
The Sheldon Jackson campus was SO COOL. It used to be the home of a college, but shut down in 2007 due to lack of funds. Now, it's  shared campus of the Sheldon Jackson State Museum, the Sitka Summer Music Festival (world-class chamber music), and the Sitka Fine Arts Camp ("…a nationally acclaimed program that provides artistic development for youth K-12 in visual arts, music, dance, theater, writing, and Alaska Native arts.  The camp has been named one of the top ten in the country by the National Endowment for the Arts."). I loved the old buildings – so much history and character.
Sitka is the home of the Alaska Raptor Center – I met the cutest little owl named Tootsie and all sorts of other gorgeous birds being rehabilitated for future release back into the wild.
It's also the home of the Sitka Sound Science Center, which is "dedicated to increasing understanding and awareness of terrestrial and aquatic ecosystems of the Gulf of Alaska through education and research." And, I got to pet a starfish and other cool sea creatures.
The locals were incredible friendly – one morning, I was walking in a downpour, and a cab driver saw me, pulled over, and told me she'd take me wherever I needed to go, free of charge, just because she knew what it was like to start the day soaked through. So kind!
Saint Michael's Cathedral was a gorgeous visual landmark that helped me orient myself in town.
Sitka is incredibly walkable – I tromped all over town (with an occasional delightful trolley-ride), or so I thought. Near the end of my trip, I discovered that Sitka stretched along the coast for what seemed like miles, although locals say it takes them 15 min max to get anywhere, so it couldn't have been THAT far.
The Rockwell lighthouse, an oft-photographed landmark, is for sale! Although the real estate listing says it only has two bedrooms, someone told me that it sleeps 20 (and then gave me a wink and said, "oh the stories that lighthouse could tell…" of course, now I'm dying to know the stories!). How cool would it be to have a lighthouse, especially one as cute as this one?!
Sitka was so much fun, and there was so much that I didn't get to do! I'm hoping to return with the rest of my family for a longer visit sometime soon. If you are interested in visiting, check out the Sitka CVB for info – they are a great resource, and incredibly helpful!
Have you been to Sitka? What do you love about it?