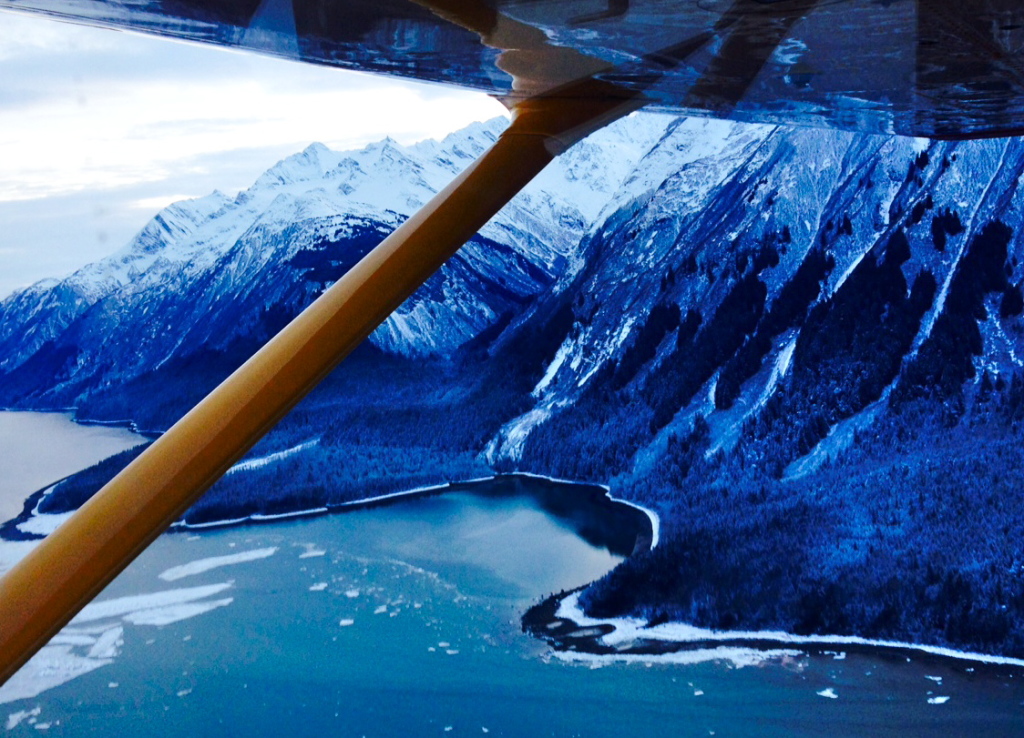 I recently visited Haines, Alaska and it joins Juneau and Sitka in my Southeast AK love affair (you're still my #1 though Anchorage!).
Haines is one of those friendly little towns where everyone waves at each other as they drive by and there's only one coffee shop open this time of year (doing double duty as a market). It was the place to gather – I would have loved to sit there for hours and listen in on conversations while sipping a quality cup of the local joe.
Nestled between the ocean and the mountains, Haines is filled with charmingly quirky homes and a walkable downtown area; a friend told me that Haines has the sweetest air in the world and it might be true. My traveling companions laughed at me when I made big city comments like "may I have the keys to unlock the car?" because no one locks their cars (and maybe even their homes) in this kind of town.
Despite its small size (around 2,500 residents) there's a lot going on in terms of cool people making awesome things; here are my three favorite stops during my brief visit:
Port Chilkoot Distillery – a couple weeks ago I bought mid-sized bottles of 50 Fathoms Gin and Icy Straight Vodka from La Bodega, and then I got to visit the distillery itself in Haines! It's a cozy spot with a friendly little tasting bar. In addition to learning about the distilling process itself, I learned that 1) it makes sense to put everything on wheels when you work in a small space 2) distillers drink coffee out of cocktail glasses 3) whiskey barrels make great stools and 4) being a distiller might be as romantic as it sounds but these people work ridiculously hard! I also learned that Port Chilcook makes AMAZINGLY good spirits and that the flavor of Haines-harvested low bush cranberries (mixer of choice) will make you never want to drink the red sugar water previously known as "cranberry juice" again.
Fairweather Ski Works – I first heard about this company when their page showed up on Facebook and then learned more when the Alaska Dispatch wrote about them earlier this year – I was intrigued but didn't know that someday I'd have a chance to visit their workshop in person! How cool is it that Alaska has a company making gorgeous hand-crafted skis for our outdoor adventures? I particularly love Fairweather's "trees to skis" blog, which shows every step of the process to make these beauties. In addition to the backcountry skis and split boards already in production, Fairweather is working on a Nordic ski prototype and mulling over concepts for a new "commuter ski" that can be strapped to a pair of Xtratufs for getting around town. They also sell Fairweather Ski Works logo gear; I bought a hoodie while I was there (partly because I was cold, but mostly because I liked the design) and love it so much that it's become my go-to for mornings, evenings, and weekends. In fact, I'm wearing it as I type this…
Haines Brewing Company – we stopped for a quick visit at the end of the day in hopes the brewery would be open, and hoorah! It was… I didn't even know there was a brewery in Haines prior this trip, but during our visit I experienced a revelation in the form of an aged beer call 16 lbs, named for the amount of hops used to create it (twice as much as a normal beer!). The beer is barrel aged and develops a rich, complex honey flavor; I had no idea beer could taste like this… Haines Brewing Company will be closing their location at the state fair grounds (currently they brew in an old set from the movie White Fang) and moving to a new space downtown this spring. I wish I could tell you where to buy their beer in Anchorage, but you pretty much have to go to Haines to taste it, unless you happen to be in Juneau and are lucky enough to catch it on tap at the Island Pub. Here's hoping the expansion = more availability!
 Haines is also renown for the local arts scene and opportunities for heliskiing, rafting, biking, and fishing. I've been told that the public library pretty is special too. I'd love to return for a summertime visit someday!
I'm downloading If You Lived Here I'd Know Your Name: News From Small-Town Alaska by Haines author, columnist, and obituary writer, Heather Lende tonight – it's probably the next best thing to hanging in the coffee shop and I can't wait to learn more about this lovely Alaskan community.