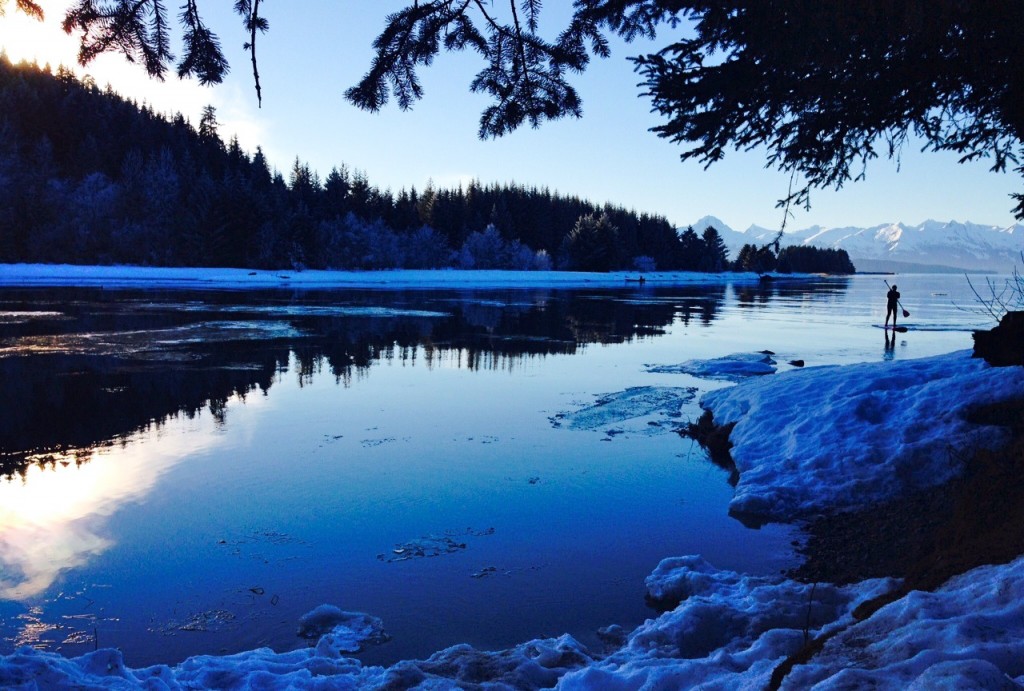 Like many people traveling (or trying to travel) to/from Juneau during the last couple weeks, I got fogged in. By the time I knew that my flight home was cancelled, there were no flights available the next day, giving me a mini-vacay in Alaska's capitol city. I have to admit, I was pretty excited about the chance to explore!
My day-long "fam trip" in Juneau was the cherry on top of what had already been a fantastic visit – it was my first time staying in a room downtown at the much-storied Baranof Hotel (do they give every new guest wine, cookies, and chocolate? It was such a nice gesture, although I'm not sure they meant for their "welcome treat" to be my dinner…), there were plenty of great people from Anchorage in town to catch up with, and I was able to reconnect with some of my favorite Juneau-ites.
Here are a few highlights/impressions:
People are SO FRIENDLY, especially my Juneau friends and co-workers who were incredibly gracious about sharing their time for coffee/wine/lunch/dinner and about  chauffeuring me around, answering endless random queries of "What's that?" "Where are we?" "Do people live there?" and "Where are we now?"
Juneau is full of colorful, quirky homes that are stacked up on the hill (Chicken Ridge, I think it's called) – some of them are accessible only staircases maintained by the city. Anchorage, let's get more colorful, it makes streetscapes so much more vibrant!
I always thought Douglas and Juneau just kind of blended together and were relatively indistinguishable, but the community really seems to emphasize the difference. Sandy Beach and Eagle Crest Ski Area are on the island, and I can't wait to go back and walk the trails in North Douglas!
I attended the Governor's Awards for Arts and Humanities, and laughed and cried.  Laughed, because there were many witty people there.  Shed a tear during Leslie Kimiko Ward's 1000 Cranes for Alaska story; not only is her tale heart-wrenching (it deals with an accidental death and suicides), it is also beautiful, and she is an incredibly gifted storyteller. Check out this overview about her project by the Anchorage Press here: 1000 Cranes or the Facebook page. If you'd like to see her performance, you can watch courtesy of 360 North: Governor's Awards at 47:47. I also loved the poems by Nora Marks Dauenhauer, a Tlingit poet and our Alaska State Writer Laureate. Here are three of her poems: 49 Writers. One last sweet moment: My friend got to see her junior high school choir teacher win an award, and when she offered her congratulations, her teacher said, "I know those eyes… Seconds soprano?"
Listening to a local ice cream maker discuss the "nostalgia of rhubarb" was great and his rhubarb sherbet was delectable! Next time I'm in Juneau I definitely want to stop by Coppa for another scoop.
Juneau might become the "electric car capitol of the world." I wonder if all the guys and gals with big ol' trucks will trade them in and go electric?
We caught a sneak peek of Sealaska Heritage Institute's Tináa Art Auction, which brought together "work from some of the biggest names in Northwest Coast art."   The pieces were incredible – such meticulous craftsmanship executed with flair and in some cases, humor.  One of my favorites wasn't part of the auction though; the event organizer was wearing seal-skin Wonder Woman-style cuffs and they were SO COOL.
I've always kind of grumbled that Juneau doesn't have very good food, but Zephyr, the Sand Piper, the Rookery, Silver Bow, Mcgivney's, and even the Hangar proved me wrong!
A group of us visited a fun public art installation – it's a chalkboard where passers-by can fill in their response to "Before I die: _____"
The team at Alaska Litho (a local print shot) developed a Postcards from Alaska app that is really cool – take a photo and use the app to turn it into a postcard with a customized message for whomever you send it to!
There was so much more… and the above doesn't even include Saturday!
I'm lucky to know Lorene Palmer, the former President/ CEO of the Juneau CVB. When she volunteered to show me around during my free day I jumped on the chance – can you imagine a more perfect guide to all things Juneau? Even better, she's smart, fun, and funny. AND it was sunny, warm, and completely clear (I think this is the kind of day that lures people into moving to Juneau, not knowing about the rain…rain…and more rain…). I hadn't really ventured beyond downtown and the valley so this part of my visit totally rocked my world. Basically, I had NO IDEA how many gorgeous places there are to explore around Juneau. I can't remember the names of every single place that we visited, but here are my favorites takeaways from the day:
The Mendenhall Glacier was impressive, but my favorite part was the hoarfrost covering everything, sparkling in the sunshine as we walked along the trail. We also stopped at the cozy visitor center (it has a fireplace!) for some mountain goat spotting.
Someday I want to walk along the flume trail (one of the longest boardwalks in the country!), and then from there, Perseverance trail.
Sandy Beach on Douglas Island was full of happy people walking happy dogs (a reoccurring theme throughout – everyone was playing in the sun that day!)
The Auke Bay Recreation Area was incredibly peaceful and Lorene told me about the time she was so close to a whale that she could see the barnacles on its back… so cool.
Eagle Beach is tied for my favorite location of the day: Icy, beautiful, beach-y. Calm, deep blue water. Cozy cabins made from Alaskan cedar. And, then – paddle boarders! You can see one of them in the photo above. Loved it, and so want to go back someday and build a bonfire by the water, snuggle in a sleeping bag, and watch the sparks and stars…
My other favorite was the Shrine of Saint Therese, staggeringly beautiful and utterly unexpected. It awaits you at the end of a path, looking over Lynn Canal. It's graceful in design, and humble in material; simple rock and wood combine to fit the surroundings peacefully, perfectly. When we went inside Lorene sang "Amazing Grace" while the light streamed through the windows; it felt like a moment out of time. Outside, sea lions played in the calm water and waves lapped against the rocks… I could have stood there with the sun on my face for hours. Regardless of your religious persuasion, the Shrine is incredibly spiritual. More about it here: History.
An Anchorage girl enamored with Juneau. So unexpected! But, my mom and I are already planning an adventure in the spring and I can't wait to share the "Juneau Magic." Until then, I'll have to content myself with my favorite Juneau blog, You Know Juneau.
Where's your favorite place in Juneau?