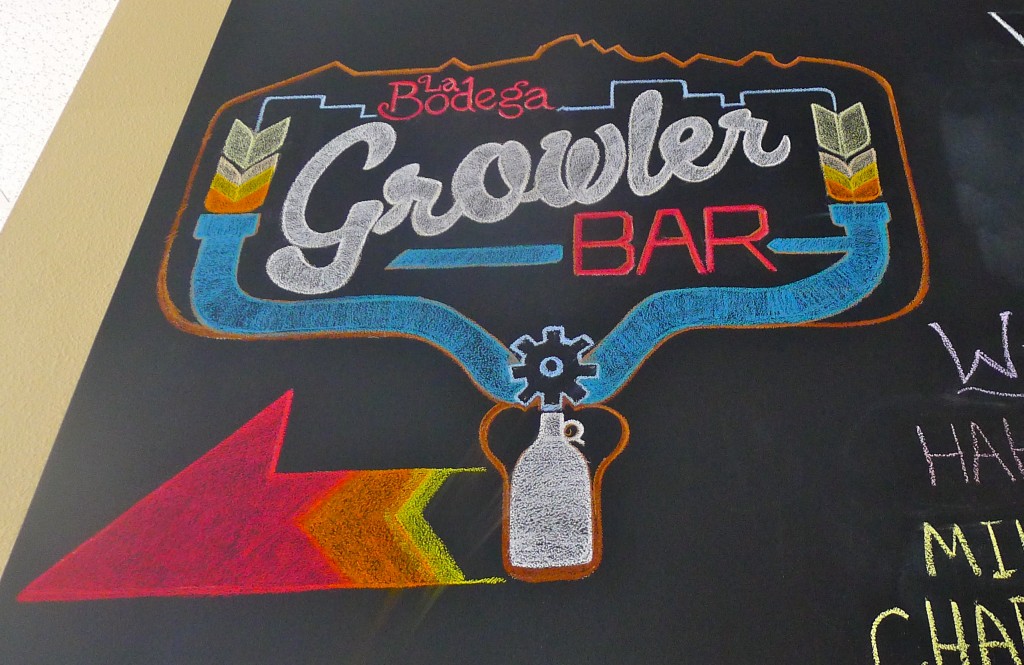 I stopped by La Bodega shortly after it moved to its new location in the Metro Mall. I'd heard they were fantastic, but a semi-surly guy at the register kind of turned me off… then we had beer aficionado out-of-town family visit. They'd done their research of places to check out and were dead set on visiting La Bodega, much to my dubious surprise. When they came back raving about how great it was, Hulin-designed shirts in hand and all sorts of interesting beverages to sample, I figured I'd give it another try.
I'm so glad I did.
It joins the Crush bottle shop as a go-to stop for quickly pulling together a last-minute gathering, or a well-planned not last-minute gathering, or just as a place to browse and find a bit of fun or flavor.
Just a few reasons to love La Bodega:
A carefully edited, yet not-skimping-on-variety supply of brews and wines, with some hard stuff thrown in the mix as well (I think there was a display of different bourbons? I'm not a bourbon drinker, but I know there's a devoted following out there in Anchorage – if you are one of these people, La Bodega is for you!)
A growler bar. COOL. (And I love the pretty chalkboard art!)
My favorite florist, Bloomsbury Blooms, drops off small arrangements of flowers for you to impulse buy when you check out.
Pre-paired wine and chocolate; all you have to do is buy it and then wow your friends with your thoughtful selections.*
A beer club.
A wine club.
Cool events.
The name is fun to say. Try it: La Bodega. La Bodega. La Bodega.
Lots of interesting non-alcoholic drinks, like wine sodas or Hot Lips real fruit sodas (these sodas are great – I wish we made something similar in AK. Maybe PopCycle should expand to juices?  Melted and bottled PopCycles, mmmm?!).
The best part of all was that for this visit, the vibe was the opposite of surly. The girl at the register was helpful, friendly, and filled me in on all sorts of midtown gossip, like who's buying whose liquor license, a new Middleway-owned restaurant opening in the REI mall (yes!!!), complete with a little satellite store for La Bodega (also yes!). She made the visit so much fun – the power of great customer service at work!
Also, I left with my own Hulin-designed La Bodega shirt. I am wearing it right now, and loving it. I will probably sleep in it, and then be disappointed it's not office-appropriate.
Get yourself to La Bodega. It's cool. It's fun. Nice people work there. I'm so glad I gave it a second chance.
* Dear friends, if you are reading this, I apologize for my lack of unique and discerning palate; I will probably never be able to perfectly pair wine with ANYTHING without a little help. But at least I will have enlisted expert assistance in guiding me to great culinary delights, which you will absolutely benefit from.