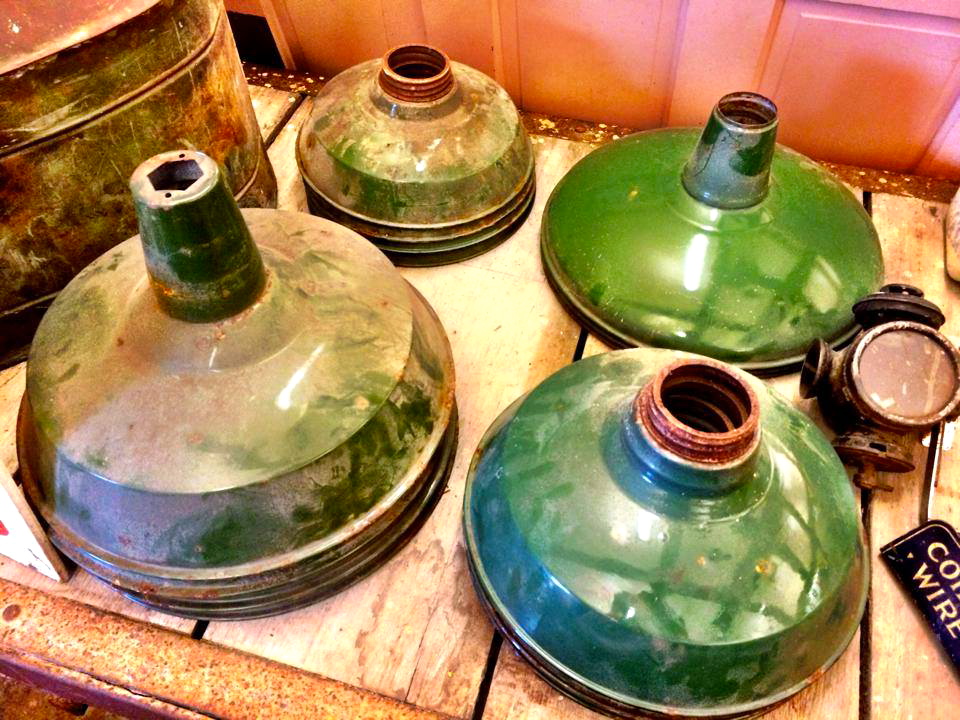 My current online obsession is Alaska Picker.
The Alaska Picker Facebook page is filled with glorious discoveries from around Alaska, like the green enamel lighting (above) and gorgeous old windows from the old Orca Cannery in Cordova. Just today, they posted a photo of graffiti from a rail car they are salvaging – how cool is that?!
Other favorite Alaska Picker finds of mine include a copper and brass still,  a 1961 Lane cedar chest, Freemason bookends, a 1943 Chevy Truck Grill, and furniture manufactured by Cessna back in 1946. It's probably a good thing that my husband is more restrained than I am when it comes to decor purchases – remember the dragon? It would probably lurk in a corner of my home if it weren't for DJ…
Here's the "About":
Kelly Turney and Becky Green own and operate Alaska Picker. Alaska Picker ventures all over the great state of Alaska seeking out antiques, vintage and one of a kind items to re-purpose and resell. In the past two years we have picked from Dutch Harbor to Delta Junction. We have brought back historical WWII and early commercial fishing items from Dutch Harbor, vintage gas pumps and signage from Hope and great Alaskana from all over Alaska.
Alaska Picker also provides appraisals for antiques and collectibles, refinishes furniture, and has a shop located at 5401 Mayflower Lane in Wasilla. I see a visit in my future…
Between Alaska Picker, Craiglist, various craftspeople, and over-the-top fabulous Houghton Hill (more on this soon! Yet another obsession!) opportunities for furniture with character in Anchorage seem to be growing…
What's your favorite place to score cool furniture and decor?