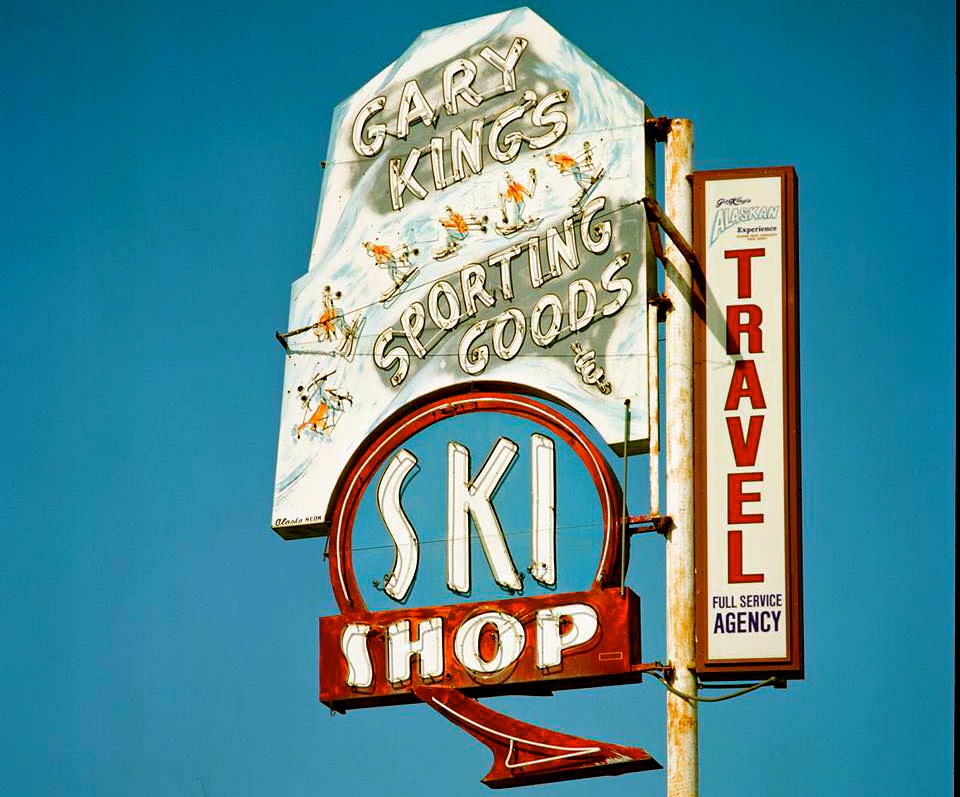 If you lived in Anchorage between 1950 -2000, you probably remember this sign from Gary King's Sporting Goods.
My memories of the sign are blurry; watching the skier blip blip blip down the mountain until he ends up in a heap at the bottom is all wrapped up in the smell of coffee and hot chocolate at Cafe del Mundo, the anticipation of visiting Classic Toys, picking out a new book at Once Upon a Time, and strangely, the Spenard Windmill. Regardless, I loved it, and even more, love that it's part of countless other Anchorage kids' childhood memories, including my father. How cool is it that I grew up watching the same skier take a tumble as he did?
Gary King went out of business in 2000, and I'm not sure where the sign has been between now and then – sadly, I stopped noticing it as an old boring grown-up and don't even remember when it was removed from its old post along Benson Blvd (so Velveteen Rabbit of me) but, Alaska Picker* has the sign now (love them!) and posted on Facebook that it will be at their shop in the next couple weeks. I can't wait for the photos after it's been cleaned up and restored to its former glory, and I hope it goes on to inspire more generations of Anchorage children to strap on some skis and hit the slopes!
*Photo borrowed from Alaska Picker, photo credit to Robert Haus.