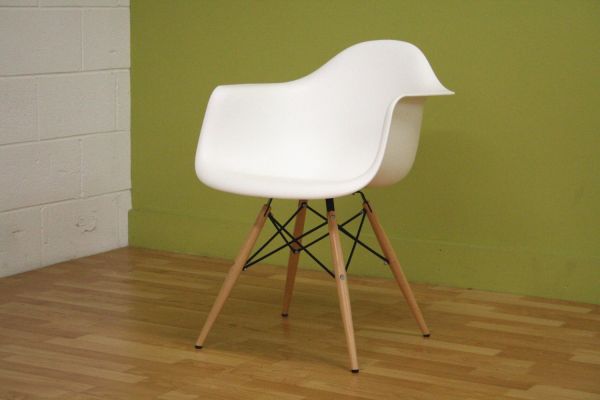 When I first started perusing Anchorage Craigslist and walking through thrift stores, I was too envious of the bargain finds I'd heard of in other states and too excited to furnish my home rightawayassoonaspossible to really enjoy the process.
My envy stemmed from reading blog posts by a college roommate (who is now a very talented interior designer) who has scored on the San Francisco Craigslist and other bloggers who post things like this awesome credenza (seriously?!  She bought this for $50 and it's gorgeous!) found at a thrift store.
The stories I'd read online are almost like fish tales – "I bought a set of six Louis Ghost Chairs for six dollars!" "Really?  Well, I found a crystal chandelier from Italy that once hung in home of Marilyn Monroe!"  "The old table I bought for my junk room turned out to be hand crafted by a team of artisan Norwegians 600 years ago and it doesn't even have a scratch!" (I made these stories up. Just in case you couldn't tell by the level of ridiculousness).
My expectations were way too high, especially considering that we don't have much depth of furniture options in Anchorage, and since Alaska is still a pretty young state, there aren't that many vintage treasures to unearth.  Once I got over longing for cheap designer finds just waiting for me to scoop them up, I got a little bit addicted.  I mean, where else are you going to find a vintage 60's retro laundry hamper?
I've learned a few lessons:
Check often (as in, morning, noon, and night).  Chances are, there won't be anything super special, but if there is, you will want first dibs.  This is how I procured my solid teak dining table (with two leaves!) originally from Scan Home. Apparently there were 16 people who contacted the seller after me, but I was the first, and the only one who said I'd some check it out that day. After months of eating off a wobbly card table, the sturdiness and larger size of our new table feels positively luxurious.
If you fall in love with something, pounce, or it will be snapped up by some other lucky person. There are countless items that have gotten away from me: the almost new Pottery Barn white coffee table and end table. The china hutch with beautiful orangey yellow circle glass. The solid maple dining room table. The counter with decorative knobs that just needed to live in my laundry room.  More dining room chairs that I can count.  The chandelier made of bleached antlers (oh how I loved this…but my husband said no, no way, absolutely and forever no). The little table shaped like a flower (which I think may be living at Second Run these days; at least I got scooped by pros!).  Sigh. I still long for them.
Keep the faith. When you miss out on something you love, or you just can't seem to find the one thing that will work, stay strong.  You'll get there eventually, and you'll have a lot of fun looking! Patience on Craigslist is mandatory, and if you get impulsive, you'll end up with a purchase or two (or more!) that you don't really like.  Of course, you can always list your purchases back on Craigslist and keep looking for something new.
Measure. I learned this after my first purchase, a very sturdy clean lined coffee table and end table.  We had some oak veneer/particle board pieces that I couldn't wait to replace (and we've had them for six years or so…sigh), so I took the plunge.  I do like the new pieces, but in the context of my living room, they seemed miniscule and obviously the wrong size.  They've since been relegated to a different room, and the old set lives on (seriously, it taunts me.  Someday, I will take my revenge and place it on Craigslist – I'm plotting against it as I type).
Be creative. Many of my purchases/possible purchases involve the words "and then I'll paint it white."  I haven't actually painted anything white yet, but I will.  There are way too many different kinds of wood in my home right now to look good, plus, white (or black, if that's your preference) is the great unifier and can make lots of mismatched pieces seem like they belong together.  And I love the light brightness white brings to a room, and think it shows off color and texture beautifully.  Mixing and matching pieces is also a good trick – I found a beautiful marble top that I paired with an inexpensive metal base from Target, and I'm thrilled with it. Also, if you know how to re-upholster furniture (or can afford to hire someone), the possibilities are endless!
Craigslist leads to all sorts of interesting encounters with people, which is another reason I love it.  I've visited a Rogers' Park garage overflowing with fascinating things (scooters, bikes, cabinets, rocking chairs) behind a beautiful home with incredible landscaping, scheduled a clandestine-feeling encounter in the rain at the corner of 8th and D street to check out some eames-ish chairs, and arranged a parking lot rendezvous by to pick up my marble top.
I've even roped my parents into a bit of Craigslist shopping.  I found a solid wood rocking chair with leather accents that I thought would be perfect in their cabin.  It ended up being so comfortable that it's living in their sitting room!  Considering that I've sent my mom multiple emails filled with links to things I'm considering, I'm surprised they have gotten away with only one purchase (although my taste is a bit more funky than theirs, and they already have a lot of really beautiful furniture, so perhaps not that surprising).  Of course, I did strategically leave an extra end table at their house… so is it theirs by default by now?
As I get closer and closer to finding all the furnishing elements I'm looking for, I have a sense of dread. If I go on Craigslist but don't need anything, will it be torturous?  What if I find an even better table?  Or the bamboo dining chairs I've been longing for, but gave up on so bought something else? Or find something so cool it makes me rethink my entire decor?!  At least my brother won't have to deal with my trying to commandeer his truck or contemplating co-opting his trips to the Valley to pick up my purchases any more.
Maybe someday I'll open a store full of my Craigslist finds…except I think there are a couple of those out there already, and Anchorage can only sustain so many second-hand furniture stores. I guess I'll have to detach and wait until the day I need to begin my Craigslist adventures again.  Until then though, I'll be relishing the last of my hunting and enjoy the treasures that I've found!
Have you ever purchased something from Craigslist?  What is your favorite thing you've ever found?  Or, what's the one that got away?