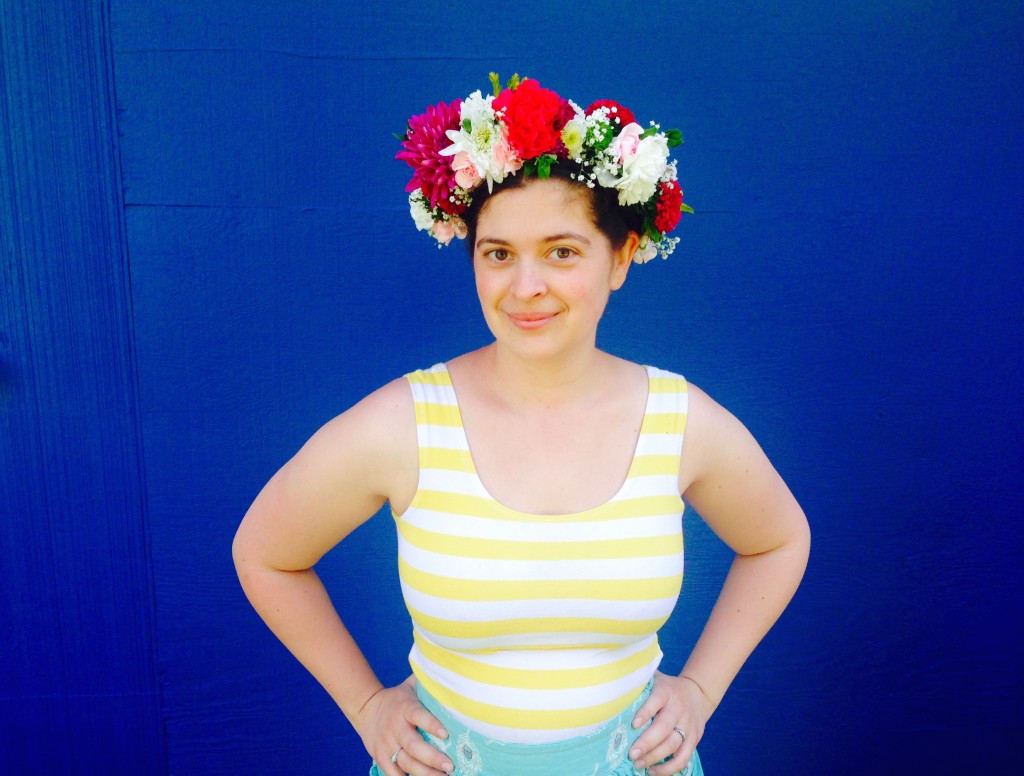 Sweet sweet summertime. Lazy picnics in the park, splashing in Jewel Lake, and FLOWER CROWNS.
Although flower crowns are not a new love (who hasn't pinned flowers in her hair or made a wreath of dandelions at some point?) the decadence of wearing them simply to celebrate the season is…and I fully attribute it to my favorite crafty blogger, Natasha Price (you may remember her from Blog Love: Alaska Knit Nat). In addition to finding thrifty finery and sharing original knitting patterns, she makes the most incredible floral creations. If you follow her on Facebook or Instagram it won't be long before you go from admiring her handiwork to longing for a crown of your own.
Despite gleefully purchasing one of her crowns at a downtown festival, I still wanted more – there's just something so intoxicating about the borrowed beauty of blossoms and the fresh scent that accompanies them. Recognizing my obsession, Natasha offered to teach me to make my own crowns, and so, fortified by sunshine and croissants from Fire Island Bakery, my mom, aunt, and I gathered to learn from the master herself.
To make a crown, you need a base (we used twig wire from Michaels or JoAnn Fabric and Craft Store), florists tape, scissors or wire cutters, a bit of greenery, and of course FLOWERS (it's important to choose blooms that can live without water for a few days to ensure the longevity of your masterpiece). Deciding which flowers to use – size, shape, color – is the hardest part. Each one is so beautiful…
Once you've stripped the leaves from each bloom, the fun begins. Simply select the blossoms you want to use, and begin securing them to the base with the florist tape in an arrangement you find appealing. You can make a partial crown or a full crown; I chose to make a partial crown, which used between 8-10 blooms along with a bit of baby's breath and leaves. Natasha went all in and made a full crown – check it out in the photo above and watch its creation in the video below:
Gorgeous, right? And SO much fun.
I love that I can make my own crowns now… however, for a full dose of artistry and perfection, I'll always go back to Natasha (my work is a little messy; I'm sure this surprises none of you). She recently whipped up a perfect little peach and ivory carnation confection for me to give to one of my favorite flower girls (I was SO not trusting my own skills for a wedding) and is responsible for the gorgeous crowns featured in Meringue Studio's boudoir portraits. Natasha also does flowers for events; check out her work at this sweet baby shower thrown by Fernanda Conrad of Living Alaska: Oh Baby!
If you'd like your own flower crown class, get in touch with Natasha – making flower crowns would be the perfect birthday/bridal shower/just because activity, and the best part is that everyone will leave with a gorgeous crown of their own. I hope you love them as much as I do!