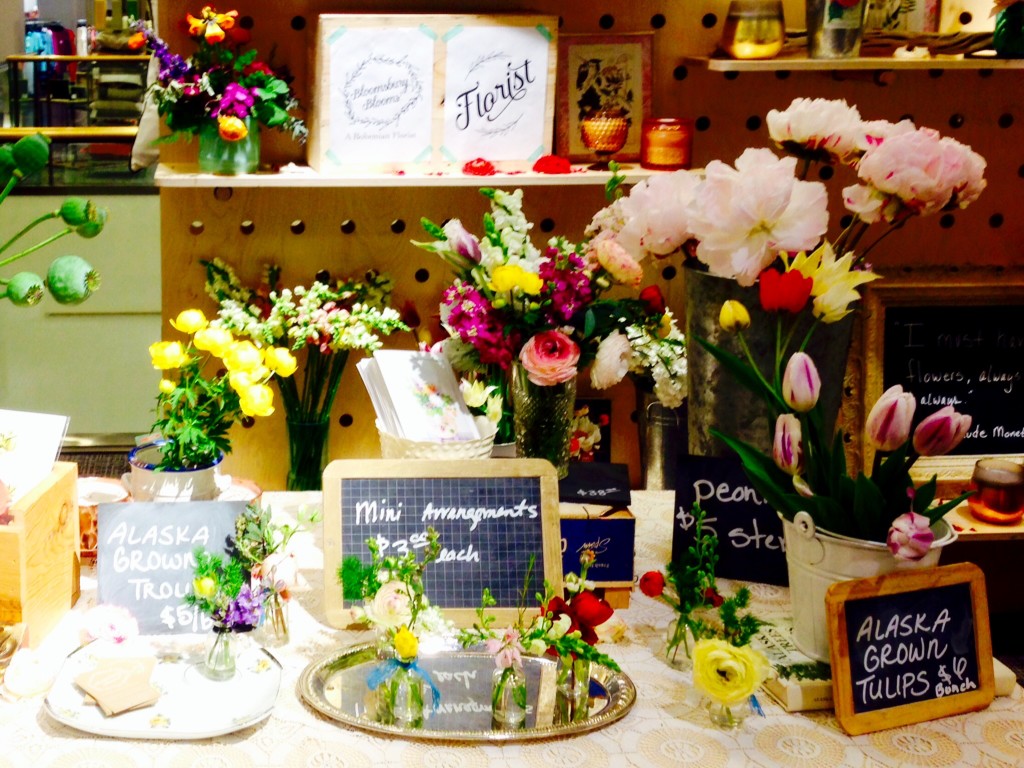 Last weekend, I encountered something delightfully unexpected – a-local-as-you-can-get florist's pop-up shop in Alaska's only department store: Bloomsbury Blooms on the second floor of Nordstrom.
Startling, right? And yet, it totally worked!
The pop-up shop was located between the escalators facing the cafe with the home section to the left. You can check out the latest home trends (Moroccan  is still going strong) and after you're done petting the pillows and smelling the candles, you can mosey over to chat with Anchorage's only bohemian florist, Dallas Wildeve, while picking out fresh flowers and a MEZ made pottery vase to take home. The pop-up shop isn't regularly scheduled – keep an eye on the Bloomsbury Blooms Facebook page for updates, or don't wait around and visit 706 W 6th Ave, Tuesday – Friday.
Whomever dreamt up this concept up is genius – hosting a pop-up shop allows the national retailer to capture a bit of the shop small trend and the local business gets exposure to new clientele. My only purchase the day I discovered Dallas at Nordstrom was from Bloomsbury Blooms, but I went back a couple days later to pick up a rug I couldn't stop thinking about…
I have a soft sport  for Nordstrom – one of my first jobs was working the half yearly sale and although I didn't appreciate fashion as much then as I do now (my other job was working at Alaska Mountaineering and Hiking, which was a much better fit for teenaged me) I learned a lot about good customer service as I stocked and restocked the clothing racks, watching the veteran salespeople make each customer feel special. I always smile when a salesperson makes a point of walking around the counter to hand me my shopping bag – classic Nordies move.
Nordstrom has long been an Alaskan favorite (it opened in Anchorage during 1975!) – people fly in from all over the state to shop the sales, drop their dividends on gorgeous shoes and handbags, and profess their undying love for the tomato soup and delicious salads. Not to mention the personal shoppers and in-store events have been on point in recent months. If Nordstrom keeps exploring new ways to stay current (and partner with local businesses!) they'll stay our favorite for years to come.
Are there other cool pop-up shops or partnerships in town?