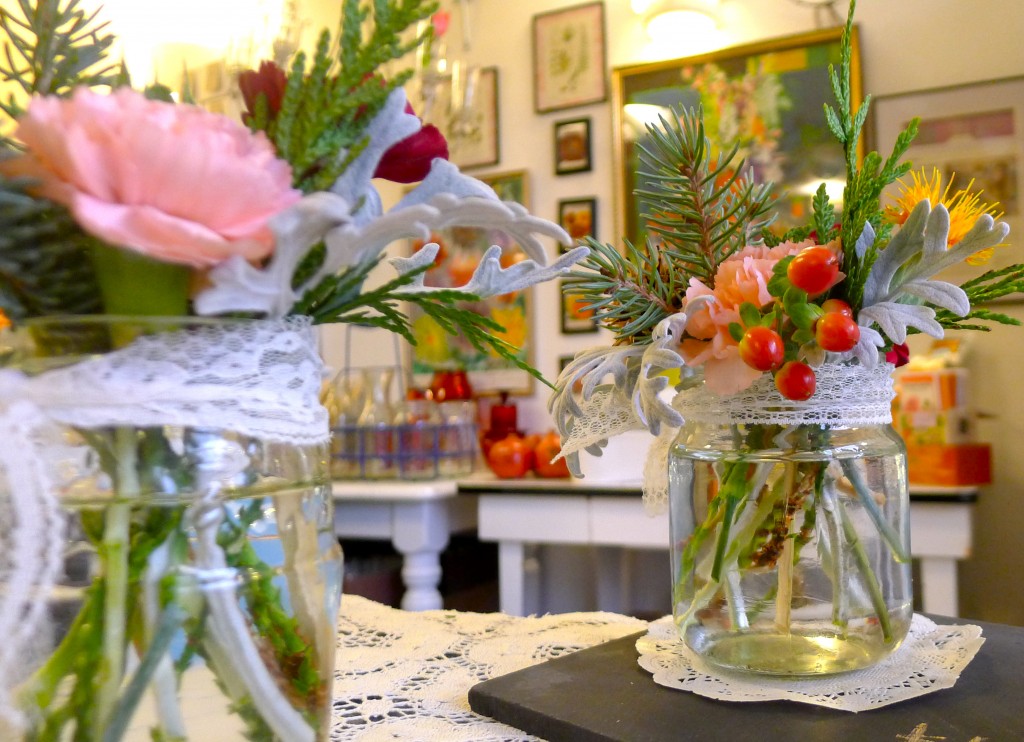 I'm still reveling in winter (even though yesterday was the "first day of winter" we've had weeks of snow and chilly temps) and wasn't missing summery things until I wandered into Bloomsbury Blooms, where color, flowers, greens, art, and the intoxicatingly fresh smell of growing things riot together in an abundance of perfection.
The Bloomsbury Blooms shop location is like a little downtown secret; I walked past it dozens of times until a friend pointed it out. Tiny, tiny, tiny, tucked into the McKinley building between the Pioneer bar and the Gaslight bar, it's like stepping into a different world – not the kind of nirvana people are usually looking for on Fourth Avenue, but so much better.
Here's the about:
Bloomsbury Blooms has evolved out of Dallas Wildeve's lifelong passions for growing things, combining textures, colors and patterns and finding uses for things others have discarded. A multi-generational gardener, she had the pleasure of growing up around a mother and grandmother with a passion for gardening. She has always been fascinated with the vitality, variety and colors of flowers and how beautiful arrangements of plants can instantly transform any atmosphere.
There are many things to love about Bloomsbury Blooms:
The first thing I saw when I walked into the shop (once the colorful explosion of flowers washed over me) was this quote: "With freedom, books, flowers, and the moon, who could not be happy?" – Oscar Wilde. Who indeed?
Dallas uses as many local flowers as possible, and "When snow covers the ground and imported flowers can bring color to our lives, we order first from west coast certified organic farms. If flowers from those sources are not available, we'll find blooms from the most environmentally responsible origins possible." Local flowers mean everything from a sprig of pine or a raspberry branch to a wild rose or one of Alaska's glorious peonies.
Bloomsbury Blooms' Facebook page is a daily dose of floral beauty. Dallas regularly posts photos of her creations and other lovely images, brightening up her fan's  feeds. You can also follow her blog, where she posts photos of things that inspire her and shares little peeks into her life.
If you order an arrangement, Dallas will text you a photo so that you can see the arrangement before it's sent! So much fun.
Dallas uses chicken-wire or old floral frogs in paces of green floral form, and uses repurposed containers for arrangements – major jars, vintage vases, tea canisters all appear in her work. She also composts all of her cuttings.
All deliveries downtown are by bicycle or foot.
Online shopping options include "Little Blue" which is a blue Ball canning jar filled with seasonal blooms; mini collections, which are multiple tiny arrangements (you can also buy these at La Bodega), and decadent options like "A Year of Flowers."
Dallas is gracious, friendly, and interesting which makes an already great experience even better.
This is the arrangement
I brought to my parents house for Thanksgiving – look at that little pepper hiding in the foliage! And my mom knew I loved the vase, so sent it home with me once the arrangement wilted. Now it will be a treasure that reminds me of a happy Thanksgiving every time I look at it.
The Anchorage Press published an article about Bloomsbury Blooms, The wild florist of Anchorage, and, although there are some fairly bizarre inaccuracies and misquotes (Dallas was never a laundress, and she doesn't think dandelions glow in the dark..) it's a fun read.
Here's the story behind the name:
The Bloomsbury Group was an influential group of English writers, artists and philosophers including Virginia Woolf, E.M. Forster and John Maynard Keynes who lived and worked in the early part of the 20th Century in the Bloomsbury area of central London. They were known for their unconventional lifestyles and attitudes and searched for the meaning of the good, the true, and the beautiful. We think all of those ideals are embodied in the beautiful blooms of flowers.
I think those ideals are also embodied by Dallas, and her shop.
I'll be happy with the austerity of bare trees, white landscapes, and midnight skies for a few more months, but when I need a mini-break, a stop into Bloomsbury Blooms will do the trick.