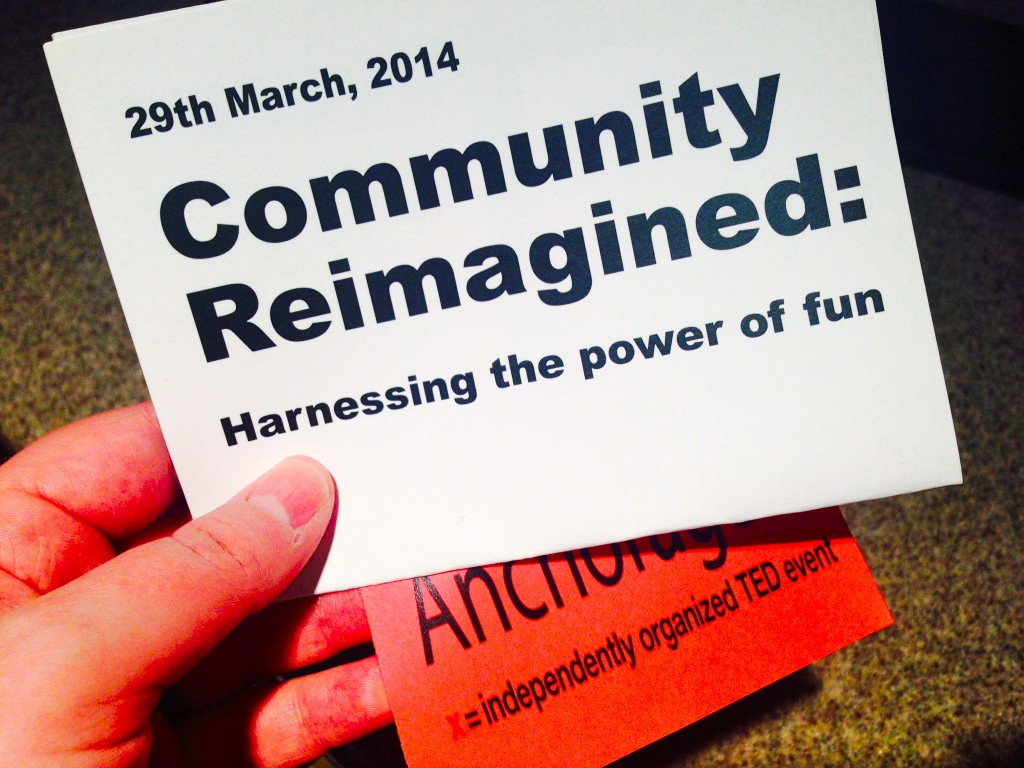 TEDx Anchorage was Saturday. This year, the theme was Community Reimagined: Harnessing the power of fun.
If you're not familiar with the concept of TED or TEDx, here's a primer:
TED is a nonprofit devoted to spreading ideas, usually in the form of short, powerful talks (18 minutes or less). TED began in 1984 as a conference where Technology, Entertainment and Design converged, and today covers almost all topics — from science to business to global issues — in more than 100 languages. Meanwhile, independently run TEDx events help share ideas in communities around the world.
It was my first TEDx, beyond watching talks online. Despite my best intentions last year, I didn't make it in person, so this year I was determined to attend at least a few of the talks (I almost missed it again – somehow I was convinced the talks were on Sunday! Thank you, mom, for setting me straight…). I opted for the segment titled "Re-imagining Leadership" which featured the following topics:
The Leadership Game – Creating Cultures of Leadership, Drew Dudley (guest)
Benefits of Planning for Fun – Life Lessons at the Gaming Table, Chris Grgich
How Technology is Democratizing Fulfillment in Work and Life, Josh Shaner
Why Play is Vital – No Matter Your Age, Stuart Brown (video)
As someone who is a bit of a nervous public speaker, I was impressed by the presenters, especially locals. They were earnest and courageous and real. Speaking to a theater filled with people is already intimidating, but speaking about your ideas, your beliefs, the things that matter most to you – that's like putting a bit of your soul out there for examination. I imagine it's simultaneously thrilling and terrifying.
There were some really cool components of the 2014 Anchorage TEDx that I missed: Leah Botz's the Power of NO Fun, the Momentum Dance Collective's Spontaneous Act of Art, and Luminescence: A Dragon's Tale (dynamic light show) but at least I got to see Facebook photos, and am hoping that videos are posted soon!
Here are some takeaways from "Reimagining Leadership" that I liked:
Add value to  every single interaction you engage in.
Find joy. If you don't like your story or your character, remake your character.
We are all gamers.
The fun is in the struggle, the journey.
Nothing lights up the brain like play.
Make the people around you more awesome and they will make you more awesome.
Build failure/change into your plans.
The basis of human trust is established through play signals.
Live lives of purposeful moments and fun.
47% of American jobs will become automated in the next 20 years.
Curiosity, exploration, and working with your hands are all part of play, and essential to development.
After listening to the talks, I think I need more play in my life (is there ever enough play? If you do it right, it seems like just about everything could be an opportunity to have fun). Co-workers, if you are reading this, prepare yourselves: I may be trying to coax you into a bit of lunch hour Frisbee in the near future…consider yourselves warned!
I love the idea of infusing your life with play. With that, I'm going to go play in the sun and revel in a precious day off!