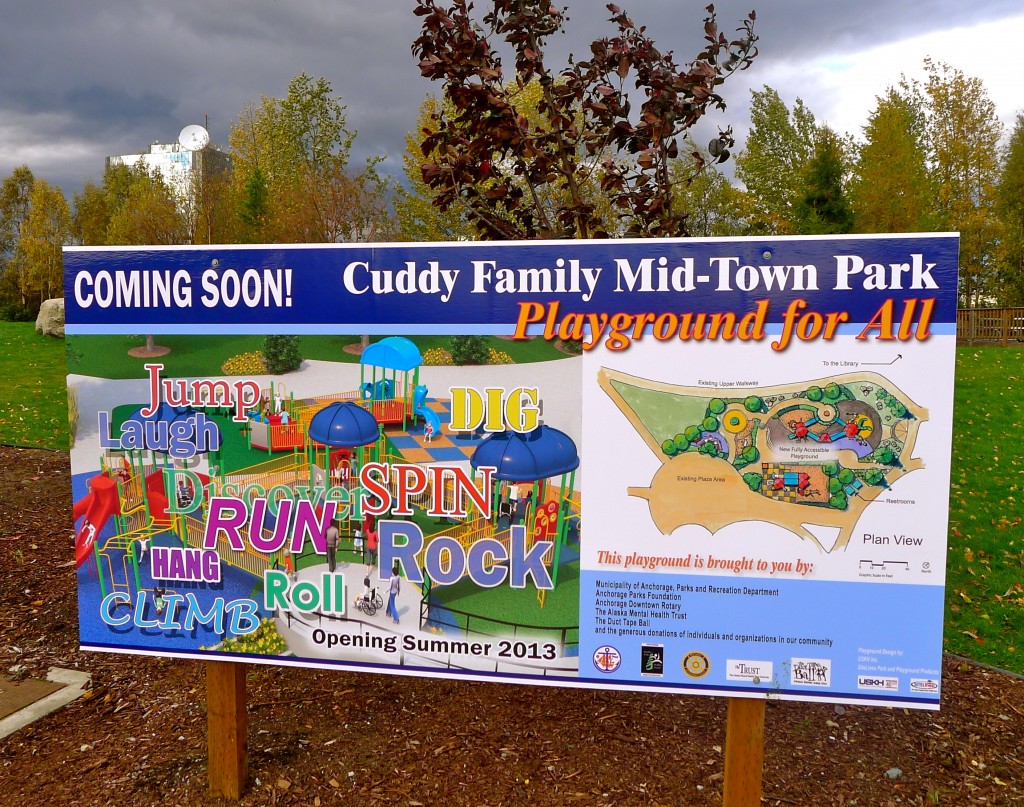 I'm a bit late to the Parks for All party, as the fundraising is done and all that's left is to build the playground and then get down to the business of playing, but I wanted to write about it because it's such a cool project and is a good example of how just a couple of people can make a big difference in our community.
Here's the official description of Parks for All:
With the support of local legislators, the medical community, Parks & Recreation, Anchorage Downtown Rotary, local non-profits and the Anchorage Park Foundation, three Anchorage moms started Parks for All to allow their children, families and friends, and all Alaskans to enjoy Alaska's awesome outdoor experience–together. The new playground will be the first fully accessible playground in Alaska, a central community play space and certified Boundless Playground. Children with disabilities will be able to play independently in a safe environment, and parents and grandparents with disabilities will be able to play with their children, without barriers, in Anchorage's crown-jewel park.
Such a cool project, filling such an obvious need in Anchorage.  I was dumbstruck when I heard we didn't have an accessible playground, but then realized I'd never even stopped to think about it before. And probably most people hadn't thought of it before either, or if they did, didn't have the time/energy/connections/gumption/wherewithal/whatever-special-sauce-it-takes-to-get-things-done to make it happen.  Which is okay, because it takes A LOT to accomplish something like this.  But we are really lucky that those three moms decided to make this park happen.
Leah Boltz, one of the aforementioned moms, says,"Anchorage loves to play; that's why we live here! The community joined together to make sure that ALL Alaskans are able to play here, and the inspiring support of residents, businesses, community groups, and public officials is making that vision a reality. I am so grateful to live in a place where people so freely give their time and resources, acting as catalysts and striving every day to make Alaska the best place to live."
I'm glad that they stuck with it.  The new playground will be a wonderful, much-needed addition to our community, and hopefully the first of many.  It will be so exciting to see the project when it's completed; the best part will be seeing Leah's daughter Anna taking a turn on the see-saw.
Summer 2013 playtime, here we come!