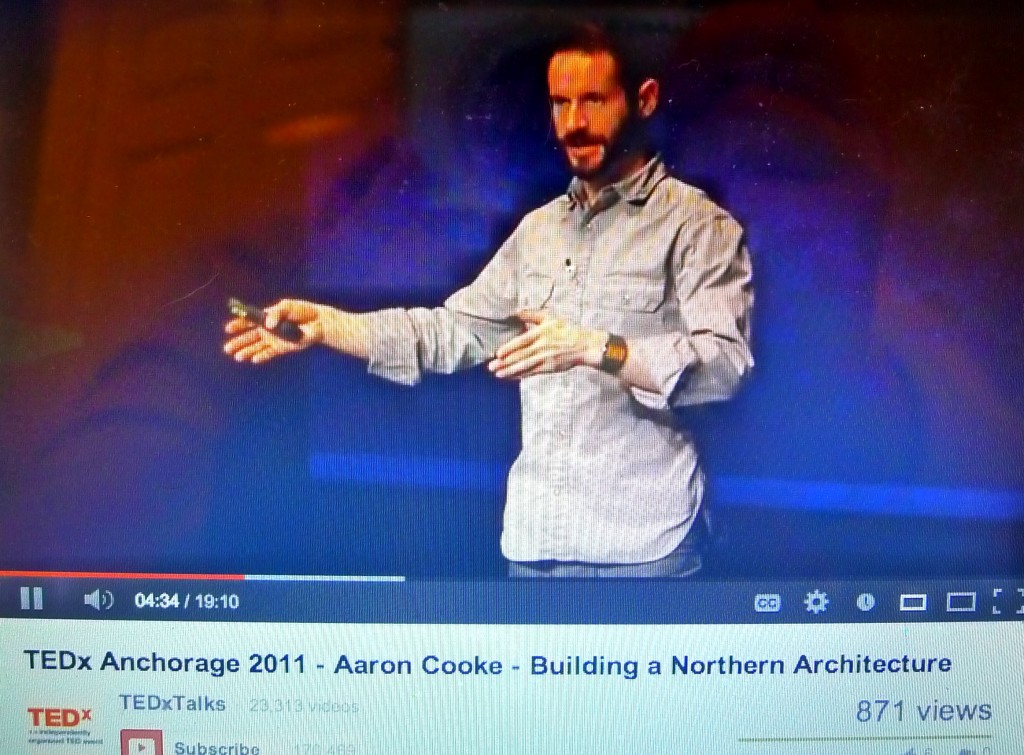 I was really excited to discover that Anchorage does TEDx.  Really, really excited.  Apparently, the event has been held in previous years, but somehow I missed it.  On one hand, I can't believe I didn't know about this (it was held at the library, so I feel like I should have known!) and on the other, I'm excited that it's something totally new for me to discover.
If you're not familiar with TED, their mission is "Spreading Ideas."  This is from their website:
TED is a nonprofit devoted to Ideas Worth Spreading. It started out (in 1984) as a conference bringing together people from three worlds: Technology, Entertainment, Design. Since then its scope has become ever broader.
The "x" in TEDx means that the Anchorage TEDx isn't actually affiliated with TED, but the spirit of TED is the same. This year's theme is "Our Collective Strength: Interconnectivity, Collaboration and Creativity." Love it!
Here's a video of a 2011 TEDx talk by Aaron Cooke of the Cold Climate Research Center, "Building a Northern Architecture" to give you an idea of what the event is like (Aaron is the speaker featured in the photo above).
Fascinating nugget from this video: Aaron tells a story about how a the mayor of Anuktuvuk Pass told him that they used to live near the earth, where it was warm, and raise their dead in the air.  When someone told them that it was uncivilized, they put their dead in the earth and raised their homes on stilts. They've been cold ever since. (major paraphrasing here – you get the idea, but if you want the real thing, watch the video!).
Here's another video from 2012 that is totally different, and just as cool: Allison Warden: Indigenous Inter-Disciplinary Art – A Way to Inspire Conversations within Community. She RAPS.  It's awesome.
TED talks on the homepage include everything from "Re-engineering mosquitos to fight disease" to "What fear can teach us."
TEDxAnchorage will be 1-7 pm on March 30th, 2013 at the Wilda Marston Theatre, Loussac Library, and is accepting applications for speakers!  Here's a link to the application if you are interested, or you know someone would be a good speaker: Call for Speakers! TEDx Anchorage 2012. Applications are due January 18.
These are the tips that TED gives speakers:
Dream big. Strive to create the best talk you have ever given. Reveal something never seen before. Do something the audience will remember forever. Share an idea that could change the world.
Show us the real you. Share your passions, your dreams … and also your fears. Be vulnerable. Speak of failure as well as success.
Make the complex plain. Don't try to dazzle intellectually. Don't speak in abstractions. Explain! Give examples. Tell stories. Be specific.
Connect with people's emotions. Make us laugh! Make us cry!
Don't flaunt your ego. Don't boast. It's the surest way to switch everyone off.
No selling from the stage! Unless we have specifically asked you to, do not talk about your company or organization. And don't even think about pitching your products or services or asking for funding from stage.
Feel free to comment on other speakers' talks, to praise or to criticize. Controversy energizes! Enthusiastic endorsement is powerful!
Don't read your talk. Notes are fine. But if the choice is between reading or rambling, then read!
End your talk on time. Doing otherwise is to steal time from the people that follow you. We won't allow it.
Rehearse your talk in front of a trusted friend … for timing, for clarity, for impact.
Aren't these tips great? A few small tweaks, and they could be rules for life (if life had rules, of course).
I'm looking forward to attending at least a couple talks, and am so thrilled to discover this!