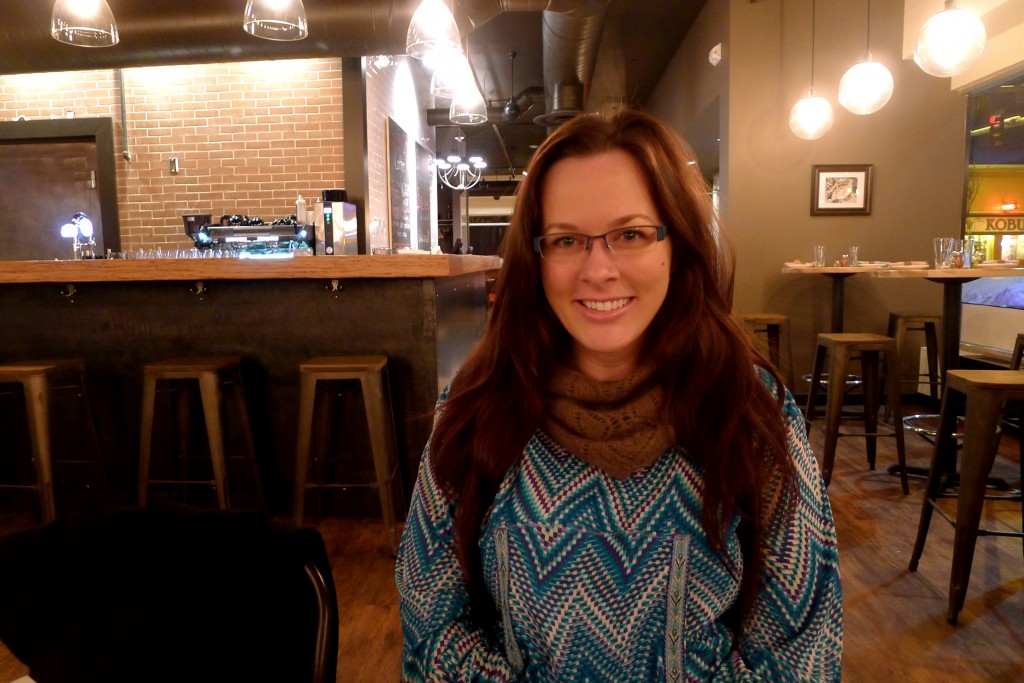 It's a fascinating experience to meet someone in person who you've been digital friends with for a while. Fascinating, a bit strange, and SO MUCH FUN.
Earlier this week, I met Candice from You Know Juneau. We grabbed dinner at Fat Ptarmigan and had so much to talk about that the server had to come back at least three times to see if we were ready to order (thank you for being so patient with us! And for the duck-egg-pizza recommendation!). Candice and I first met via email two years ago (our professional lives overlap slightly) and then connected on Facebook almost a year ago when she discovered my blog and shared her own. And finally, the fates aligned for us to meet in person!
You Know Juneau is so much fun to read – it's a "A Southern Belle's Guide to Adventure in the Last Frontier." I love reading about Candice's experience as a new Alaskan – everything from sledding for the first time and following the Iditarod to picking out jewelry at AFN and meeting Governor Parnell.
Here's a bit more about Candice:
In February 2009, I traded out my Kate Spade kitten heels for Yaktrax and opted for blue flannel instead of my seersucker suits.  That's right, I moved from The South to the Frozen North.
I live in a small drinking town with a fishing problem in Alaska's Inside Passage.  When I first moved here, I was more nervous than a long tailed cat in a room full of rocking chairs! And then I realized: Alaska can either make you or break you, and I was determined to seize this blessing of a lifetime.  The thrill of being on the edge is what keeps me captivated, and the uncertainty of this great state is what keeps me motivated.  Alaska, no doubt, has become my playground.
Candice's posts are big on eye candy – her gorgeous photos are fueling my fascination with Southeast Alaska. Hopefully my blog convinces her to travel to Anchorage more – I do my best to show off our city to all visitors in hopes they'll make many return visits.
Back to the transition from digital to reality – for me, meeting an online friend really reinforces how important in-person communication is. Even though I know Candice's nickname for her sweetie, how they met, what her resolution is for the new year, and her favorite restaurant, it was somewhat startling (but awesome) to add in tone of voice (subtle southern accent!) mannerisms, and real-time conversation. Our digital friendship will be richer for it, and I think there will be more chances to meet in the future.
Cheers to the first of many fascinating conversations to come!