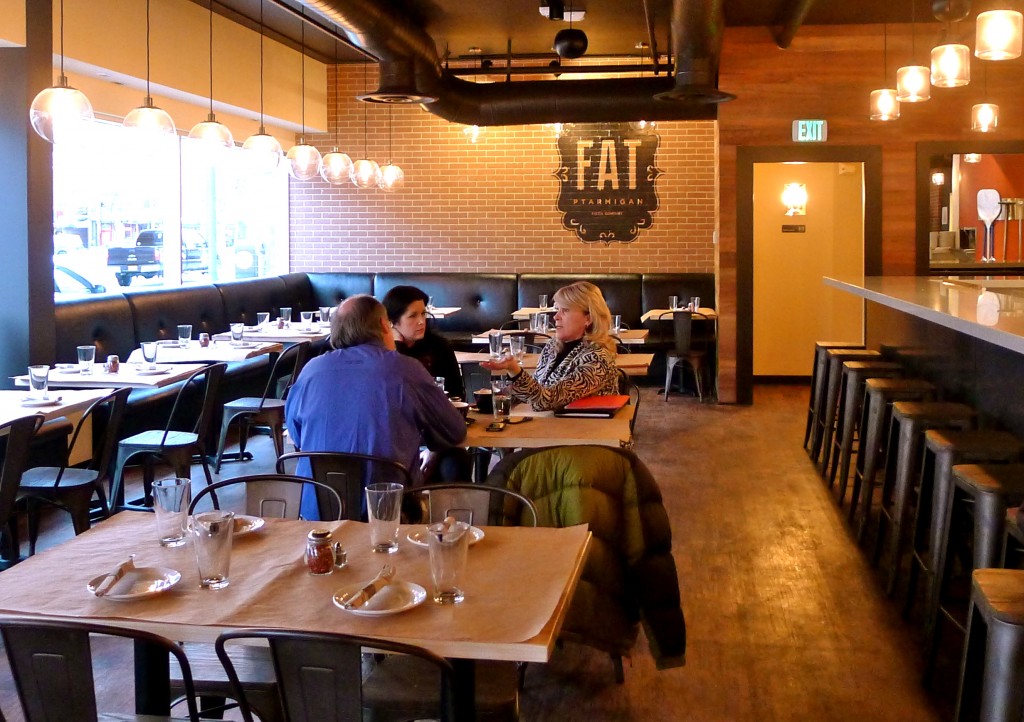 There's another new restaurant downtown, and it already feels like an old favorite. Fat Ptarmigan is here to stay.
Anchorage seems to be undergoing a pizza renaissance; not that pizza was ever out of favor, but a certain pizzeria/brewery has long cornered the market. That said, Fat Ptarmigan fills its own niche in town – sitting by a window, watching pedestrians pass by, you feel almost like you've been transported to New York City (in the best possible of ways).
It's an especially lovely place to spend a late afternoon, watching the snow fall with a glass of wine, eating a piece of wood-fired pizza – mmmmmm.  To add to the overall attraction, SteamDot staffs an espresso bar in the restaurant (SteamDot lovers in need of hot coffee, doors open at 8:00 am!).
"About" Fat Ptarmigan:
We serve authentic, wood fired pizza in a warm, inviting environment with a focus on service and attention to detail. We reach this goal with our wood-fired oven, house-made mozzarella, and specialty ingredients. Pop in for lunch or dinner and get some SteamDot prepared coffee or a locally brewed beer along with your meal. Afterwards you can split a plate of our cannoli's or a cup of divine gelato.
The menu has all sorts in intriguing options, including:
Steak & Stilton Pizza: Garlic olive oil with light mozzarella, caramelized onion, seared NY steak, and finished with Stilton.

Duck Pizza: 

Braised Duck, caramelized onions and leeks, and fresh arugula. Topped with an egg.

Smoked Salmon Pizza: 

Alaska salmon, leeks, green onions, cheese blend and creamy dill sauce.
During my various visits, I've tried the Hot Coppa pizza (sausage, red peppers, pepperoni, spicy coppa, cheese blend and spicy red sauce, add mushrooms by request), the caprese, a cannoli, and the charcuterie with a glass of wine. All were excellent, which isn't surprising, considering the the head chef, Chef Guy, received a 2010 James Beard nomination for the best Chef Northwest category and has worked at many notable Anchorage restaurants including Corsair, The Bridge, Orso, and Ginger. The management team all hails from Ginger as well (I think Fat Ptarmigan might be a sister restaurant?) so are well-versed in successful restauranteering.
As someone who loves architecture/interior design/fun new places to eat, "liking" the Facebook page before the restaurant opened (MONTHS before) just heightened my anticipation of my first visit. Photos of pizza concepts made me hungry, and construction updates, combined with the fact that when I walked by I could almost peek through the window to see what was going on, piqued my curiosity for new space.
Much like the menu, the design doesn't disappoint. Brick, natural wood, simple lighting, subway tile, and black accents combine to make a comfortable, classy setting that underscores the overall experience with a feeling of welcome. The space looks like it would be great for private parties, and even has room for a band and a dance floor. Conviviality awaits at 429 E Street.
I hope you enjoy Fat Ptarmigan as much as I do!