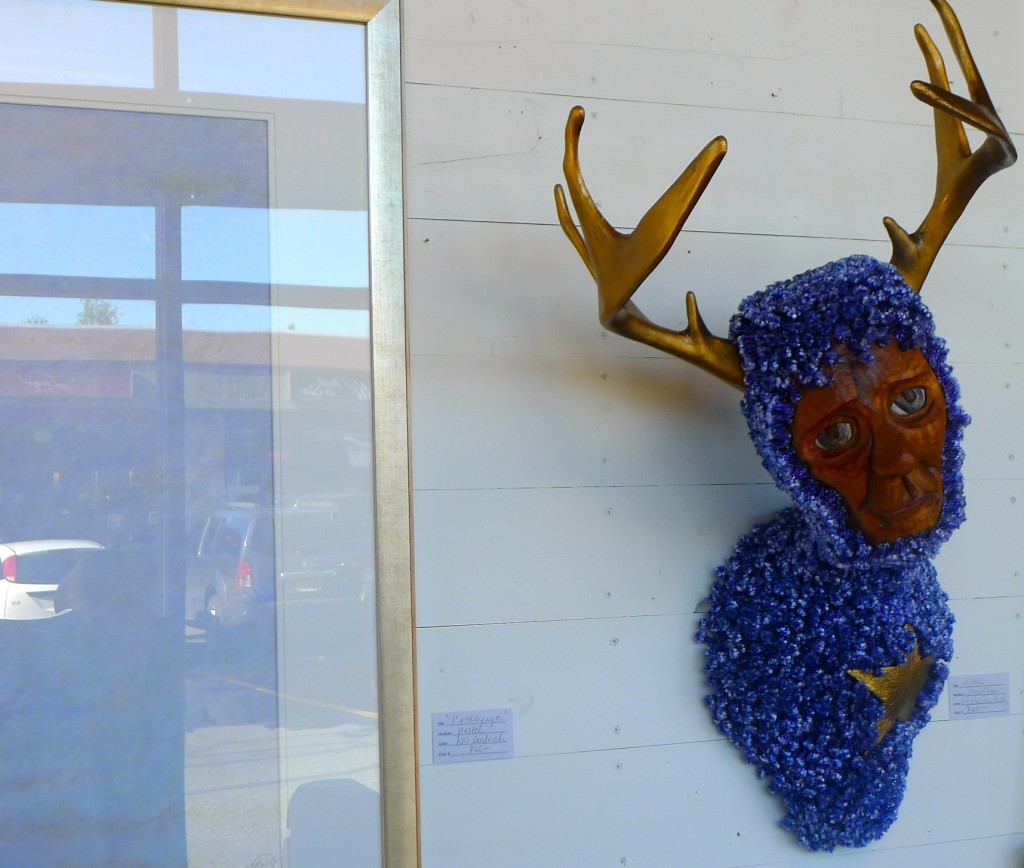 Actually, a "Blue Hollomon" isn't a "what;" it's a "where" (cool funky colorful fun friendly local art gallery) and a who (co-owners Georgia Blue and Gina Hollomon).
But if Blue Hollomon were a "what," the piece in the photo captions my vision of what it would be:
The elusive blue hollomon, a rarely glimpsed cousin to the more common red or green hollomans, is known for living in the higher elevations of Alaska's mountain ranges. Tales are told of blue hollomons sneaking into town to sup on blooming peonies, end-of-season raspberries, and the occasional rhubarb stalk. Mostly harmless, hollomons have a weakness for mead and have been known to trample unsuspecting drinkers in an effort to imbibe. If successful, the hollomon will then sing German pop songs and correctly read your palm. To date, no blue hollomons have been photographed.
I'm having wayyyy to much fun with the name and my imaginary creature, but the blue antlered sculpture with sad eyes and a star over its heart seems like it should have a story. I'm so disappointed that I don't remember the artitst name to share with you; I'll have to go back so I can properly credit her/him in this post.
Back to the point of this post: The Blue Hollomon gallery opened almost a year ago in the Olympic Center (which I know as the place with Jens, Anchorage Yoga, and Scan Basics/Office). I've been hearing about how amazing Blue Holloman is from friends and co-workers for about six months now, and finally wandered through the door to see for myself.
Of course, I love love loved it.
There was so much to see, so many pieces that captured my interest, from a tiny sunflower pillow to a maple and ceramic skull sculpture by Andy Moerlein, and of course, countless paintings and pottery. I felt like every time I turned a corner there was something new to admire, and then when I did more research, I realized that two of my favorite artists, Kay Marshall and Gretchen Sagan have both had pieces there in the past, which made me love it even more.
Here's some info from the Blue Hollomon Facebook page:
The gallery carries an eclectic mix of contemporary art from both Alaska and Lower 48 artists, including Alaska Native art, jewelry, textiles, ceramic art, paintings, original prints and photography. The gallery also specializes in consigned art from private collections.
Co-owners Georgia Blue and Gina Hollomon called upon their diverse art backgrounds and close relationships with artists and art collectors to envision the gallery's philosophy. "We present art that is not readily available in a provocative, professional setting – a gallery in the true sense of the word," says Georgia Blue.
A bit about Georgia Blue:
Blue is the former Enterprise Director at the Anchorage Museum where she ran the museum shop for 20 years and developed several major craft events, including Crafts Weekend at the Museum. She is an Alaska Native Arts Foundation board member and a past recipient of the Mayor's Arts Award. She previously worked at Alaska State Council on the Arts, Stonington Gallery, and Art, Inc., and was a founding partner of 2 Friends Gallery.
And about Gina Hollomon:
Hollomon is an award-winning clay artist and owner of Gray Shakes Gallery and Red Door Studio in south Anchorage. Her public art commissions include a series of sand hill cranes at the Alaska VA Hospital in east Anchorage, as well as art work in schools throughout Alaska. She is board president of Anchorage Historic Properties and volunteers at the Bird Treatment and Learning Center.
I'm so glad these accomplished ladies opened a gallery. I am planning many, many more visits in my future.
Have you been to the Blue Hollomon gallery yet? If your answer is no, I highly recommend stopping by ASAP! If your answer is yes, what were your favorite pieces?