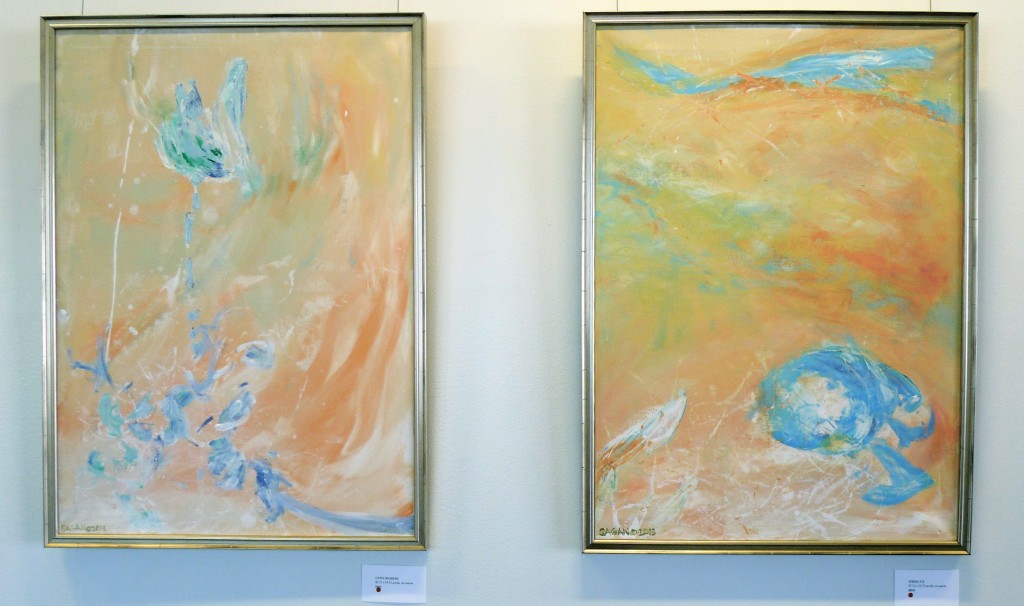 One of my favorite artists, Gretchen Sagan, had a show for May's First Friday at APU's Grant Hall. I missed it then (the blessing and the curse of First Friday is that there is SO much to see and do!) but fortunately it's up until the end of the month. Today, a friend and I decided to take a lunchtime field trip to check it out.

The show, Distance, didn't disappoint.  I fell in love with the beauties above (unfortunately already sold) titled "Gypsy Blossom" and "Spring Ice." I also love a painting called "Farness." I'd only seen one of Gretchen's paintings before at the Alaska Native Arts Foundation, where she was a featured artist, so experiencing a full show was thrilling. As someone who is color motivated in choosing art (portraits, abstracts, or landscapes – doesn't matter to me as long as the colors make my heart sing) some of the pieces in the show (like the two in the photo) were entrancing.
Gretchen describes her new paintings as exploring:
 "…our sense of direction and how we perceive some spaces to be close to or far away from each other, especially when thinking about our relationships to people and places."
This is a particularly timely concept for me. I've been thinking about distance and relationships, and how technology is changing the way I perceive both. When I was young, I experienced life as a compilation of short stories. Each period of my life –  high school, college, my time in DC –  seemed to have a distinct beginning, middle, and end, and despite the obvious continuity of family and a few friends, I felt like each story came to a definitive close.
I'm glad I've moved past this perception – now I feel like life is a novel, with distinct chapters and a cast of characters that reappear throughout.  I like this version better – I feel like the chapters build on each other, characters become more complex, and the story deepens as it continues, but apart from the beginning of birth and the hopefully distant ending of death, the story continues. My story, my life, becomes richer and richer, thanks in large part to the people I meet along the way and the experiences I share with them.
When I think about why I feel this way, a small part might be just me growing older, but the large part is due to social media and technology – I'm up-to-date on not just the happenings of close friends, but cousins I used to see once every two years and acquaintances from high school. I know about the things people create (art, cabins, babies, etc.), who they love and when, new jobs and old jobs, politics, religion, vacations, etc. People I might not have thought of regularly are now part of my daily awareness, which I enjoy. Distance has diminished. And yet, it is still there.  Facebook and Face Time can't replace sharing moments in person, but even when you are face to face with someone, distance can still exist. Sometimes good distance, sometimes distance you wish could close. I have a lot more thinking to do on this topic…thanks for bearing with my rambling string of conscious!
As you can probably tell, Gretchen's show is a catalyst for my deeper exploration of what distance means to me. I really, really liked her work before, but now I'm crazy in love!
If you're as enamored with Gretchen's work as I am, here's a bit of her background:
Gretchen Sagan is an Inupiaq artist from Alaska. Her work has been exhibited nationally and internationally and is a part of many private and public collections including the Alaska Veterans Administration Clinic, CIRI, First Alaskans Institute the Alaska Native Science & Engineering Program. She received her B.F.A. from the Eesti Kunstiakadeemia, in Tallinn, Estonia (2002).
Read the rest here.
Do you have an artist whose work launches self-examination and might even change how you experience the world? And if so, who?