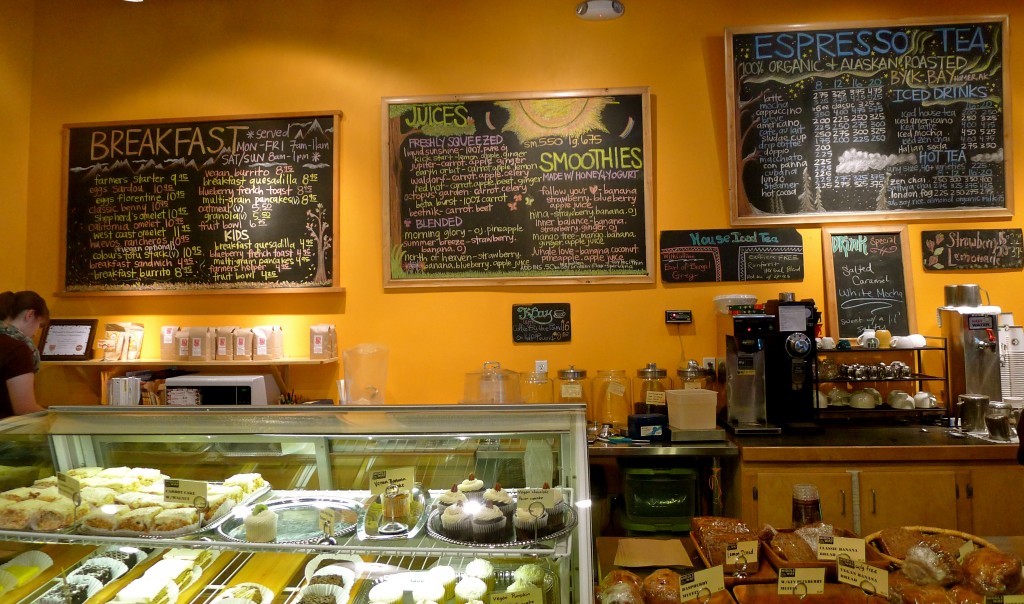 You know that saying, "You can have something fast, cheap, or good.  Pick two?"  In the restaurant world, I think it's more like, "Fast, healthy, or tasty. Pick two." But Middleway Cafe is one of those rare places where you can have all three (the fast part might be debatable, but if you call ahead you're golden!).
I've been frequenting Middleway, a self described "maverick cafe," since I worked at AMH in high school and used to pick up coffees for everyone; even then, baristas always made the perfect amount of latte foam and the coffee art was unparalleled. In those days, Middleway was much, much smaller and not quite as vibrant, but still filled with people. Seating was at a premium.
Although I miss the gorgeous Kay Marshall paintings that adorned the walls back then (they reminded me of being inside a dream), I'm so glad Middleway finally expanded.  It's STILL nearly impossible to snag a table at peak dining or caffinating times.  Weekend brunches turn colorful down-, spandex-, and fleece-clad Anchorag-ites (Anchoraginians? Anchor-town peeps?) into hovering birds of prey, waiting to swoop in and snatch a table. The scarcity of seating is due to the great food, but also the warm vibe that invites long conversations and lingering over warm drinks.
The day my husband proposed, we stopped in for a steamed milk (it was a brutally cold and windy, kind of like today, and we were in need of sustenance).  I will always love the photo I have of him at Middleway, sipping a skinny vanilla steamer; the last stop on our journey before we were engaged.  And the day before our wedding, I met my bridesmaids there (many of whom had just flown into town) for coffee and lunch – despite the flurry of activity that surrounds getting married, I did my best to show off some of my favorite places in town to my friends who'd never before made the trip up north. Middleway was an obvious choice.
Back in the high school days, my dad introduced me to the Spicy Veggie sandwich, which was a longtime favorite (cream cheese, some spicy spices, tons of fresh veggies, and pumpkin seeds) and then the Chicken Milano was on regular rotation (pesto, chicken, cheese, and veggies – mmmmm). These days I'm obsessed with the Modern Salad (pumpkin seeds again! Amongst other healthful goodness).  The Pesto Rica Wrap and Chicken Tacos (both are specials, so it's always a happy surprise when they are available) are also extremely tasty.
I've been attempting to try a Unicorn Bowl (I didn't even really know what was in it – I just wanted to eat something called a Unicorn Bowl) for weeks now, but they're always sold out.  I finally got my hands on one – I called, checked the availability, and dashed over, only to find a cheerful server who told me that they'd sold out again…but that the chef made one more, just for me! Turns out a Unicorn Bowl is beans, quinoa, carrots, kale, salsa, and some sort of mysteriously fabulous light green sauce.  Very worthy of future procurement attempts! (Writing about the Unicorn Bowl made me remember my first attempt at poetry: "Unicorns pretty their horns, aglow like stars. Some of them can fly." I think my seven year old self was guiding my quest for the elusive unicorn bowl…)
The smoothies and juices are always a wonderful treat, too.  I tried a carrot, apple, ginger, lemon, and flax-seed oil juice creation the other day – it was SO good.  I credit it for banishing the last lingering remnants of my cold. Favorite smoothies are the Follow Your Heart and the Inner Balance, although you can't go wrong with any of them.  If you are on a quest to find your favorite, I recommend the happy hour, which is every day from 3 – 6 pm, and features $3 K-Bay lattes and mochas and 25% off soups, specials, baked goods and smoothies.
If great food and drink isn't enough, the Middleway mission statement is pretty awesome too:
Our mission is to contribute to a healthy, balanced, and sustainable life through good food. The majority of our foods are low fat/no fat, and we respect alternative dietary lifestyles.
Each person that works at the Middle Way Cafe helps create the "Middle Way" experience for our customers.
Our name is borrowed from the Buddhist understanding of "The Middle Way". This ancient philosophy signifies strength through balance.
We use organic ingredients when price and availability allow. We prepare our food fresh daily and made to order, with loving attention to quality and presentation.
Our wish is that our food and drink will nurture our patron's body and spirit.
My body and spirit definitely feel nourished when I eat there! Mission accomplished.
The thing about Middleway is that even if you put the exact same ingredients together at home, it never comes close to tasting as good (and oh how I've tried), even if it's just a turkey and cheese on multi-grain bread. My recreated smoothie the other day was pretty tasty, but still lacked that special something. And that is why I keep going back to Middleway again and again – their special something.  And Unicorn Bowls, coffee art, and long, lingering conversations with friends.