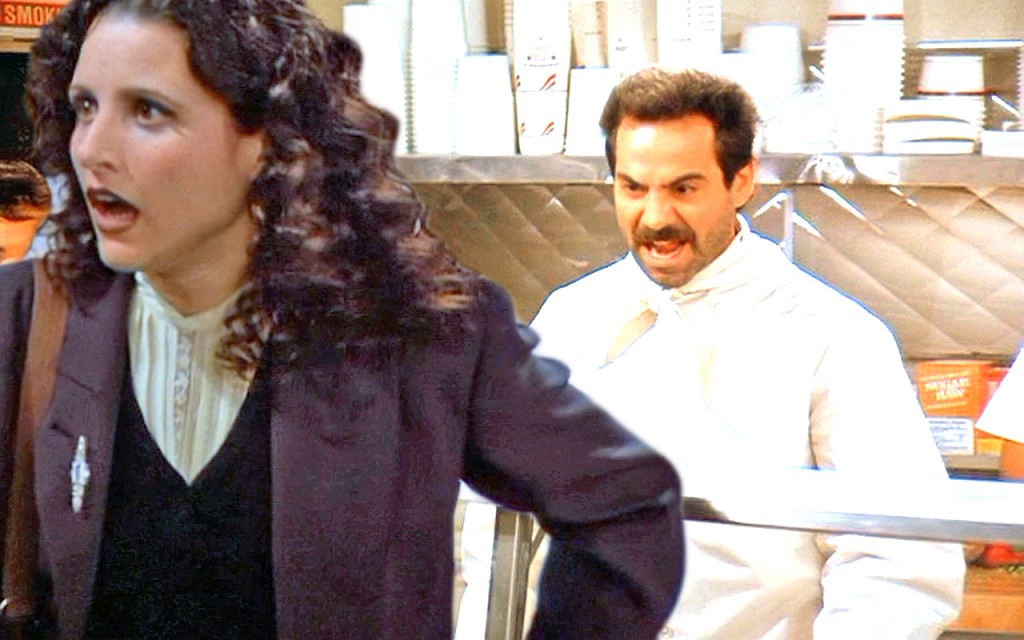 I've written before, rather lovingly, of African Peanut Soup.  I love it.  It's my favorite.  The runner-up, however, also comes from Dianne's Restaurant & Catering.
Mulligatawny.
I'd heard of it on Seinfeld:
KRAMER: Well, a bowl of mulligatawny would hit the spot.
ELAINE: Mulligatawny?
KRAMER: Yeah. It's an Indian soup. It's simmered to perfection by one of the great soup artisans in the modern era.
Fortunately for me, I don't have to deal with the Soup Nazi.
Previously, I stayed away, mostly because I had NO IDEA what mulligatawny soup contained (mystery soup is off-putting to me, as is soup I can't spell; mulligatawny was both) and honestly, Kramer's recommendations are highly suspect.
One day, I found myself sitting at my desk, stomach rumbling.  I dashed to Dianne's for some soup, and encountered mulligatawny.  Apparently, being very, very hungry leads to adventurous eating.  I took the plunge and ordered the mystery soup.
Turns out, I LOVE mulligatawny!
Here's a recipe (I haven't actually tried this – I'm perfectly content ordering from Dianne's when it's available. The version I like has chicken, not lamb.)
Mystery no more:
Seinfeld Mulligatawny Soup Recipe
3 tbsp. vegetable oil
1 lb. boneless lamb shoulder, cut into 1″ cubes
1 medium yellow onion, peeled and finely chopped
6 cloves garlic, peeled and finely chopped
1 1⁄2 tsp. finely grated, peeled ginger
1 1⁄2 tbsp. blanched slivered almonds, toasted and ground into a fine powder
1 1⁄2 tsp. ground coriander
1 1⁄2 tsp. ground cumin
1⁄4 tsp. ground turmeric
1⁄2 tsp. cayenne
1 1⁄2 tsp. curry powder
Freshly ground black pepper
6 cups chicken or lamb stock
1⁄4 cup chickpea flour
Salt
Coarse chili powder (optional)
2 limes, quartered
Finely chopped fresh cilantro
2 cups cooked rice
1. Heat oil in a large, nonstick pan over high heat. Add lamb, 8–10 pieces at a time, browning on all sides, about 5 minutes per batch. Transfer cooked lamb with slotted spoon to a bowl and set aside.
2. Reduce heat to medium-high, and add onions to oil in the same pan. Sauté onions until their edges turn golden, about 3 minutes. Add garlic and ginger, stir for about 1 minute, then add almonds, coriander, cumin, turmeric, cayenne, curry powder, and season to taste with pepper. Cook for 2 minutes, stirring constantly, then add 2 cups stock.
3. Transfer hot stock with spices into the jar of an electric blender. Add chickpea flour and blend until smooth. Pour puréed stock back into the same pan. Add reserved meat and accumulated juices. Stir in remaining 4 cups of stock and bring to a boil over medium-high heat. Reduce heat to low and simmer very gently until meat is tender, about 1 hour. Season to taste with salt.
4. To serve, pour soup into soup bowls, sprinkling each with a little chili powder, if using, and squeezing the juice of 2 lime quarters (quarters release their juice more easily than halves) into each bowl. Garnish bowls with cilantro. Pass rice at the table and add to soup according to taste.
Makes 4 servings.
Recipe and photo courtesy of Saveur Magazine. This article was first published in Saveur in Issue #32.