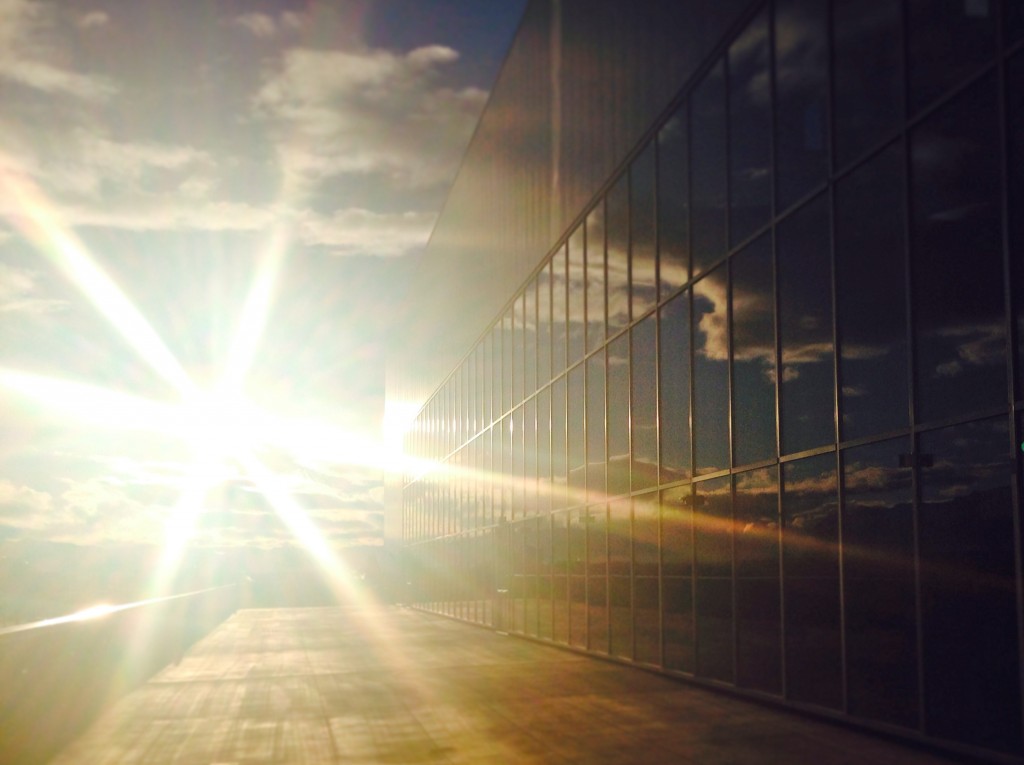 This is my favorite photo from my week as the host of the Anchorage Economic Development Corporation's @iloveanchorage Instagram account!
In case you're not familiar with the project,  AEDC created the @iloveanchorage Instagram account to be:
A community account of rotating Instagrammers sharing fresh perspectives of a day in the life in Anchorage, Alaska.
It's one of my favorite accounts to follow; I love peeking into other people's lives for a week and learning about their view of Anchorage.
Back to the photo above: Look at all that sunshine reflecting off of the Dena'ina Center! It was a balmy 34 degrees that day and I was reveling in running around outside without a coat. Of course, I had to share the moment with @iloveanchorage's followers. Hilariously, instagrammer @ohmygwad from Florida posted the following:
Lol! I'm in Northwest Florida…it was 34 @ 8am this morning and we all about died because we were so cold!! They even delayed the local school by 2 hours. Smh.
Does anyone else remember reading Sun Children v. Snow Children? Can't find it online, but it seems like the appropriate reference here…
I think that @iloveanchorage Instagrammers are usually selected to highlight an event or exciting initiative occurring during their week as host, but I was more of a random pick (I'm guessing they knew that I would totally geek out over the project and have a lot of fun with it, which I totally did – thanks guys!) so my photos are a pretty accurate representation of my a random week in my life instead of focused on something particularly special (although Oros's breakfast flatbread is pretty special). When I Instragram for myself, photos trend towards pictures of Grover, selfies (I know, I know), and things I think are pretty or interesting – using Instagram to document my life for a week as part of @iloveanchorage made me think differently about what I shared. I was more excited about photographing cool things in our city than random personal moments.
Here are my takeaways from the experience:
Complete strangers were really nice when ambushed by a random girl wielding a cell phone excitedly yammering about @iloveanchorage. Thank you lunchtime hockey player, Neil Fried, and fat tire bikers for letting me snap your photos!
There were a lot of art and coffee photos.  No surprise there, but I am starting to wonder if my love of coffee is trending into obsession territory…
I'm also really into dogs (and I did manage to share a couple Grover pics – I just can't help it, I think he's the cutest!).
There was only one selfie, and it was required.
All those likes and nice comments feel so friendly; a girl could get used to having 492 followers!
Nordic skiing hasn't been part of my weekly routine for a long time, but it's going to be! I shared a photo from my first ski of the season, and even though I was slow and out of shape, it was really fun, felt great to be outside, and I got to spend some time with my dad on the trail that is the site of my very first ski memory. There will be many more XC ski dates in my future!
If you followed along this week, I hope you liked my photos. AEDC, thanks for the opportunity. Loved it.
I can't wait to see what the next host of @iloveanchorage posts!