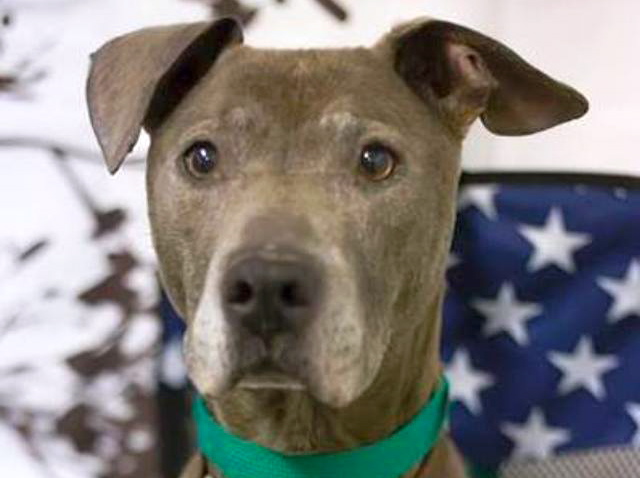 And Abbey Rae Jackson, along with all the other people who open up their hearts and dedicate themselves to volunteering in Anchorage's animal shelters, is saving it.
Abbey volunteers at the Alaskan Animal Shelter and Friends (AARF) one day a week, and also fosters dogs in need of a forever home. She's been doing this for a year now, and has fostered 25 dogs with a 100% successful placement rate.
From Abbey:
"I volunteer because someone has to. I have a day job and can't make it during the week but I devote my Saturdays to helping clean, love and walk dogs at the shelter that don't have homes. I foster because I love giving back and being a voice for these animals that don't have one."
I've seen her in action – any dog that ends up in her world, despite the broken road it may have traveled to get there, will be well-loved and secure in her care.
Abbey says it's incredibly hard – she mostly fosters dogs that have anxiety issues, pitbulls (the most difficult breed to find homes for), or injured animals (she used to be a vet tech). But, like many things that push your boundaries, she says it's also incredibly rewarding when she sees dogs blossom after receiving love and attention, and then flourish in their new homes.
Fostering is an important part of the re-homing processes. It gives dogs a chance to experience love and boundaries, and be socialized in a home environment. Although becoming a foster home is a big commitment, if you are interested you should look into it; a common misconception is that if you have a full-time job, you won't be able to dedicate enough time and attention to fostering. However, many people like Abbey work full-time and are still able to provide a temporary but stable home for animals.
The dog in the photo above is Teyla, and she's looking for a family to call her own:
Teyla needs a forever home. She is such a sweet girl and has been waiting so long! Teyla is about 10yrs old and is a pitty mix. She would be best as an only pet but could do okay with another dog depending on the situation. This little girl has so much spunk and personality so don't let her age bother you!! Give our little lady gray a chance at a great home for her "golden years"! If interested in adopting Teyla please email rescueadogtoday@gmail.com. Because she is a pitbull she requires her new family to own a home.
AARF is 100% funded by donations and is run by volunteers; even Beverly Ausick, AARF's director, is a volunteer. You can check out dogs available for adoption here: so many sweet faces! or their Facebook page for regular updates.
Anchorage is doing a better job at caring for unwanted pets,* but there is still work to be done! Even if you aren't able to volunteer regularly or foster dogs, there are many ways to help out the animals in shelters. The easiest (and incredibly important) way to help is to give money.
Always welcome is the gift of time; I knew a man named Sam, who, when diagnosed with stage four lung cancer, dedicated himself to walking dogs at the Animal Care and Control Center. His wife, Dara, says that he started volunteering because knew he needed a reason to get outside and move, and his love for animals and desire to give back to our community would keep him motivated. As time went on, she says that the animals seemed to recognize that he was sick and often took care of him rather than the other way around. During the walks, there wasn't any pressure, no one asking probing questions, no "how are you feeling today" scenarios, just the quiet companionship of an animal. Even though Sam is no longer with us, he left our world a better place for countless dogs, and in return, they gave him "a paycheck of the heart, which is priceless."
Additional ways to donate include:
Stop by to clean the pens or drop off cleaning supplies for the shelter to have on hand (we have so many cleaning supplies for our one little dog, I can only image how many an entire shelter would need!)
If you're a photographer, take photos! Good photos help great animals get adopted.
Donate toys, beds, leashes, brushes, blankets, bedding, food bowls – pretty much anything you would buy your own pets would be welcome at a shelter.
Office supplies – shelters are just like any other business or nonprofit and need supplies to keep things running smoothly.
Drop off pet food and litter – call ahead to ask for preferred brands.
Get the word out! Share adoption notices on Facebook or other social media platforms – one of your friends might be able to foster a dog or provide a forever home. Here's a great story about an Anchorage couple connecting pets to new owners: How one dog-loving couple is making a big difference with the click of a button.
If you'd like to volunteer or donate to AARF, they are located at 11801 Old Seward Highway, or you can send funds via paypal using AARF's rescueadogtoday@gmail.com email address.
AARF holds adoption clinics every Saturday; the location is generally announced on Facebook and on Craigslist a couple days beforehand (you can also call or email for info). If rescuing a dog is something you'd like to do, it's important to do your research about the breed so that you make the right adoption for your lifestyle – while they may look cute and cuddly not every dog/puppy is a good fit for your type of home environment. AARF prides itself on matching dogs to the right homes, which can sometimes be upsetting to those who are turned down. Fortunately, there are a number of shelters in Anchorage to adopt from, and one of them is bound to have the perfect companion for you!
Anchorage is lucky to have people like Abbey and Sam, who give so much time, energy, and love to our community. To both of them and all the other amazing, dedicated volunteers out there: THANK YOU.  You make Anchorage a better place for all of us, including our pets!
*Shameless Bob Barker-esque plug; the Alaska SPCA offers low-cost spay and neuter clinics, so unless you are a breeder, please take the steps to prevent unplanned litters. And, make sure to license your pets with the Municipality of Anchorage and keep their shots up-to-date!
Image by Brede Emptman of To The Rescue Photography