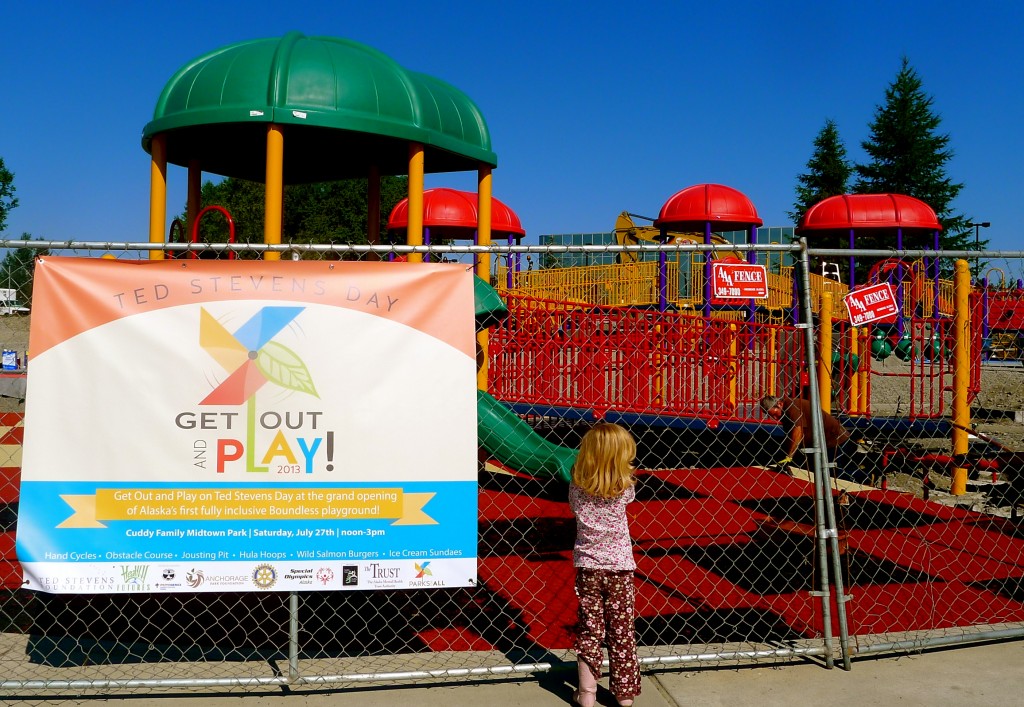 Today was Ted Stevens Day, and to celebrate the memory and spirit of Alaska's "Uncle Ted," a Get Out and Play event was held at the Cuddy Family Midtown Park, kicked-off by the long-awaited, highly anticipated ribbon-cutting and inaugural play on Anchorage's first Park for All, a Boundless play area that will provide an estimated 8,500 kids with disabilities in Anchorage with a place to play.
It was such a great way to honor Senator Ted Stevens, who, although into his 80s when I was in D.C., was still a legend for rigorous tennis matches and was well-known for being an avid outdoorsman.
Although I arrived too late for the ribbon-cutting, there are many pictures floating around of my friend Leah wielding a pair of gigantic scissors as her daughter, community leaders, and countless others look on, ready to PLAY. I'm so proud of Leah's accomplishment (and all the people who helped make this park a reality!), and even more, am excited for all the kiddos who are going to love this playground!
Even though it was only open for a brief time today (there are still some final touches to be done – our week of rain set back the construction a bit!) it was swarmed, and kids won't have to peer through the fence for much longer.
Elsewhere in Cuddy park, players could find basketball tosses, obstacle courses, hand cycles, a crazy hair tent, and a GIANT BUCKING SALMON (amongst all sorts of other fun things). Kids and dogs abounded. Photographs from Ted Stevens' life were hung along the paths, and many people were sporting blue ribbons to honor our longest-serving senator, although I think the greatest honor was probably the sheer number of people who came out to play!
How did you celebrate Ted Stevens Day?