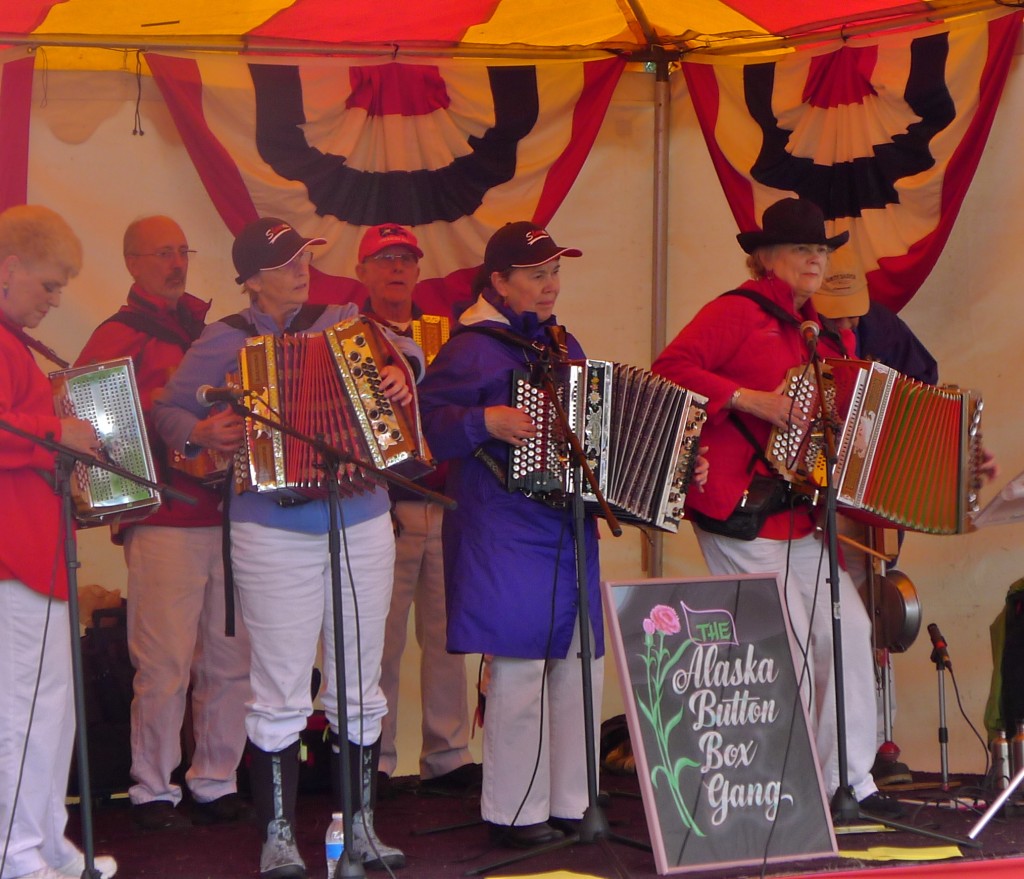 There's something so cheerful about polka music, even if it invokes a memory of a fierce lady instructor propelling me around the floor while shouting instructions to other dancers and lecturing me about how I was doing it all wrong while my friends snickered from the sidelines. What can I say? She was right; I'm not a particularly talented dancer.
Despite this traumatizing event, I still like a bit of polka now and then, as I was reminded when I encountered the Button Box Gang on July 4th.
As their name suggests, the gang plays button boxes, which are "a type of accordion on which the melody-side keyboard consists of a series of buttons rather than piano-style keys." (Thanks Wikipedia!).
It was really fun to watch the gang play their button boxes – they seem like they're having so much fun, and really love performing! Their repertoire includes more than just polka; they also play waltzes, schottisches, two-steps, swing and Latin.
If you'd like to catch a show, they'll be around town this summer:
Thursday, July 25th – Live at the Library, Loussac, Noon-1:00 PM
Saturday, August 3rd – Anchorage Saturday Market, 3:30-4:40 PM
Sunday, August 18th – Big Wild Life Runs, Westchester Lagoon, 9:00 AM – 10:30 AM
Saturday, August 24th – Anchorage Saturday Market, 12:50 PM – 2:00 PM
Monday, September 2nd – State Fair – Colony Stage – 2:30 PM – 3:00 PM
I highly recommend checking them out – I guarantee you'll leave with a grin, and might even be moved to bust out a two-step or three.