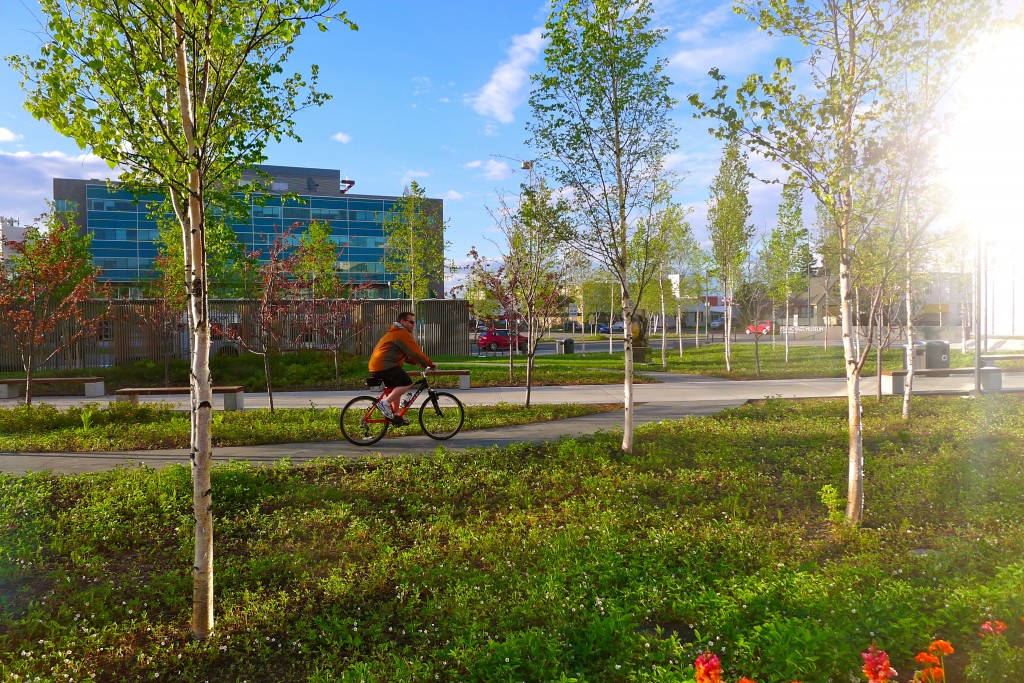 We had a pretty great Friday night walking and biking through downtown Anchorage.
First we checked out Friday Night Bites, a new market on F Street between 6th and 7th, organized by Anchorage Downtown Partnership on the first Friday of June, July, and August.  If you missed it, rumor has it the July market will be even better, with lots of fresh Alaska-grown produce.  Tonight, my favorite stop was Bloomsbury Blooms, a self-described bohemian florist, with "a unique mix of locally grown, foraged and imported beauty." Bloomsbury posts beautiful bouquets on Facebook daily, and it was awesome to see them in person.
Live After Five was fun – the band had a good energy, the beer garden was full, and town square was overflowing with couples, families, and dogs. The bubble machine was in full effect and seemed like a hit for the kids in attendance, and everyone there was reveling in the sunshine.
We made three stops for First Friday. First up was Namaste North, a new yoga studio and café in the building that formerly housed Winterberry Charter School. Photos by Michelle Roth were hung throughout the studio – I loved the sense of calm and clarity of color in each photo.
Our next stop was "of love," a show by Enzina Marrari using performance, sculptural installation, and dance "exploring the diverse physical and emotional landscape of love" at the International Gallery of Contemporary Art. The show drew a considerable crowd, and what I could see as I peered over shoulders was pretty cool.  My favorite part was a dancer in white and nude, performing in a small space on a floor covered in what looked like charcoal dust. She incorporated the walls into her dance, and each time she touched them she left traces of gray; as the performance progressed her movements were captured in charcoal, showing the audience a real-time visual progression of her part in the show.  The lucky viewers in the front row had access to white headphones hanging from the ceiling, and could listen to a musical compliment to the performance, which repeated every few minutes. My favorite part each time was the spit second when the dancer perfectly captured joy, in both her movements and in her expression.  It was really beautiful, and I wish I could have had a bit more time and space to really absorb the show.  I feel like I left with just a small, tantalizing taste.
Afterwards we headed to our final destination for the evening, the Muse patio at the Anchorage Museum. The Rebel Blues Band was in particularly fine form (I love them more each time I hear them – just so, so good), new heaters graced the patio, and the museum commons were busy and beautiful. As we waited for dinner, the sky turned purpley gray and the rain started to fall.  We decided to weather the storm in hopes that it would pass, and it did, but not until everyone had cleared the patio except for us and the Rebels. Our favorite waiter, Nick, dragged over two large umbrellas and a heater for our little group, so we ended up fairly warm, mostly dry, and got a private show of one of our favorite bands. Sweet! Once the sun came back, the patio filled up again, and we had a great time people-watching as we finished our dinner. After spending a bit more time wandering the commons, we strolled home, ready for pajamas, Arrested Development, and puppy cuddles.
All in all, the perfect way to start the weekend. I hope you had a wonderful Friday night too!