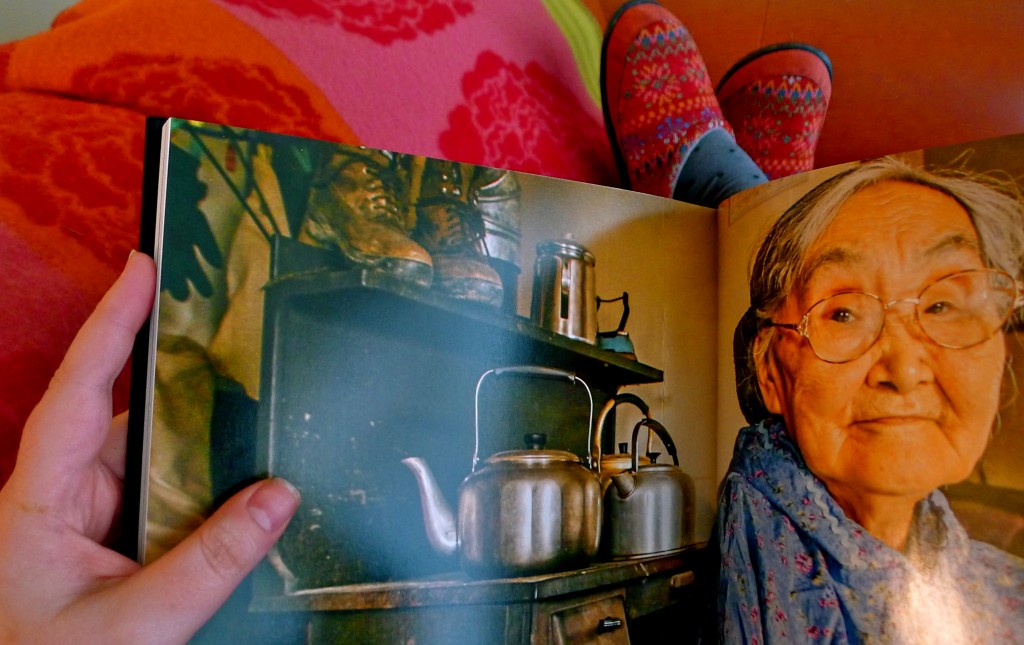 "There have been hundreds of books produced that feature Alaska's beautiful natural environment, but very few books have featured the people of Alaska." – Clark Mishler
I've written before about how much I enjoy Clark Mishler's Portrait a Day blog, and was thrilled to support his Kickstarter campaign for his new book, Portrait Alaska: 25 Years of Portraits by Clark James Mishler.
Yesterday, I stopped by the studio to pick up the book. It doesn't disappoint; it's so much fun to flip through, and look at all the faces, old and new, known and unknown.  Plus, I love all the rich color and expressive Alaskans featured. To top off my quick visit to the studio, Clark gave me a copy of Anchorage: Life at the Edge of the Frontier. SWEET!
It's interesting – so many of the images we regularly see in print are highly photoshopped to get rid of unique identifiers. When those are the images you see day after day, they become the baseline for beautiful. In his work, Clark elevates the imperfect, the asymmetrical, the weathered, the lived in, the REAL to something so much more interesting and dare I say truly beautiful. He makes the faces staring back at us from fashion magazines feel boring, plastic, and almost pedestrian.
Even objects become more interesting in Clark's work – not only is the portrait in the photo above compelling, I'm also drawn to the battered hiking boots and well-used kettle on the stove. Don't you wish that you could be invited in for a cup of tea?
I attended Clark's presentation at the museum on Saturday, which was really fun.  The professor from UAA who introduced Clark mentioned that people are what make a place LIVE, which is a sentiment I love.  Then Clark shared a bit about his family's background, some childhood photos, and made some joeks (he's funny!) as he walked through some of his most recent portraits.
Here's an interview with Clark about the book: A look at Clark James Mishler's Portrait Alaska.
The show at the Anchorage Museum looks incredible – the portraits make an even bigger impact when enlarged, ringing the atrium with friendly, fascinating faces. I hope that you're able to stop by – it'll be up through September 28.