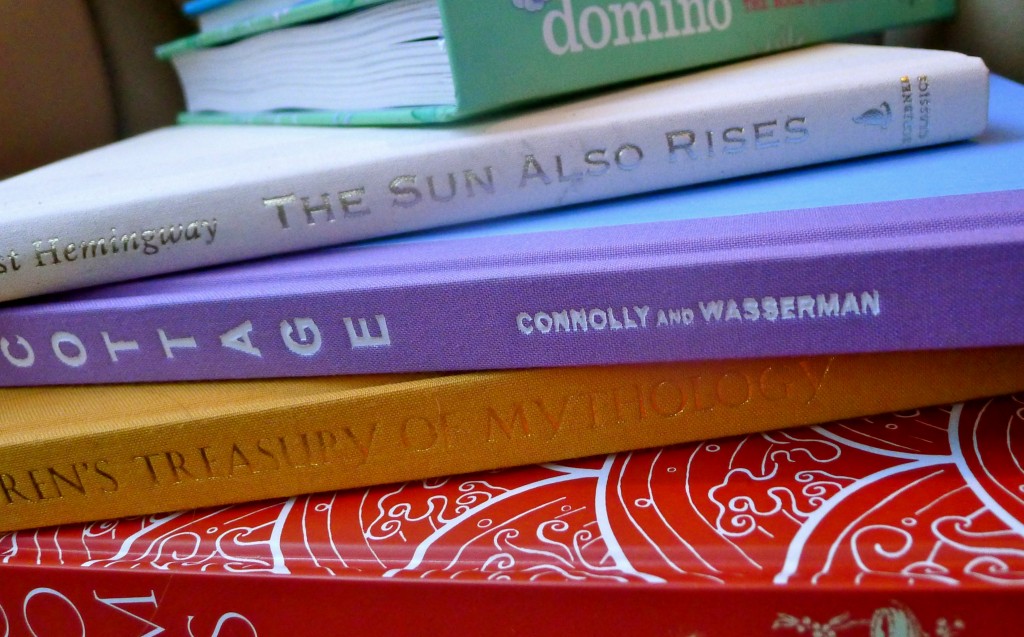 This photo has nothing to do with the headlines I'm sharing here, but the books are pretty (some of my favorites!), and some of them are stories…it's a stretch I know, but it's been a long and wonderful but busy week.  And it's finally Friday, and I'm excited to relax with my husband, my dog, and a glass of wine. We might just watch Rock of Ages (again…what is it about this movie?!). So for these reasons, you get to enjoy the least relevant photo I've yet to post on this blog! And of course, sample some fun headlines from the last couple weeks.
Escaped horses run amid Anchorage traffic, from the Anchorage Daily News. They must have been having so much fun!  A successful escape, (led by "Big Fred") running free with their buddies (apparently they are used to cars, so hopefully weren't scared) on a springtime afternoon jaunt through town, playing a great April Fool's day prank on all of Anchorage…
There's a new blog in town: www.amandacoyne.com.  So far, Amanda's informative, insightful, and funny. I'm looking forward to reading her thoughts on politics and Alaska!
Kikkan Randall is making history for U.S. nordic skiing.  The Ski Channel writes about her history-making ski season in Kikkan Randall Makes Top 3 Overall in FIS Cross Country.
Connect Alaska is an organization whose mission "is to change lives through technology. It is leading the effort to increase high-speed Internet access, adoption, and use to diversify the economy and ensure Alaska's competitiveness in the connected global economy of the twenty-first century." Connect AK staff recently wrote a blog post, Education Through Technology: Preserving Alaska's Rural Culture, about using native languages to narrate QBooks on iPads as a way to preserve the language.  It's a very cool story, and I hope that QBooks in Alaska continue to grow!
From the Anchorage Daily News, Chef Brett Knipmeyer makes fine dining a casual affair, because Kinley's is one of my favorite restaurants in town, and it's fun to read Brett's story of how he became a chef in Anchorage. And it's great to hear that he's a regional semifinalist for a James Beard Award, which (according to the website) is "the highest honor for food and beverage professionals working in North America."
Also from the Anchorage Daily News, this little gem: "Bill Popp, head of the Anchorage Economic Development Corp., has been friends with [Senator Mark] Begich since their teens, when Begich started a nightclub for young people called the Motherlode and Popp spun records as a deejay." Read more here.
The Alaska Dispatch has been killing it with all sorts of fun things to read recently:
Photos: Ski Train, an Alaska tradition – great photos, colorful, crazy, and fun. Somehow I've never done the ski train (it's on the list!) but this looks even better than I imagined!
Anchorage, tell us (and maybe the mayor) where the potholes are – this map help us all avoid those hungry tire swallowing holes around town, which is great, because I do not love potholes…
Another great Northern lights show, captured by Loren Holmes in time-lapse video of Alaska's northern lights.
Anchorage Opera's Pirate's of Penzance is here for this weekend only – my secret source tells me there are still a few tickets left!
And, finally, I've never wondered how to be a nude model in Alaska, but the Dispatch has…and now we all know!  Find out here: How to be a nude model in Alaska.
What did I miss?  Any other great articles out there?