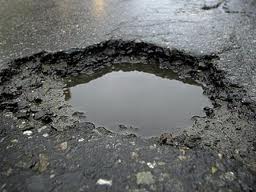 Melting snow, spring sunshine, no more ice on the roads – all things that make me very happy during my morning drive to work.
But the gaping maws of potholes, lurking unseen during rush hour, waiting for unsuspecting drivers to notice (too late!) that their tire is about to be swallowed whole is not something that makes me happy (and for some reason, the jarring discovery of potholes is always worse in the morning).
Fortunately, there's revenge to be had.
The Municipality of Anchorage has a pothole hotline (343-MEND) that you can call to report those dastardly potholes. This, I love.  Not particularly imaginative, innovative, or beautiful, but immanently practical.  There are even tips to help people like me avoid potholes.
Best advice? If hitting a pothole is unavoidable, just go for it: maintain your speed (don't brake) and hope for the best!