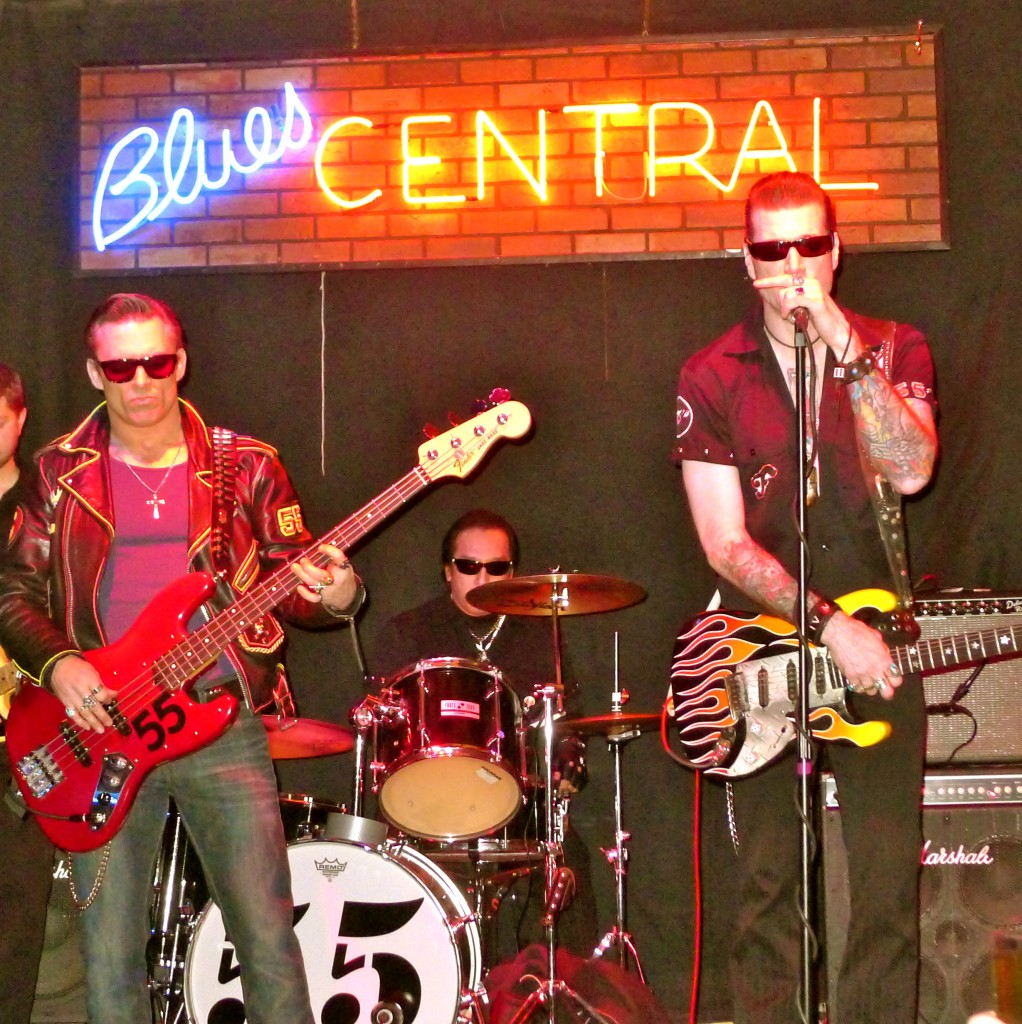 Last night we dropped into Blues Central to catch a bit of Joey Fender and the 55's performance – we'd heard that he was an incredible guitar player, plus I had a romantic vision of Blues Central in my mind: dark and smokey, with raspy blues filling every corner of your brain and the bar.
And except for the smokey part (yea!), my vision was right on. Joey Fender is AWESOME. My husband says he sounds like Jeff Beck. I don't know what Jeff Beck sounds like (Wikipedia says he played with The Yardbirds), but he must ROCK.
There's surprisingly little information about Joey Fender out there, so I don't have background info to share with you. But these were my impressions from our evening:
Actually, awesome (poorly chosen adjective used above) doesn't even begin to describe how good Joey was on the guitar.  The singing was secondary (on purpose, I think), but it was perfect for the songs he performed.
Joey twitched, grimaced, did deep knee bends, high kicked, writhed around on the stage, and jumped onto the dance floor – all for a tiny bar in Anchorage, AK with a crowd less that fifty strong. We loved it!
The 55's were great too – I couldn't tell if they were his regular band, or if he picks up people based on where he's traveling.  I'm pretty sure that one performer was a less experienced local guy, and it was cool to see the band showing him the ropes. Joey was the obvious star, but gave the rest of the band their chance to shine.
Joey has a local following – there were definitely super fans there.  Rumor has it Joey has Alaska ties – a lyric goes something like "I was born in California, but Alaska raised" so hopefully he comes up here to perform regularly – we definitely want to see him again!
If you're reading this on Saturday night, he's performing RIGHT THIS MINUTE!  Get over to Blues Central and experience it for yourself!
You can check out videos of Joey Fender and the 55's here, here, and here (they don't even come close to what it's like to be there in person, sitting ten feet away).
This is what the critics say:
"Joey Fender – N – the 55's, a group that consistently outperforms headliners."
– Jenifer Honk; Daily News Music Reviewer
"Fender's strength is his guitar playing, with thick, demonstrative runs. If this genre had a smell, it would be of whiskey, motor oil, and smoke."
– Tony Hopfinger; The Press
"Joey displayed the energy of a screaming eagle, hellbent to destroy the doldrums of our everyday existence."
– Boo Body; Message in a Bottle
It was an awesome evening.  Great music, great company.  We're fans for life. I hope you get a chance to see Joey Fender and the 55's too!