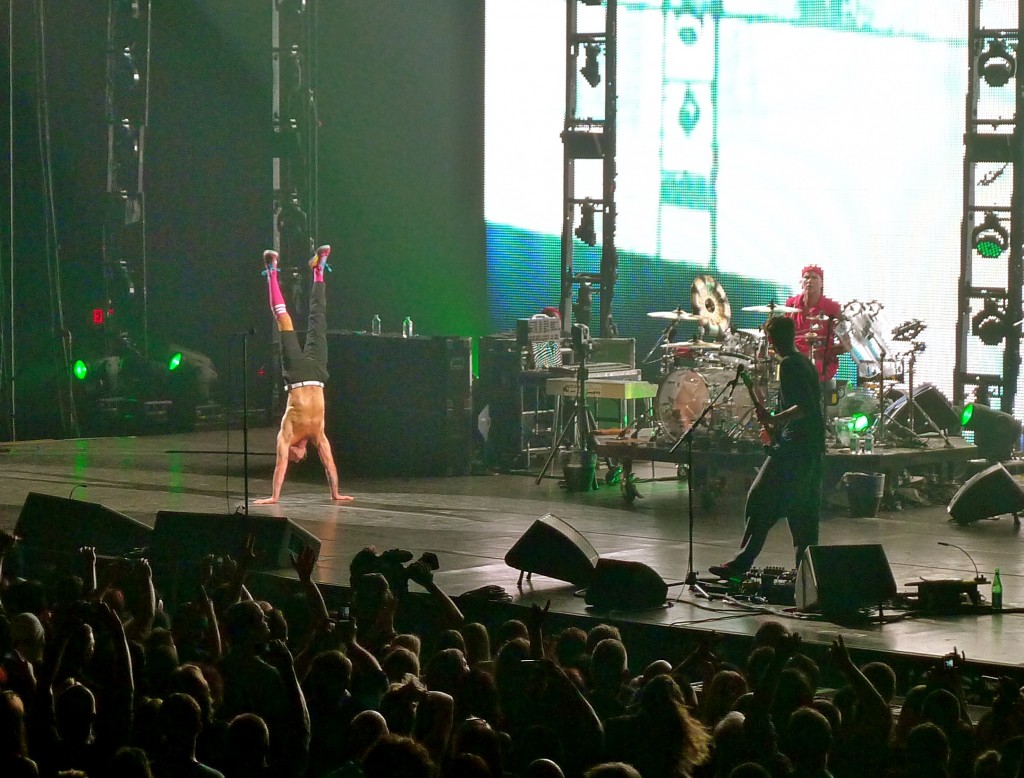 We went to see the Red Hot Chili Peppers tonight, and they were AWESOME! If you have tickets for tomorrow night, you're in for a treat. If you don't, I highly recommend doing your best to get your hands on some!
My introduction to the Chili Peppers came in 5th or 6th grade. One of my best friends had two older brothers that were just. so. cool. (in the way that only teenaged boys can be cool), and I remember the sound of the Chili Peppers filtering out from behind a closed door, guitar and bass thudding, lyrics indistinguishable.
At that point, I wasn't exactly up on current music, spending my time memorizing the words to Simon and Garfunkel's "Cecilia" or belting out off-key renditions of "Do Wah Diddy." I'd never heard anything like the Chili Peppers before, but I soon fell in love with "Under the Bridge," which is still my favorite today.
Because it's late, I'm just going to share a few random observations from our evening:
Anchorage came OUT for this show. The Sullivan Arena was packed and the crowd was on their feet almost all night (so much better than the Sugarland concert I went to, where the audience sat politely and clapped, despite Jennifer Nettles imploring us to get up and dance). And, I loved all the rock inspired fashion flaunted by the Anchorage ladies. Also that there were so many ages in attendance, and all were loving it, was pretty cool.
The opening act had it rough – they were good, it was interesting music, they told us their name a few times but I have no idea what it was, mostly because whatever they were saying was unintelligible. And then the Chili Peppers came out and showed what it means to be a rock band. Their sound is just so powerful, and you don't really know how much so until you see them live.
There are people whose job it is to climb a rope ladder to narrow platforms above the stage and sit above the band to shine spotlights on them. I counted seven guys and one girl – can you imagine what a great show you'd get up there?!
Lead singer Anthony Kiedis and Flea are both 50, but hot damn they perform like they're at least half that old, and are ridiculously fit – must be all that twitching and jumping and running and gyrating they do on stage in addition to playing guitar and singing.
The Chili Peppers performed the best rendition of Stevie Wonder's "Higher Ground" that I've ever heard (only song in the line-up that wasn't their own). It was like a freight train barreling down the track at full speed. And I mean that in the best possible way.
Anthony Keidis was wearing black slacks with one leg cut off, a blue soccer sock, and blue shoes with pink accents. Flea was wearing black slacks with one leg cut off, a pink soccer sock, and pink shoes with blue laces. (Similar to this outfit.) So, do you think they emailed each other? "Hey, you know what would be cool? To cut one leg off our pants!" "Yeah, that's awesome! I'll wear a pink sock, you wear blue." Or, maybe the bare leg was cold? Or their kids are somehow responsible? Who knows… one thing I DO know though is the answer to whether they switched socks so they each had a blue and a pink, and if they were even wearing a knee-high sock under the full pants leg, which I spend a bit of time pondering. At the end of the show, during the encore, Flea walked out on his hands, AND I SAW THE OTHER PINK SOCK. So, one part of the mystery solved.
Our favorite Joey Fender was there, wearing a T-shirt that said, "Flea is my homie" and a long black trench coat. I love this.
I might be a bit deaf.
It was a great show. I hope you get to go!
I'm off to bed.