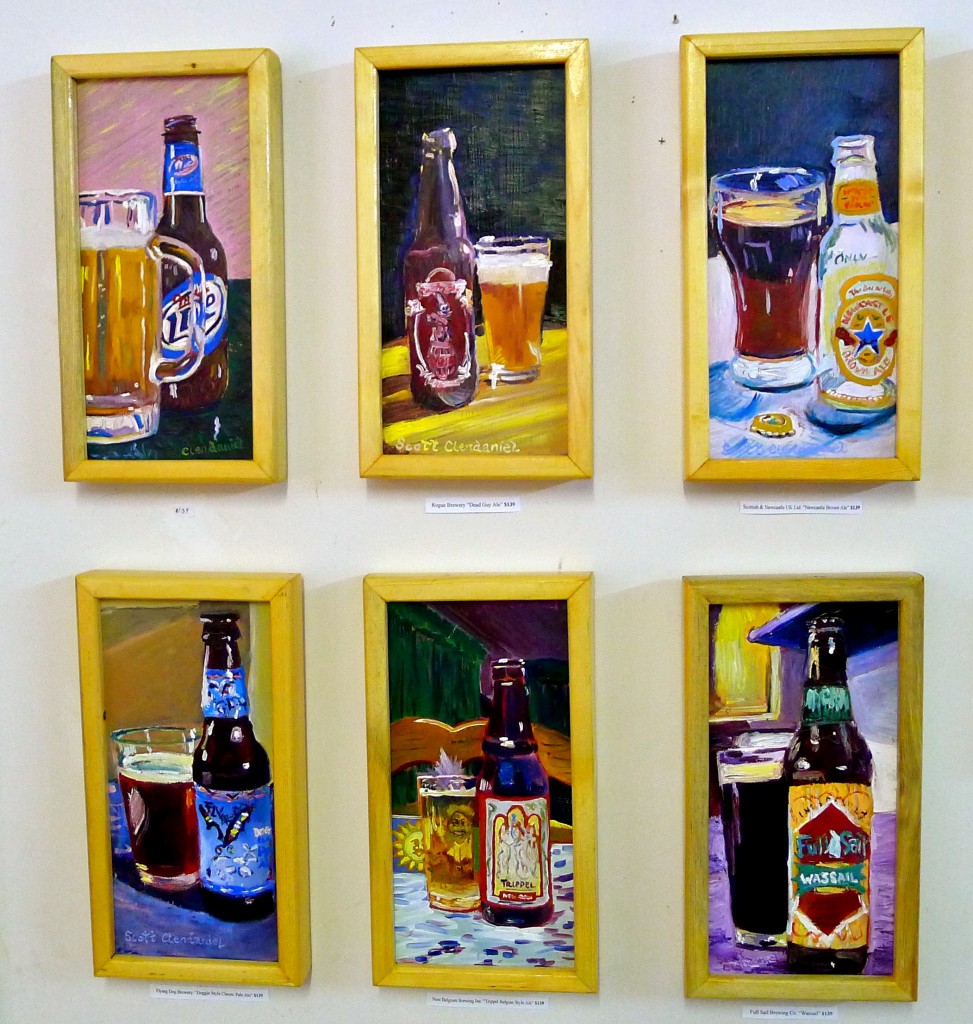 One of the best parts of high school is when it's long over, re-meeting people and learning about their journeys.
Scott Clendaniel's journey so far includes becoming an artist who splits his time between McCarthy, Anchorage, and various adventures.  I remember him, back in the high school days, as simmering with energy, enthusiasm, and curiosity about everything.   It's fun to see how he's directed those characteristics into his work.
I started following Scott's painting in 2011 when he held his 99 Bottles of Beer on the Wall show (some of the remaining originals shown in the photo above). I've always loved beer and wine labels, and Scott's entire show was devoted to bottles of beer (ninety-nine, in fact!) and heavily featured all the lovely labels (because without the labels and the bottles, beer is pretty much varying shades of brown until you drink it).
Although I didn't buy anything in 2011, this year at the Maury's Studio Show, I picked up a limited edition print of Alaskan IPA to give my husband.  I love the colors, he loves the beer!  And it will be a nice counterpart to some of my other, less beer-ey art selections.
Scott also does some cool plein air painting and writes about it in a blog.  My parents were visiting McCarthy and ran into him while making a painting of a truck. I think it was one of their favorite parts of their trip!
If you're interested in Scott's work, he has another beer-themed show coming up:
Homage to Homebrew
First Firkin Friday
Midnight Sun Loft
January 4, 2013 @ 5:00 pm
It's bound to be a good one.  Scott's tapping the firkin keg right at five.  If you don't make it on Friday, his work will be shown until the end of January.
Bottoms up!