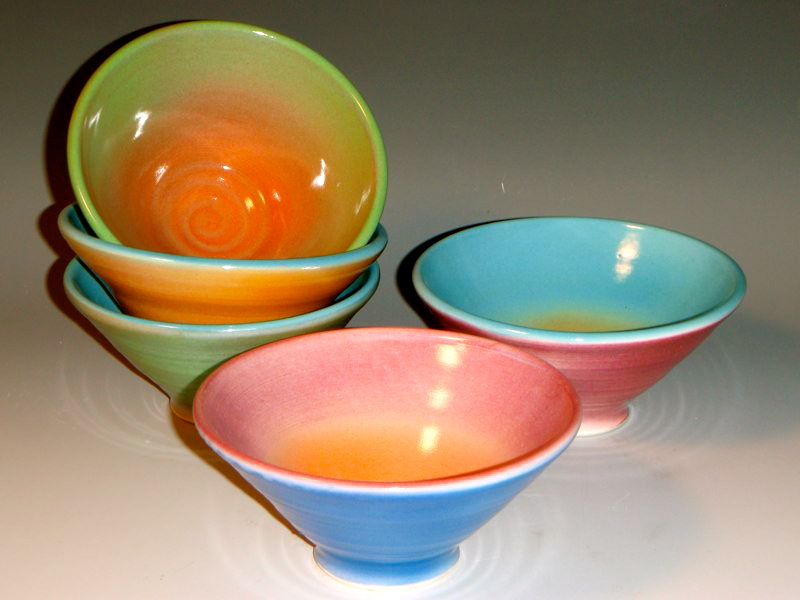 I mentioned the Maury Annual Studio Show and Open House last week (I hope you got a chance to go!), and stopped by for a visit this weekend.  It's one of my favorite early winter traditions, and I never fail to leave without something beautiful to take home. This year I picked out a bright turquoise bowl that is the perfect accent color for my living room bookcases.
Because Toni, Ashley, and Scott are some of my favorite local artists, I'm going to do a separate post for each one of them.  First up, Toni!
One of the best parts of going to the annual studio show is visiting with Toni. She's one of those radiant people that makes everything around her seem warm and special, and that feeling extends to her home and her work.
I consider Toni my gateway into loving pottery. During high school, my mom started bringing home beautiful little bowls and plates in bright, vibrant colors, and then expanded to serving platters and my favorite, blueberry bowls.
Later, Toni would let me volunteer at her shows, and pay me in pottery, which was extremely generous of her because I'm not sure that she actually needed my help; she just know how much I loved being surrounded by all that beauty and how much I longed to take some home with me! I love the colors and textures of her pieces, and Toni always tells me a bit about each one I bring home, which makes them even more special.
One of my favorite mugs came from Toni's experiments in a salt kiln, which results in a different kind of texture and finish than her usual style. It had a little crack in it, so she gave it to me as a gift.  It's the mug I always reach for first.
Another well-loved piece dates back to 1999; Toni made  each of the seniors on the ski team a ski-themed mug with their name on it. I still have mine, and it's one of my husband's favorite mugs to drink from!
Toni's husband Kirby is also very talented. Here are their artist bios/super cool life stories from their website:
Toni Maury: Toni grew up with an abundance of exposure to the arts. Her father was studying art and architecture during her early childhood and she fondly remembers trips to museums and art galleries. Her family moved to Alaska in 1973 where she finished her last year of high school and started taking college classes. A pottery class rekindled her love of the arts and working with her hands. Her education continued in the arts and she earned a Bachelor of Fine Arts with an emphasis in ceramics and drawing. In the same pottery class she met her husband Kirby. The professor Alex Combs became a close friend and mentor as well as introducing Toni and Kirby to the remote Alaskan community of Halibut Cove which is known for it's resident artists and commercial fisherman. They decided to settle in the community and build their first home where they began raising their family. Toni worked as a potter, a deck hand on the island ferry and as the Halibut Cove postmaster during this time. The remote life style enriched their lives in many ways but also had limitations. After home schooling their oldest child for three years they made a winter home in Anchorage where the children could broaden the scope of their education and Toni and Kirby could expand their careers. Halibut Cove has remained a gathering place for the family during the summer months. Toni manages the Halibut Cove Experience Fine Art Gallery with her youngest daughter who is also an artist. She works in Anchorage and Halibut Cove as a potter creating functional pottery, handmade tile murals and one of a kind teapots and vases. The environment and lifestyle of Halibut Cove continue to be a major influence on her creativity. Toni's work has been shown in numerous juried art shows as well as gallery shows throughout the state of Alaska.
Kirby Maury: Kirby got hooked on pottery when he took a class from Alex Combs at Anchorage Community college. He had finished a Bachelors in History a few years earlier. His passion for the arts turned into a pursuit of his Bachelors in Fine Art which he completed at the University of Hawaii. After Toni and Kirby started their family Kirby focussed on a career path he had started when he had a summer job surveying on a road construction site. He has worked for the Alaska Department of Transportation for the past 30 years while working in the studio when ever time permits. He will be retiring from his engineering job soon and will concentrate more on making pottery. Recently Kirby has been carving birch bowls which he hopes to have more time for as well. His specialty in the pottery studio is carving the edges of his porcelain bowls in fish and bird motifs.
I highly recommend checking out both Toni and Kirby's work!  You can contact them toni@maurypottery.com, and check out their website for show times and locations.
Do you have a favorite mug you always drink from?