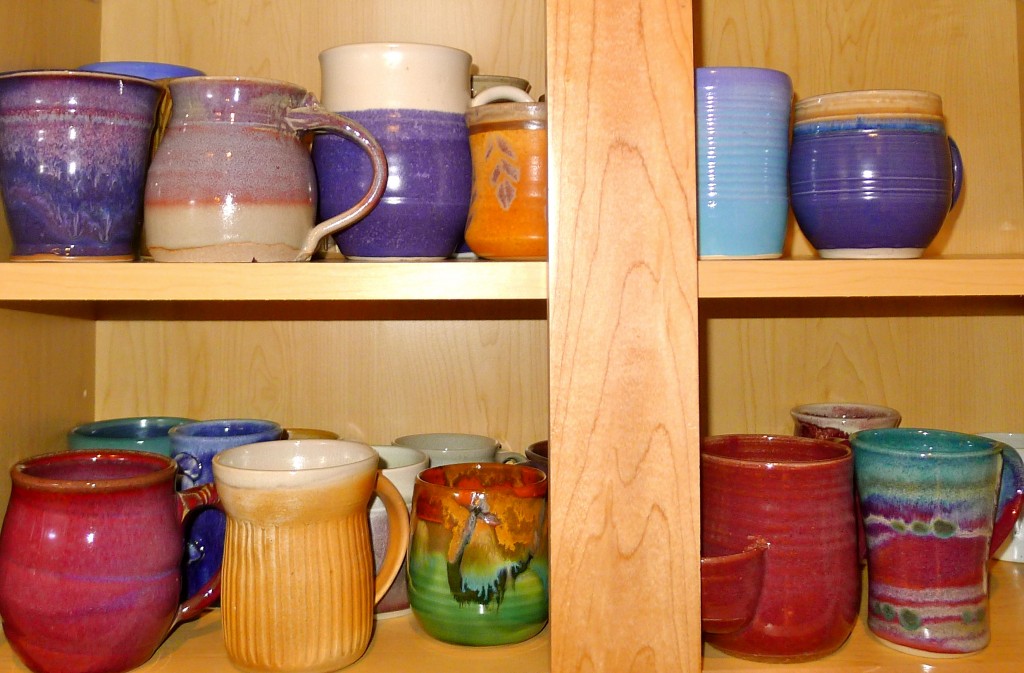 I love pottery.  I think it's the perfect blend of function and art.  The best part is using it every day and admiring the colors, patterns, and textures, knowing that someone made it by hand.  I have a collection at home of mugs from various places around the country (mostly Alaska, from our local potters) and beautiful plates and bowls that were wedding gifts.
It's really hard for me to pass pottery for sale and not bring something home.  So maybe it's a good thing that I've never been able to attend the UAA Student Pottery Sale.  I either find out about it after it's already happened, or I'm working (as is the case tomorrow – drat!).
Fortunately for me, I have an in with a student, who is very thoughtfully saving me a piece I scoped out on Facebook (shown above – thanks Brian and Jenn!).  I can't wait to pick it up!
I do wish I could go and peruse all the pottery in person though, there are some very talented students selling their work (but like I said, maybe a good thing I can't – I'm running out of cupboard space!).  If you have the time and inclination to attend, here are the details:
Friday, Dec. 7, 8 a.m.-5 p.m.
Gordon Hartlieb Hall, Room 108
Join us for our annual holiday pottery sale at UAA. Choose from a wide selection of mugs, cups, serving dishes, plates and other beautiful ceramic pieces produced by students and faculty in the UAA ceramic arts program. Get there early for the best selection!
If you go, humor me and send photos of whatever lovelies you bring home!
Also (I'll be writing more about this later, but I have to plug this event because it's great and if you can go, you should!) another favorite potter of mine Toni Maury, will be hosting her annual pottery show at her home, starting tomorrow through Sunday.
Toni's daughter Ashley makes gorgeous nature-inspired silver jewelry and will also be there, as will artist Scott Clendaniel.
2527 Susitna Drive
Anchorage, AK 99511
Friday December 7, 11 – 9pm
Saturday December 8, 10 – 4pm
Sunday December 9, 20 – 4pm
 I hope you make it!  I know I will!