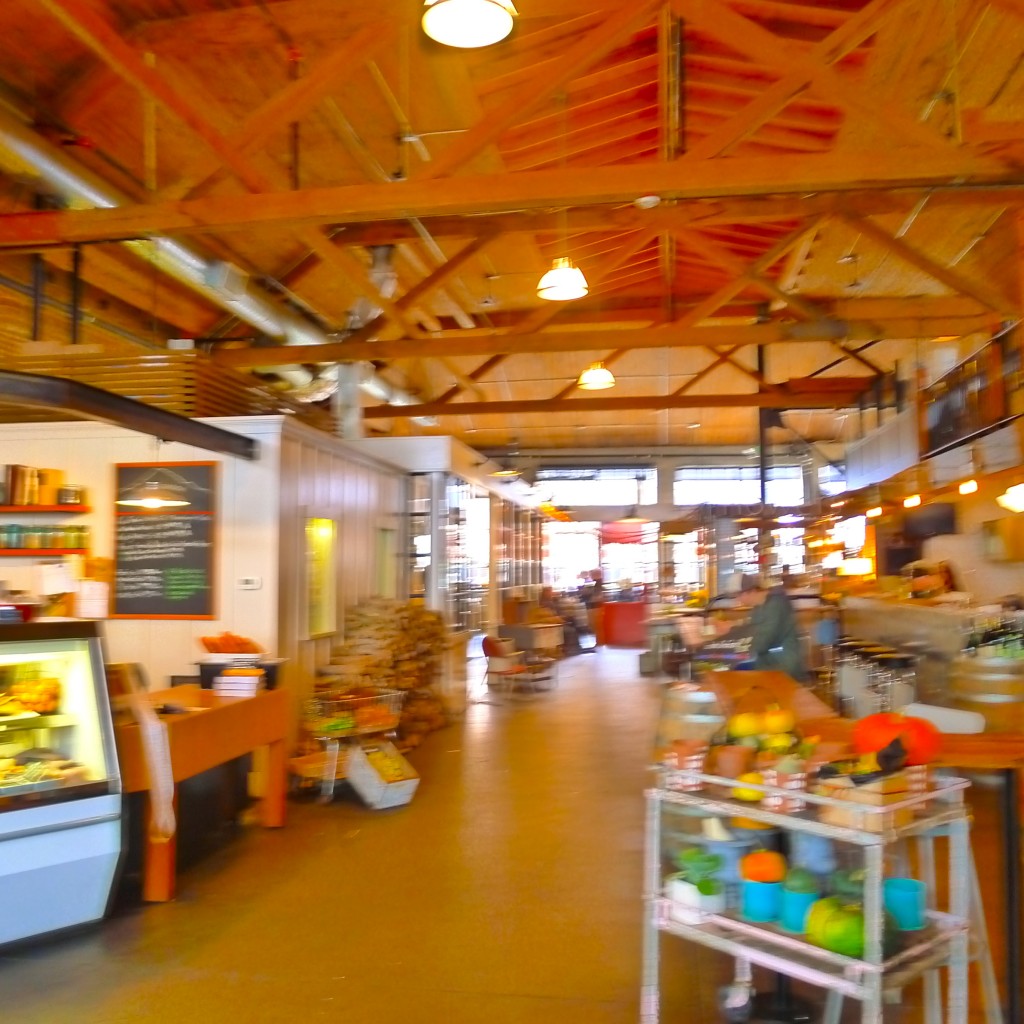 I've been thinking about my Seattle trip a lot – it is just such an inspiring city and so much fun to visit friends for a couple of days and explore! I've always loved Pike Place Market, and thought that we could do an Anchorage version by having an indoor market that could expand into an outdoor market in the summer. On my most recent visit to Seattle, I actually wandered into an indoor market that was even better than all of my imagining: Melrose Market.
It looked fairly unassuming, just a normal storefront with nice trim, but once I walked inside the space opened up and was filled with separate little areas for different vendors: a butcher, a baker, a florist, a café, a bottle shop, a gardening store, an artisan cheese shop, and a little restaurant called Sitka and Spruce. Unfortunately, all of my photos are blurry (i.e. the photo above), but here you can find shots of the market on their website, here!
I think a great place for an Anchorage indoor market would be the strip mall on Spenard across from Chilkoot Charlie's parking lot. That mall is ripe for redevelopment – it has a great location across from Bear's Tooth and AMH, and with newish restaurants like Spenard Roadhouse and Sugarspoon in the neighborhood, it has huge potential to draw on the same clientele and become something really cool. Plus, it's already filled with favorites like Inner Dance Studio, Mama O's, and Organic Oasis.
Wouldn't it be cool if the mall were redesigned to have multiple stories around the edges for the existing stores, and then the middle could be turned into an indoor market? In the summer time, doors could be opened wide and the Spenard Farmer's Market could move into the parking lot of the market (shoppers could park across the street at in the Koots lot where the farmer's market is currently located). Even cooler would be if the top level of the new mall area were apartments. It would be such a fun place to live!  And, doesn't it seem like there might be some interesting synergy with First Taps if the outdoor space were designed for gathering?
Ahhh Seattle, I don't envy your transportation issues (listening to all the commuter woes made me incredibly thankful for Anchorage's comparatively free flowing traffic) but I do envy your markets, shopping, and beautiful design. Maybe someday, we'll have a market just like you, except with our own special Alaska flavor!