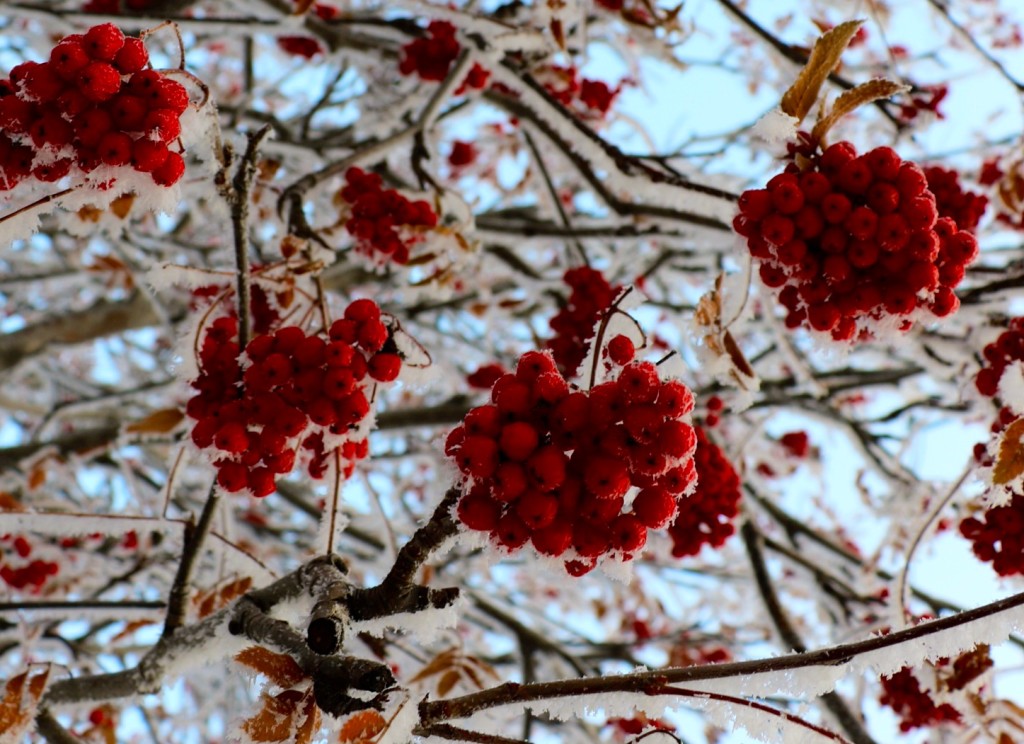 I haven't written a stories around town post for a while, but when I woke up this morning there were so many interesting things to share with you! Also, I'm loving the sunshine today but miss the cooler temps and gorgeous hoar-frost we enjoyed earlier this week, hence the photo above.
After reading multiple articles and opinion pieces about the dire state of our economy, it was refreshing to read Sean Doogan's piece, Anchorage attracting new retailers despite big downturn in state revenue. Particularly exciting is the artisan market in the old La Mex building in Spenard (it's like my dreams are partially coming true – a mix of specialty artist and food sales stores along with a KBC and Moose's Tooth pizza shop… here's hoping Fromagio's lands there!) and the new project from the creators of Flattop Pizza and Humpy's slated for downtown.
I also enjoyed Tim Bradner's measured perspective shared on Northrim Bank's Alaskanomics blog: State's finances are challenged, but all is not bleak. I've been called a relentless optimist, and it's probably true, but what's wrong with wanting a bit of hope mixed in with the seemingly daily dose of gloom and doom regarding state budgets?
It's Alaska Beer Week and the Anchorage press has a guide to all the happenings during the "sudsy 10-day soiree": New Beers Resolution by Dr. Fermento. I've been enjoying a tentative foray into the world of Alaska craft beer, and hope to partake in at least a couple of the 29 events – beer dinner anyone?!
Anchorage Downtown Partnership's Crystal Gallery of Ice kicks off this weekend – stop by town square to watch carvers in action or any time until the end of February to see the finished sculptures. Winners will be selected Sunday evening and yours truly gets to be a judge!
The race for mayor of Anchorage is starting to build up steam, and Andrew Halco finally put the "will he or won't he" rumors to rest by filing paperwork on Friday to run for mayor. With both Halcro and Dan Coffee in the race, along with other rumored and declared challengers, I expect high quality dialogue about Anchorage and the future of our city – despite still feeling a bit of burnout from the recent races, I'm looking forward to discovering what these candidates have to say! Learn more about the race for mayor here: Andrew Halcro files letter of intent to run for Anchorage mayor, by Devin Kelly. My favorite political blogger, Amanda Coyne, predicts that Coffee will win, but that Halcro will give him a good run.
Collectors are so interesting – I always wonder what motivates the building of a collection? I have a bit of a mug, bowl, and blanket habit but I don't think it really counts… Check out this article featuring Bernie Warren – he collects old glass electrical insulators, and they are surprisingly beautiful: Radiant array: Anchorage man collects colorful pieces of history in glass by Mike Dunham.
I grew up running and skiing in Kincaid Park, and sometimes still worry about taking a wrong turn and getting lost. I remember my first Jr. Nordic ski on the Dark Ally: cold, alone, and fighting back tears I decided that I was irrevocable lost and no one would ever find me in the vast wilderness… (if you've skied the Lighted Loop you know how ridiculous this is). My father the hero eventually "saved" me and I rewarded him by deciding I hated XC-skiing, a stubborn belief I clung to for years until I discovered how much fun it really is. Mike and Jill Brook developed an app to save people of all ages from a similar experience, real or imagined. Learn more in Elissa Brown's Find yourself in sprawling Kincaid Park with new free app. I'm looking forward to trying it out, especially once we have more snow!