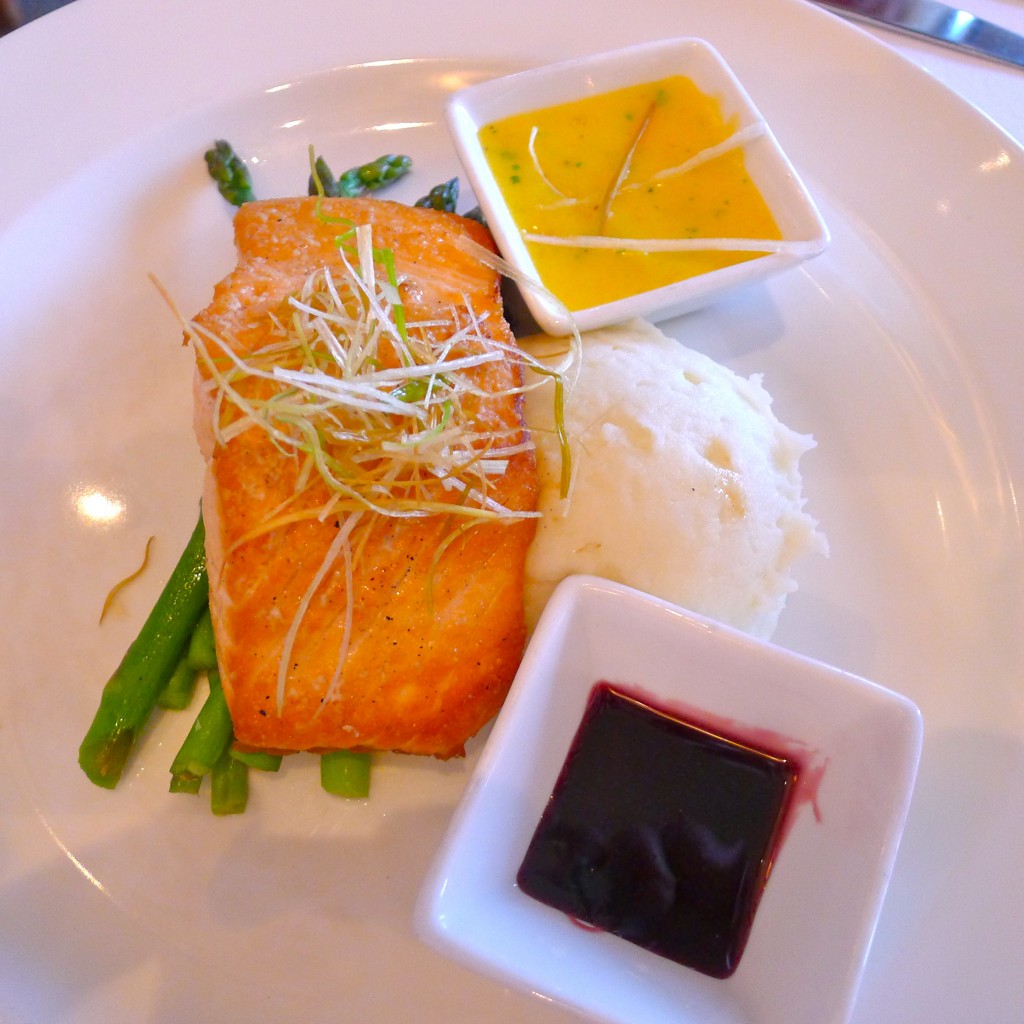 Do you have a restaurant for special celebrations?  The place you go for birthdays, anniversaries,  goals achieved, or just because you want to bask in the glow of good times past during a great tasting meal?
Growing up, my family usually went to Kumagoro, and then later to Orso (still both excellent choices!).  In D.C., my husband and I found a classic italian restaurant  that we loved.  He would order the chicken Francese with a white wine and butter sauce, and I would have the pesto pasta with garlic-y shrimp.  It was fabulous and we always felt like lady and the tramp because of the red and white checkered table clothes.
When we moved back to Anchorage, we quickly found our new favorite place: Kincaid Grill.  I think it's the best restaurant in town. It's tucked away at four corners (intersection of Jewel Lake and Raspberry) at the opposite end from Tastee Freeze, with a nail salon, hair dresser, tailor, and small grocery store in between.
Both DJ and my favorite dish is the salmon.  I've never tasted a dish as perfectly prepared as the salmon at Kincaid Grill (my dad's salmon is a close second though!).  My husband heard somewhere that Chef Al selects each filet himself so that they serve only the best of the best.  I wouldn't be surprised if it's true – it's just that good.  The other dishes I've tried are also excellent, the chefs use local ingredients as available, and the wine and beer list is thoughtfully chosen (or so say people who know these things; I still sometimes choose my wine based on whether I like the label).
Also, the last time I was there, they garnished a dish with delicate lavender blossoms, that turned out to be shallot flowers. I learned that all of their flower garnishes, even orchids, are edible.  Makes sense. But doesn't eating flowers feel incredibly decadent? I imagine something like this: "Let's invite Gretchen to brunch" "Oh her?  She only eats flowers for breakfast" and then there I am sitting in a white room at a vast wooden table, eating a bowl full of fresh flowers (weird, I know, but my day dreams are very specific). If you're into edible flowers, check this out.
Okay, back on topic: not only is the food consistently fabulous, the servers are discrete, polite, kind, funny, and knowledgeable.  They don't think twice about special preparation requests, remember food allergies, and occasionally bring out a surprise treat from the kitchen.
Kincaid Grill is pretty much all around awesome.  I think I need to find something to celebrate soon so I can go eat salmon and flowers 🙂