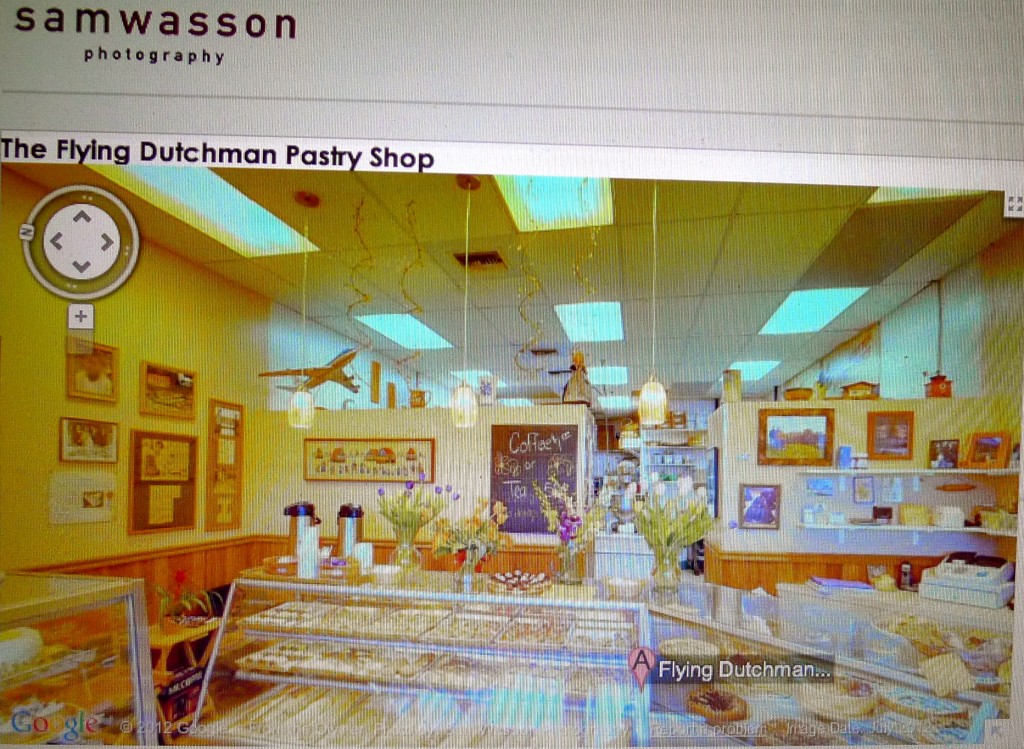 Yesterday I attended the Anchorage Downtown Partnership's* first marketing social, and Sam Wasson (Alaska's only Google trusted photographer) presented.
Do you remember a couple of summers ago when you would randomly spot a Google car driving around town with its funky globe shaped camera mounted on top?  And now sometimes you go on Google Street View and look at your house or your friend's houses and comment on who has or hasn't mowed their lawn or put their garbage cans away that day?  I don't, but I know people who do (you know who you are!).
I do, however, find Google Street View especially awesome for scoping out interesting real estate (a random compulsion of mine; in fact, I have a fledging friendship based on a mutual love of run down cottages) and of course, find landmarks so when I get lost I can look for recognizable buildings.
Some people use it for much cooler things, like these AMAZING images collected by artist Jon Rafman (if you have a couple of minutes I recommend checking out the slide show, it is so cool and unexpected – if you click one link, click this one).
Now, Google is taking their street view 360 technology inside: you can scope out businesses before you even open a door. Here's a video about the 360 Business Tour.
I think this tool has so many applications for business – imagine getting a 360 tour of your hotel room, local restaurants, a car dealership, a museum, a hospital, or a retail shop!
You could even do some sort of cool art project with it if you were feeling ambitious (and wanted to spend the $$$). And actually, Google is launching Google Art, not to exist as art istelf, but for tours.  The White House tour is already live (you can pick the museum view or the collection view), and having experienced the real world tour, this gives a great second option because you're not trying to peer over the shoulders of other visitors, and surrounded by a crowd on all sides. That said, the real tour is awesome, but so is this one: you can see all the public spaces and zoom in on 139 works of art.  There are plenty of other collections to check out too.
I digress; back to business! I tried out a 360 tour of The Flying Dutchman (which, isn't that a marvelously unusual name?).  A friend used to get up early on weekends just to make sure she would get one of their bran muffins.  Sometimes she'd bring me one, and I'd always promise myself that I'd go in person someday.  I haven't yet, so I thought I'd check out the 360 business tour.  I think that I can see a plate of bran muffins, and all sorts of other tasty treats.  And in this tour, it will forever be Mary's birthday (and oh, what a birthday cake!).
Anyway, I loved the marketing social (got to connect with friends old and new) and the presentation was great.  Here are some more takeaways from Sam's presentation:
You can embed the tours on your website AND on your Facebook page
Tours will appear on Google searches, Google Maps, and Google+ pages, but will not appear via other search engines
Tours are fully mobile (smart phone and tablet) compatible
Sam will give you a few high rez images to use in your other marketing efforts
Turnaround time after the photography session is 2 – 3 days
Currently, you cannot embed text, descriptions, or links in your tours (but maybe someday!)
So far, 27 businesses have 360 tours already completed; here are a handful: Kincaid Grill (my favorite!), Spenard Roadhouse, Cyrano's Theater (check it out and see if you can see all their cool framed posters), Marie's Beauty Salon and Spa (home of free Locks of Love haircuts!), Sacks Cafe, and Skinny Mini.
Thank you ADP for putting together such a cool event! I can't wait to see even more Business Tours (and am already excited for our next marketing social).
Do you have any cool ideas for using Google 360?
*Full disclosure: I'm on the marketing committee for ADP.  And I love it – such a cool organization!