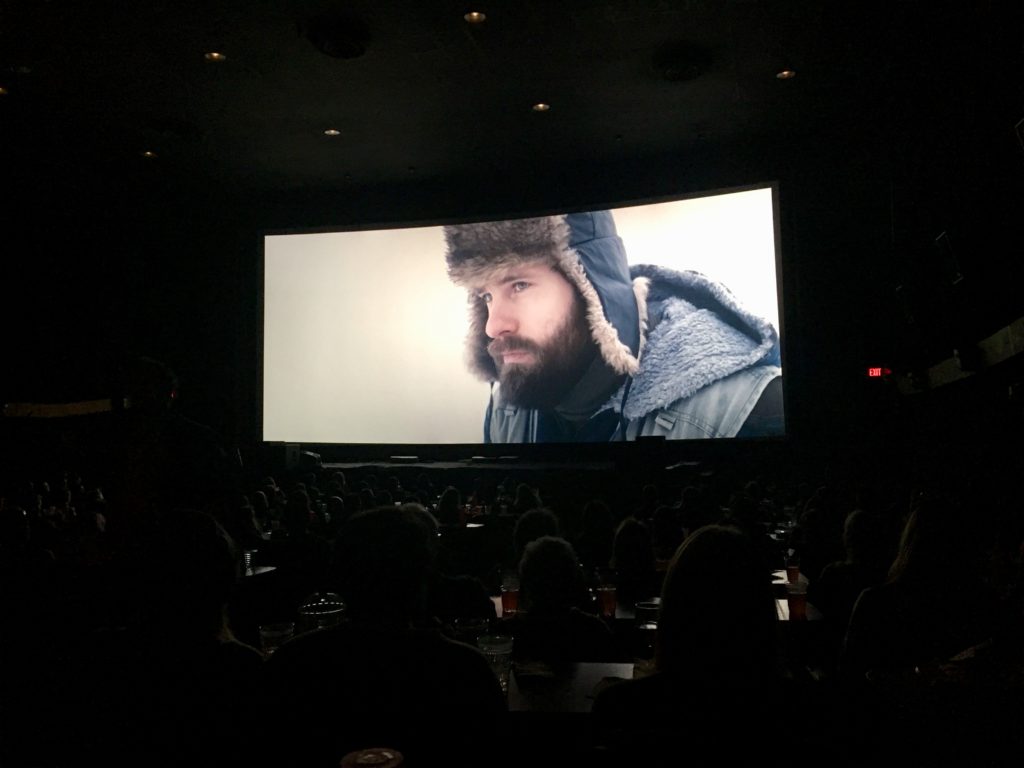 On Friday I attended the Anchorage International Film Festival for the first time, and definitely picked the right evening to experience films worth freezing for!
Here's why:
It was opening night, with all the accompanying excitement – the theater was buzzing with energy and overflowing with people looking forward to the 16th year of the festival.
I snagged the last booth available (my preferred way to watch movies at the Bear Tooth, give it a try if you haven't already), the food was delicious, and the organizers treated everyone to dessert and champagne.
I've always wanted to see the "shorts" but it never worked out in previous years; lucky me, opening night was ALL shorts this year!
Two of the directors (of two of my favorite shorts!) answered audience questions after the screening, and it was so cool to get a glimpse into their process.
Blackwater Railroad opened and closed the show, and was in fine form, maybe the best I've seen from them yet.
If you're not familiar with the Anchorage International Film Festival, it brings more than 100 films from all over the world to town for ten days, with a mission to "develop, promote and sustain a film festival that supports new media and independent film making in Alaska and around the world while enriching cultural and entertainment opportunities for Alaskans." Here's the schedule for the rest of the festival, which ends Sunday, December 10.
Back to the shorts. I think there were nine total and for me there were four standouts:
Cold Storage, pictured above, involved snow and ice, a corpse, lots and lots and LOTS of beer, and some incredible, totally unexpected and absolutely joyful dancing.
Feels Good was a locally made film, set in Fairbanks. It was fun to watch the story unfold amidst familiar landscapes and it had a great message.
Iron followed a woman during WWI on her journey to find meaning beyond marriage and children, which led her to a remote railroad outpost. I don't want to give anything away, but there was an Alaska tie-in that my dad said was similar to how my grandmother came to Alaska, where she met my grandfather.
Game started as a classic sports story and became SO much more. It was heartfelt, hopeful, and timely.
I love these four films so much, and ALL of the shorts were surprising, thought provoking, and highly enjoyable. If you're at all curious about this festival but don't think you have the time – adjust your schedule! Make the time. Pick a film you're interested in and go see it. If the rest of the festival is as quality as opening night (and I've been told it is), it's totally worth it.