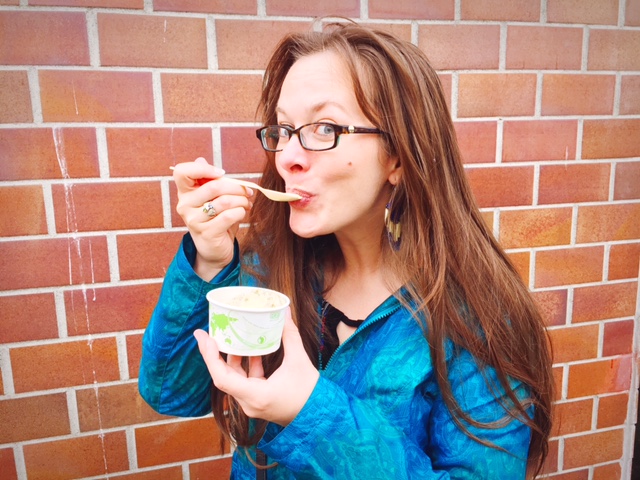 Pistachio gelato…
Cool, refreshing, flavorful, FREE pistachio gelato from Originale enjoyed by my friend Candice. AKA, the first perk I received from my fancy new Downtown Pass.
What's the Downtown Pass you wonder? Well, it's a new-ish offering from the Anchorage Downtown Partnership. Basically, you buy a pass that lasts the duration of a calendar year and gain exclusive access to various discounts, freebies, and complimentary treats from downtown businesses.
There are three kinds of savings: First Friday, month-long, and annual.
Here's what I'm currently most excited about:
On First Friday, get 10% off at the museum store. If you haven't been there recently, you're missing out. During my last visit, I drooled over the Anchorage neighborhood map dish towels (excellent hostess gift), the wall mount polar bear head, and all the photography books. There are plenty of gorgeous prints and Alaska native art as well, and the kids section is especially rad. Locals and visitors alike will find something special to take home.
This month, I'm eyeing the Alaska Escape Room experience – 15% off for your entire group! I haven't had a chance to go yet, but everyone I've spoken with says it's sooooo much fun. If you don't know what escape rooms are, Wikipedia is here to help: "An escape room is a physical adventure game in which players solve a series of puzzles using clues, hints and strategy to complete the objectives at hand. Players are given a set time limit to unveil the secret plot which is hidden within the rooms."
Check out this fabulous annual saving: A free bakers dozen of the best donuts in town (once per year). For the uninitiated, this means Kobuk's old fashioned donuts, baked fresh daily! Bring these to your next staff meeting, and you'll be the office hero.
These are just a few opportunities to save on downtown fun – check out the full list: August DT Pass Specials
Since it's August (passes expire on December 31), ADP dropped the price to $49 and generously offered readers of Gretchen Loves Anchorage a discount! All you have to do is enter the "GLOVESANC" promo code at checkout to save $10, bringing your total to only $39! For context, the donuts from Kobuk cost $18 and you'll save $58 at Alaska Escape Rooms so you'll easily make up for the cost of the pass with just two perks. The reader discount is available now through September 9 (basically, sign up now to access discounts on two First Fridays).
Passes come in two sizes: credit card and key chain, and can either be mailed to you or picked up in person. If you're downtown for First Friday, you might as well swing by and grab it! Speaking of First Friday, it's going to be a good one; here are just a few of the fun things planned:
Carol Lambert Paintings and Drawings Opening Reception: 5-7 pm at The Kobuk
Velvet by Graham and Spencer Trunk Show: 11 am-7 pm at Blush Boutique
Free screening of the film Happy People: 6 pm at Anchorage Museum at Rasmuson Center
Kathleen Bonnar & Crystal Jackson Ink/Watercolor Opening Reception: 5:30–8 pm at Snow City Cafe
The Great American Trailer Park Musical: 7 pm at Cyrano's Theatre Company (tickets)
Paintings by Ashley Adams-Seabolt: 5-10 pm at Rochon by Byers
First Friday after party: 8-10 pm at Sacks Cafe
I hope to see you all out and about, enjoying downtown Anchorage!