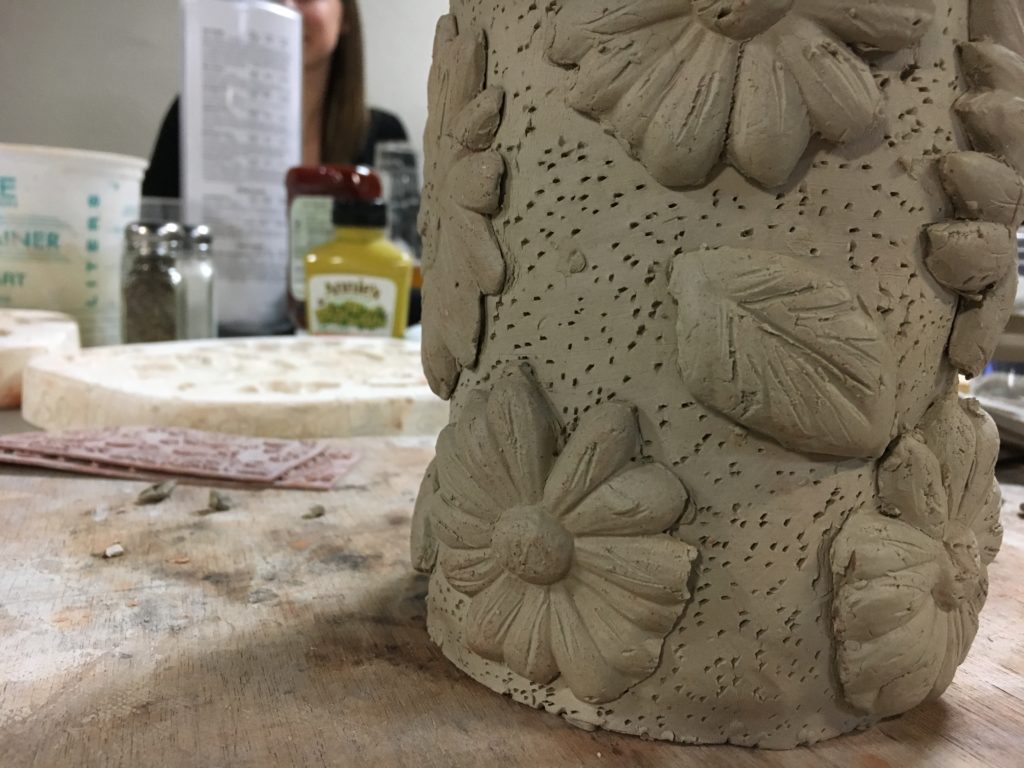 Guten Tag, wie geht's?
That's about the extent of the language I retained from four years of high school German.* Despite forgetting most of the language I learned, I still feel an affinity for Deutshland, mostly because I have a fair amount of German in my ancestry (all mixed up with some Scandinavian, French, English, and who knows what else…) and I'm fascinated by headlines touting Berlin as the #1 startup hub in Europe. Also, Das Sound Machine!
All this to say that when a friend invited me to partake in a beer stein making class with Clay Owen Studios at 49th State Brewing Co., I was totally in: great company, good food, local brews, messing around with clay, "honoring" my Germanic heritage… not a bad way to spend a Friday night!
The class was held in the basement of the brewery. Each table was set up with supplies, and the teacher/studio owner, Autumn, gave a short explanation of how to make a stein and then circulated with a few helpers. Hands on instruction was just a cry for help away (there may have been a couple of these coming from my table in the vicinity of my chair…) but the decoration and design of steins was not prescribed, meaning there was plenty of room for creativity. An added bonus was ordering refreshments (must keep your strength up!) from 49th – I chose a seasonal brew and a pretzel (both tasty!) to keep with the theme.
My final stein was a bit misshapen and heavy… but oh so fun to make. Autumn took all the pieces back to her studio, where class participants can either schedule time to glaze their work, or ask her to do it for them prior to firing.
If you'd like to make a beer stein of your own, there's another class coming up on January 20, timed perfectly to coincide with Alaska Beer Week, which celebrates the depth and diversity of craft beer in Alaska.
Prost!
*That and "Mein Name ist Hase ich weiß von nichts" which translates to "My name is Hare and I don't know anything" (seems appropriate) along with some vague lyrics to Neunundneunzig Luftballons. I'm NOT impressed with my language skills, but downloaded the duolingo app to see how much I can get back. What's the best way you've found to learn a language?