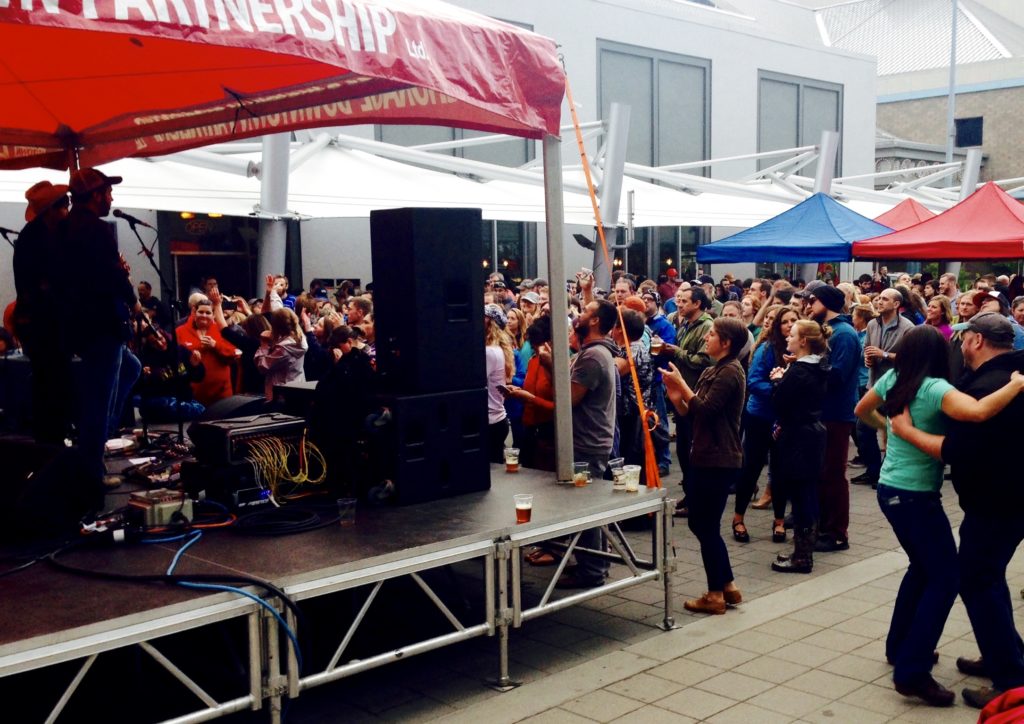 Did anyone else miss out on tickets to the Modest Mouse – Summer Solstice Party at Moose's Tooth? Did you glance at your phone and sigh as friend after friend posted videos and photos from the concert? No? Well, check out this photo album and tell me you're not just a teeny, tiny bit envious…feeling it now? Take heart, dear reader: although there have been a ton of great concerts in Anchorage recently (hopefully you made it to one or two or more), there are even more on the horizon!
Some of the acts getting the most buzz are Diplo (July 3), Wu Tan Clan (August 13), Carrie Underwood (August 31), the bands for the Road to Warped Tour (June 22), and the Offspring (October 20). Tickets for these shows sell out ridiculously fast, but that's not necessarily a bad thing; as DJ Spencer Lee said about Modest Mouse, "When people consistently buy tickets to events it allows promoters to book bigger names (and take bigger risks). Congratulations Anchorage – this is big and you earned it."
Of course, the above line-up doesn't include our great local music (I was recently at an event featuring the Nervis Rex, Blackwater Railroad Company, the Denali Cooks, Strumming Dog and Double G, and the Young Fangs – they all rocked it! Other local standouts like Todd Grebe and Cold Country, Anna Lynch, the Rebel Blues Band, the Super Saturated Sugar Strings, and Sassafrass play semi-regularly around town), DJs, music festivals, and lesser known Outside groups like Jared and the Mill, who performed at a free outdoor concert courtesy of Humpy's and was so, SO good (the photo above is of the crowd at their show).
I recently chatted with Tim Waters* of We Are The Movies; born and raised in Anchorage but currently living in Ohio, he'll be performing this week at Chilkoot Charlie's (June 21) and the Road to Warped Tour at the Sullivan Arena parking lot. Tim is a classic 90's kid who fell in love with Dookie by Green Day and decided to become a musician. He's glad he got his start in the Anchorage music scene, and remembers tons of high school bands and young musicians coming up together, helping each other out, and spending late hours at the Village Inn on Northern Lights talking about their dreams. Even though there are more musicians in California (where Tim lived for a few years with his former band, Nothing Less) he says that "you never find people who are as dedicated as you do in Alaska – you develop a loyal, local fan base here. You can't just show up and leave for the next town, you have to work at it."
Although Tim returns to Alaska periodically – his last visit was about a year and a half ago – he's particularly excited about this trip. We Are The Movies will be performing Tuesday and Wednesday, but will be in town a full week to experience summertime in the land of the midnight sun: fishing, road trips, staying up super late… he thinks his band mates are going to "freak out" over solstice and Alaska in general.
It'll be interesting to see if Tim thinks the scene up here has changed; hopefully it's still the welcoming community he remembers! I think it will be – venues like Taproot, Humpies, Williwaw, and the Tooths have given us access to great live music, and I think we appreciate talent more than ever. So join me Anchorage, whether you love punk rock, country, hip hop or bluegrass, and celebrate these music makers in the way that will mean the most: download songs, buy tickets, sing, dance, and make memories that will last a lifetime!
*Reader bonus: Visit www.wearethemoviesband.com/alaska for a free download of the band's latest EP, Get Busy Living… available until the end of June. And, read more about Tim in the Anchorage Press here: Open Waters.