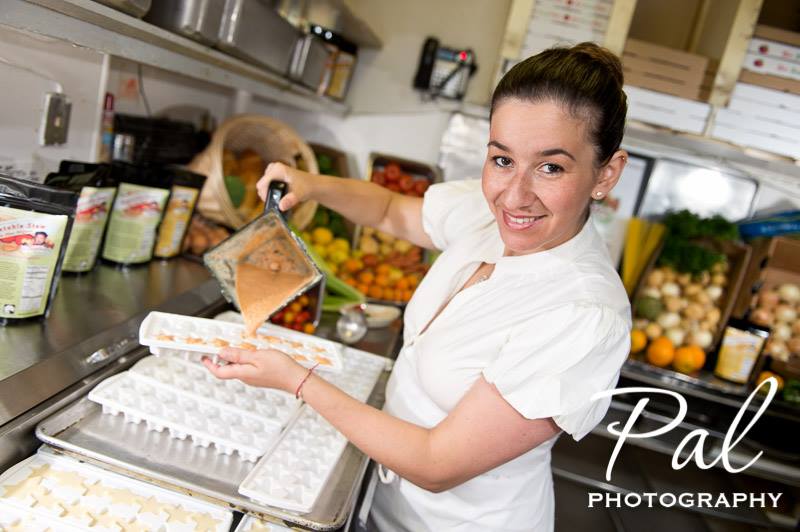 Don't be surprised if someday Anchorage's Zoi Maroudas-Tziolas rules the world of baby food (or maybe straight up rules the world). She founded Babmino's Frozen Baby Food during 2012 and after learning more about it, I'm convinced that it's the future of fine dining (and casual dining, and snacking) for all the little people in our lives.
Here's why:
Zoi draws on her background in nutritional research and medicine along with her knowledge of Mediterranean cuisine (she was born in Greece and visits regularly; her family owns the popular Pizza Olympia in Spenard) to ensure quality nutrition and savory flavors.
Bambino's features organic, natural ingredients including Alaska grown products and wild caught salmon and halibut! Also free of preservatives and additives.
Zoi's recipes calculated precisely for your baby's developmental and nutritional needs, with a precise balance of protein, carbohydrate, and veggies.
All Bambino's products are approved by allergists and pediatricians, and Bambino's offers the first teething cookie to help reduce chances of acquiring a peanut allergy.*
It's quick and easy to prepare – just melt the frozen portion and it's ready to go (although I've heard that teething kiddos like to gnaw on the frozen cubes).
Bambinos is soon to be WIC eligible (I hope!). Sign the petition for WIC approval here.
Products are delivered straight to your door! Order here, or if you're a local, head to the South Anchorage Farmer's Market.
Bambinos won the grand prize and two people's choice awards at the Alaska Symphony of Seafood, and has scored a ton of media attention. One my favorite stories is Ask Alaska: How does fish flavored baby food taste? and Meet the mom behind Alaska's award winning, fish-flavored baby food does a great job of telling Babmino's and Zoi's story.
Bambino's is currently in the running for a FedEx grant that would allow Zoi to ship her products anywhere in the country…for FREE. Voting ends on June 13 and you can vote once a day, which means you can vote 17 times before the competition is over: VOTE HERE. It's a great way to support an Alaskan entrepreneur!
If you'd like to follow along with Zoi's adventures as a mom and entrepreneur, check out her blog, Zoi the Mom-Preneur – the daily ongoings of a busy mommy. I think you'll be just as impressed and inspired as I am!
*The Peanut Mani teething cookie was developed with the Allergy, Asthma and Immunology Center of Alaska and has been carefully formulated with the exact amount of peanut protein that helps build up natural immunity to peanuts. The study is called LEAP and has been published by the New England Journal of Medicine.
Photo by Pal Photography