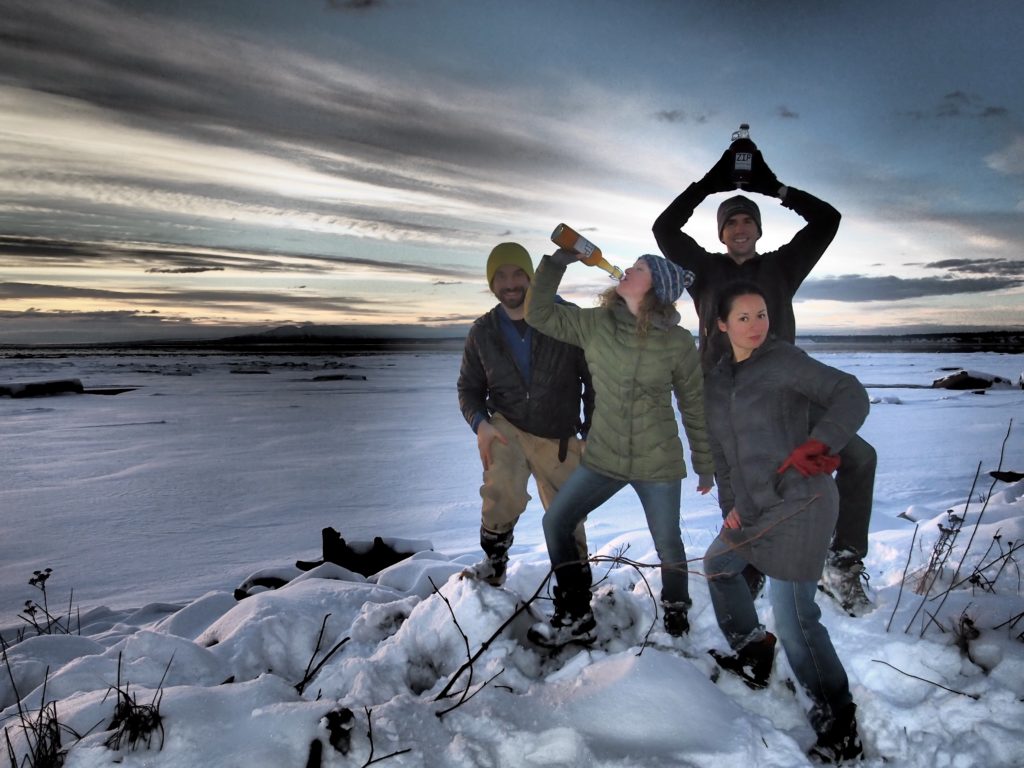 The times, they are a changing here in Alaska. It's impossible to know what the future will look like, but we all know it will be different. I still believe that Anchorage (and Alaska as a whole) is a place where you can thrive, and despite dire rumblings about state budgets and oil prices, the Alaskan entrepreneurial spirit remains strong. For every depressing news story I read, I learn about a new business opening its doors.
Case in point: Zip Kombucha.
For those unfamiliar with kombucha, it's a probiotic iced tea. The Zip team (Kyle, Ashley, Jesse, and Linda, pictured above) makes theirs with black teas, fresh fruit, herbs, and vegetables. It's low on sugar and high on antioxidants, and the team is focusing on providing $12 growlers instead of pricey single serving bottles. They've been making the rounds in town, offering tastes and drumming up support while growing their customer base. At events, Linda has been surprised at how kids request soda, but readily drink a glass of kombucha instead (and most of them like it!). As a healthy alternative to high sugar drinks, kombucha offers enough flavor and effervescence to feel like a special drink.
The Zip team is tireless – they are EVERYWHERE. Acro yoga, growlers at The Boardroom, tastes and full size beverages for DDs at the Alaska Crafted festival, and today they tapped a keg of kombucha at Odd Man Rush Brewing, the first Eagle River location to carry their product. Want to learn more?Here's a story about Zip and the soon to launch Double Shovel Cider Company: Local cider, kombucha bring to fizz to Anchorage.
There are nine days left in Zip's kickstarter campaign (and as I write this, they are $162 away from their base goal), which will allow the team to purchase kegs and a cooler trailer (doubling as a mobile kegerator). Exceeding their goal will allow for more kegs, kegerators in local businesses, and a Brite Tank which will save money on labor.  Jessie says that Anchorage has been incredibly supportive of Zip as a new local business, and that "from friends and coworkers to our landlord we have had nothing but amazing feedback and support."
Despite all the momentum, there is still much to accomplish. As Linda says, "getting a business started is extremely hard work and beating the pavement and not giving up is a given."
But worth it. Absolutely worth it.