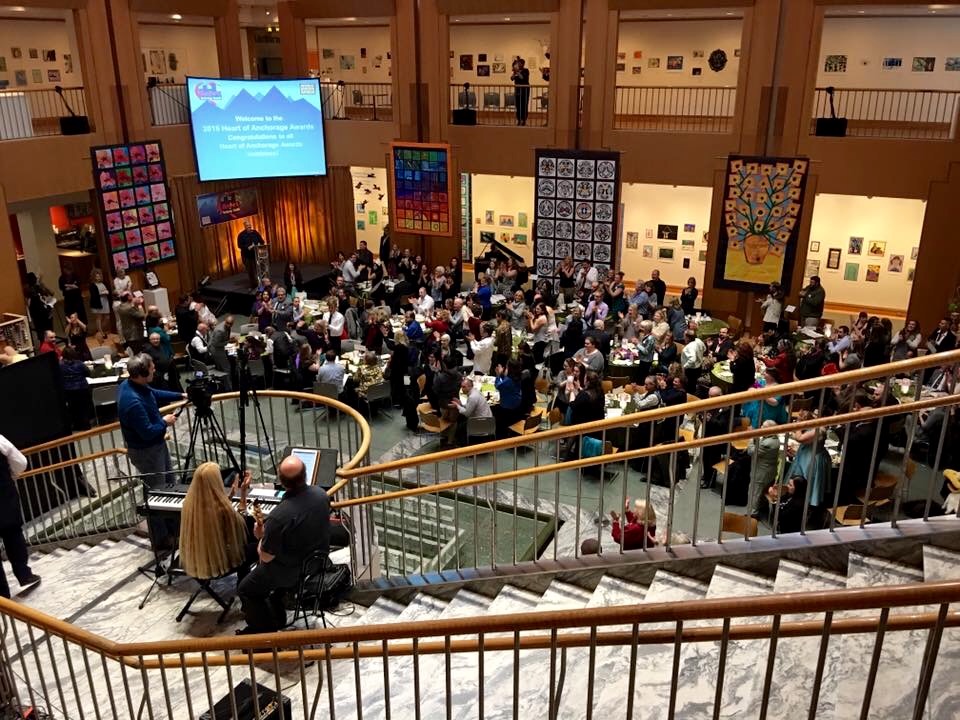 The coolest thing happened tonight at the Anchorage Downtown Partnership's Heart of Anchorage awards, which celebrate the people, businesses, and nonprofits committed to excellence in downtown.
Before I share the coolest thing, these are some of the other cool things that happened at the event:
Mayor Berkowitz described downtown as "the neighborhood that belongs to all of us" which I really love.
I got to hang with my favorites from the United Way Downtown Scavenger Hunt planning committee and the downtown partnership.
The crowd was rowdy and raucous and tons of fun.
All the downtown restaurants prepared delicious morsels to share with the crowd (and I tried a new cider that tasted like apple pie in a bottle).
The scavenger hunt team and the critters from Visit Anchorage were both in the Spirit of Anchorage category and despite neither of group winning, we had a super intense Sharks v. Jets style snap off, which was its own kind of reward.
There are SO many incredible people doing great work to make downtown clean, safe, and vital; check out all the nominees here.
The coolest thing though, was when all of the nominees stood to be toasted and a singer from the Anchorage Opera launched into an Italian drinking song. And then another singer from across the room joined in. Then one from the balcony. And another from behind a column. Then another and another and another and until the entire museum atrium was ringing with song. It was like being in the middle of a glorious flash mob, and as my friend said, "Now I'm feeling all the feels!" Those Anchorage opera singers sure are talented…and I will remember that song for the rest of my life. Surprise and delight is always the best way to win a crowd.
To close with another quote from the mayor (he really did give a darn good speech), "I believe in downtown. I believe in Anchorage." And I believe that with so many great people shaping it, Anchorage really will become the #1 city to live, work, and play.
*Photo by the Anchorage Downtown Partnership