If you follow the Anchorage photography scene at all, you've probably heard of Ash Adams. And if you haven't heard of her, I'm sure you've seen her work.
Her photographs for the Alaska Grown / Alaska Seafood Marketing Institute's Eat Alaska campaign are particularly vibrant – color, texture, composition; really, it's just a brilliantly done series starring our state's incredible seafood in what I can only assume are gloriously delicious recipes from some of the best chefs in the state.
I'd only admired Ash's work from afar until a few months ago when a friend, Amy, invited me to "model" a gorgeous scarf she donated via her company, Wilco Life, to raise money at the annual YWCA Alaska/BP Women of Achievement Awards and Purse Auction. Despite my need to use quotation marks when the words "me" and "model" are used in the same sentence (evidence of why I feel this way here) I jumped at the chance for three reasons:
Spend an evening with a fun group of ladies drinking wine and wearing something pretty? Yes please.
YWCA Alaska is an incredible organization working toward eliminating racism and empowering women.
ASH ADAMS volunteered to do the shoot.
I love Ash's portrait work because she captures moments that speak – a gesture, a glance, the tilt of a head – and that feel totally natural yet like they're something special. So even though I generally feel squirmy in front of the camera, I didn't want to miss the chance to meet Ash and see her in action….and it was even better than I hoped. I didn't feel uncomfortable once – part of this was due to the wine and Amy's infectious good spirits, but mostly it was Ash. She was warm, inventive, and we laughed through the entire shoot.*
Afterward, I realized that this is part of her gift – she makes it feel normal to be standing in front of a camera, and so you relax and that's when she really goes to work.
Thanks Ash and Amy for a fun evening, and for donating your skill and scarves (respectively) to YWCA. This is one of my favorites – no fake smiles here!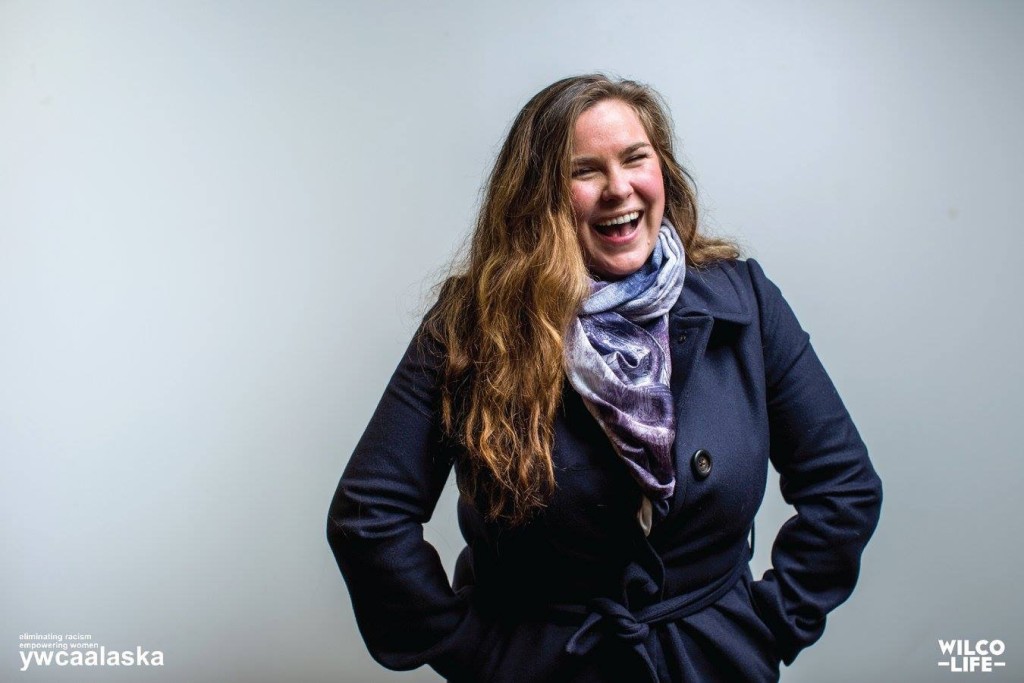 *Many references to the brilliant "Women Laughing Alone With Salad" were made…and most of my photos could be titled "Woman Laughing Alone Wearing Scarf."
Top photo – Ash in action, photographing Erin Hamilton