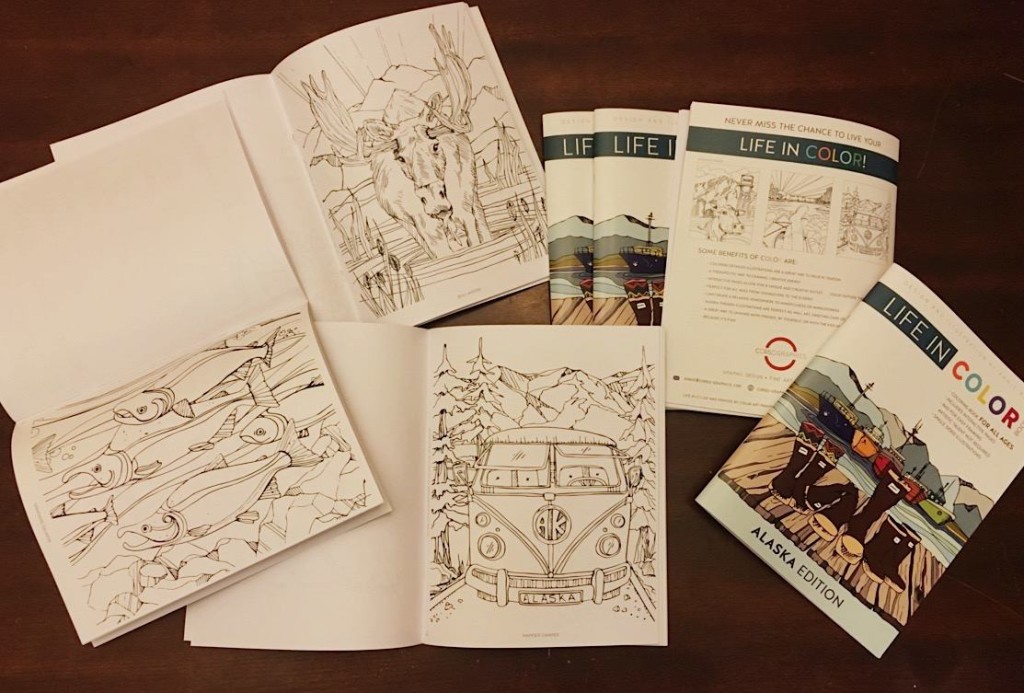 Did you know that coloring books for adults are trendy right now? I read an article about it a while ago, thought to myself, "Well doesn't that just sound fun?" and promptly forgot about it until a few weeks ago when phenomenal local artist, Annie Brace, started posting teasers of her Alaska edition, Life in Color Book, on Facebook.
It's finally finished, and I picked up my copy today! It's filled with scenes that we're all familiar with – blueberries at Flat Top, Sleeping Lady, Xtra Tuffs, and an old VW van to name a few – gorgeously rendered by Annie, just waiting for us to add our own bit of color. I dove in with my set of sharpies (don't judge, it's all I have!) and quickly reached a blissful state of flow.
From Annie:
"Life in Color Book: Alaska Edition! It's not so much an adult coloring book, as much as it is an all ages coloring book. The adults gravitate toward the intricacies and detailed illustrations while the subject matter pulls in adults and kids alike. Most of the illustrations are coupled with a secondary interactive page where you're called to complete a partial illustration (let your creative freak flag fly!)."
If you want to scoop up your own (or five), Life in Color Book is available for $15 in town at Dos Manos, Bella Boutique, 7E Studio, the Artique, Blaines, Cabin Fever, Mabel McKinley, and Title Wave Books and online at Etsy.
Enjoy!