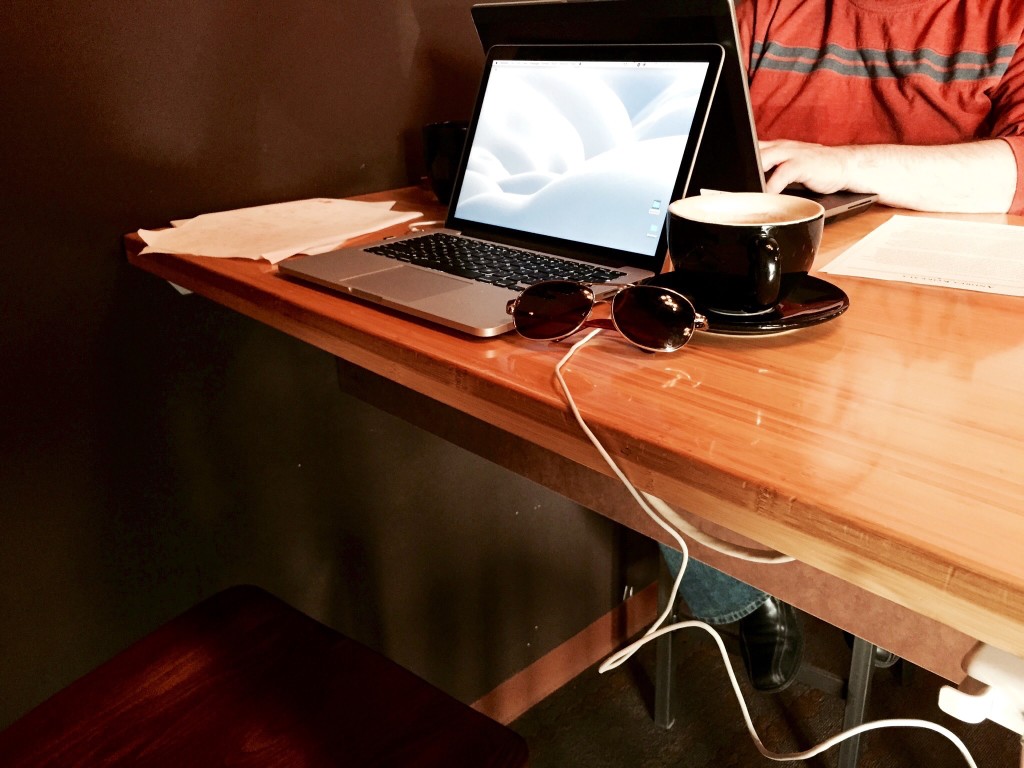 One of my favorite new publications is The Boardroom's UNLEASH magazine, and not just because they asked me to write for them; I love the variety and depth of articles included each month. It's a unique voice about inspiration, culture, and opinions in our community, and I hope that you check it out!
Here's the article I wrote about talent-matching, co-working, and freelancing in Anchorage for this month's publication.
Talent-matching, Co-working, and Freelancing in Anchorage
Each morning, Joe Morrison arrives at his workspace, cup of coffee in hand. He greets his fellow workers, fires up his laptop, and settles in to send emails. A typical morning for many professionals, with one key difference: Joe is a freelancer. Ten months ago he left his job managing the 49th State Angel Fund at the Municipality of Anchorage to launch Biz21 Consulting and has been blazing forward ever since. Case in point: just a few weeks ago the Small Business Administration announced that Launch: Alaska – a non-profit, experience-based business accelerator with underlying investment fund helmed by Joe in a volunteer capacity – won $50,000 via the Growth Accelerator Fund Competition.
Although Joe chooses to work from the Boardroom (he cites the Class A office space, attractive décor, and sense of community as selling points…. the free coffee and beer probably don't hurt either), he could work anywhere: his kitchen table, a nearby coffee shop, or an Airstream trailer somewhere along Highway 65. Joe isn't alone – the Bureau of Labor Statistics says that the number of self-employed workers in the United States has increased by one million during the last year (now totaling 15.5 million), and Emergent Research estimates that 60 million people will be independent workers by 2020.
In Alaska, 7.2 percent of the population – 50,000 plus workers – is currently self-employed; however, the portion of that number representing independent workers is not tracked. Our state is ranked fourth in the Tax Foundation's 2015 State Business Tax Climate Index, which identifies states with the most competitive business tax systems; Alaska's rank is attributed in part to the absence of both state sales tax and individual income tax. Additionally, the Kauffman Foundation ranks Alaska seventh in the country for startup activity (down from 2014's second place rank, but still respectable). Although neither ranking is specific to independent workers, it's not a great leap to conclude that Alaska offers a fairly healthy business environment for professionals making a go of it on their own.
In Here's Why the Freelancer Economy is on the Rise, Brendon Schrader cites corporate downsizing, shifting economic conditions, and employee dissatisfaction as reasons more and more people are choosing independent work, but writes that access to co-working spaces and new platforms for pairing talent with business "have slowly fueled the trend in a much bigger way, lowering the barriers that once made independent contracting much more challenging."
In Anchorage, a city known for lagging behind the rest of the country (whether or not this is actually true is debatable), do co-working spaces and talent matching platforms make the same kind of impact?
Co-working spaces
During the last few years new co-working and co-creating spaces have opened their doors. The Boardroom leads the co-working trend, with spaces in Anchorage and Juneau; a Fairbanks Boardroom is in the works. Co-creating spaces, like Anchorage Community Works and Anchorage Makerspace, are hubs for artists, crafters, musicians, and makers. Less formal spaces are busy too – wander into a coffee shop midday and the busy tap tap tap of fingers on a keyboard is as ubiquitous as the sound of baristas pulling espresso shots (swing by the downtown Kaladi Brothers or the midtown Steamdot and you'll see what I mean). Anchorage Public Library branches are also attractive locations for independent workers – not only are workspaces and Wi-Fi free, branches host groups providing writing, entrepreneurship and technology training as well as access to databases offering information for financiers and researchers. Shared spaces are so appealing that it's not uncommon to find a refugee from corporate Alaska working amongst the freelancers in hopes that spending a few hours as part of an innovative, vibrant community will shake loose an little inspiration and productivity.
In Anchorage, the Boardroom has become a magnet for creativity, and new partnerships are being made and entrepreneurial ideas being formed. Jon Bittner, Vice President of the Anchorage Economic Development Corporation, says "Alaska attracts the dreamers and the risk takers, the adventurous and the wild. It's not really all that surprising that when you put folks like that together with advanced technology and collaborative workspaces they create something amazing." He continues, "For example, we're seeing research in containerized agriculture to provide healthy food to arctic communities, drone builds to explore and track Alaska's diverse wildlife, traditional native art created using 3D printing technology, and cutting edge petroleum technology being exported worldwide."
Talent-matching platforms
Digital talent-matching platforms like Upwork and Freelancer connect independent workers to global employers, which means that Anchorage's freelancers can pursue project opportunities anywhere in the world. However, many say they rely on their personal networks and word of mouth recommendations for capturing new, mostly local business. Other traditional avenues for finding work remain relevant as well: Alaska Executive Search, an employment agency with nearly 40 years of experience, recently advertised a short term gig requiring expertise in PowerPiont and social media, and even national talent matching experts recommend old standbys like Craigslist for finding freelance jobs.
Although the Anchorage freelancers interviewed for this article have yet to capitalize on digital talent matching opportunities with global reach, the transformation of project specific work is in line with national trends. Brendon writes, "…the rise of independent work isn't just a boon to independent workers, either. It also allows businesses to find more targeted and better qualified talent to address their needs—typically at lower costs."
In Alaska, "staffing up" is standard in seasonally demanding industries like fishing, tourism, or construction, but the growing practice of hiring a team of freelancers to execute short term, professional projects is new-ish. David Taylor of Element Agency says his company operates as a core team of three with access to numerous freelancers specializing in strategy, communication, and design. By handpicking freelancers for each project, he can customize his team to perfectly fit client needs. This model is especially attractive to clients because it keeps the costs down (no "hard core" overhead) and the freelancers he hires to be on his team are highly motivated. Not only are they representing themselves, they have the flexibility to work however best suites them; whether it's wearing a blazer in a co-working space at 2:30 PM on a Tuesday or cozy in pajamas in the kitchen at 3:00 AM on a Saturday, they create where they want and when they want. As David says, "Creative people work on inspiration. You can't just put them in an office from nine to five and expect something brilliant to happen. It just doesn't work like that." He believes that Anchorage is great place to do this kind of work (on par with trendsetting cities like Nashville and Austin) and sees demand increasing: "Hiring freelancers means small companies don't have to bear the burden of overhead like technology and benefits for additional employees. Having access to benefits like Obamacare has made being on your own less scary. But it also takes the pressure off of small businesses that are penny pinching. It's a win-win."
Although it's difficult to determine if co-working spaces should be credited with an increase in the number of Anchorage-based independent workers (especially since we don't actually know if or by how much the number is increasing), they are certainly responsible for bringing attention to the lifestyle. Freelancers in Anchorage seem to be a bit behind the rest of the country in utilizing talent matching platforms, perhaps because traditional methods of capturing work are still sufficient. However, as more and more people turn to freelancing, many will be forced to broaden their search for work beyond local markets. When this happens, our freelancers will truly be location independent and continuing to offer appealing work spaces, an attractive business climate, and high quality of life will be more essential than ever. Fortunately for Anchorage, Joe speaks for many when he says, "Alaska's my home. It's the most beautiful place in the world. Who wouldn't want to live here?"