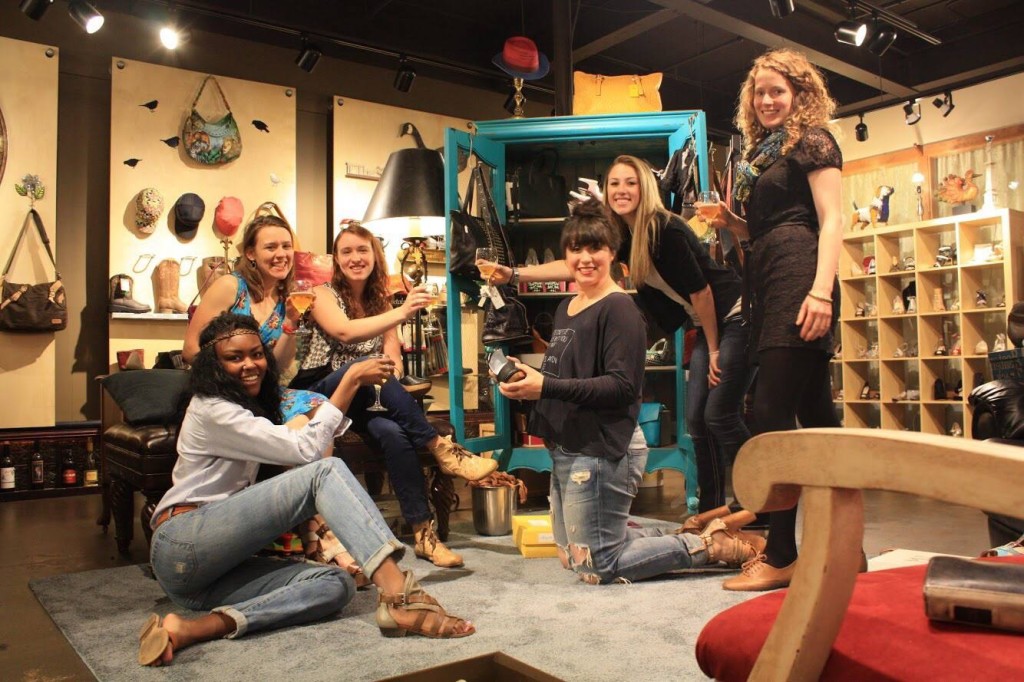 Tucked away behind Orso and Glacier Brewhouse is a shoe shopping nirvana by the name of ShuzyQ. Despite loving ShuzyQ since its arrival in Anchorage more than five years ago (how could you not love someplace that describes itself as "…a love letter to the practical Alaskan woman and the princess inside of her.") I've never really thought about where all the lovely shoes come from (too busy thinking about how they all need to come home with me and live in my closet!) until last week when I chatted with Shawna, who co-owns the store with her mother, Dawn, about their recent buying adventure to Atlanta.
Although miles and miles of the hot new shoes everyone will be wearing six months from now may sound like paradise to many of you, Shawna assures me that it's actually a lot of work. If you've spent time at a gigantic trade show before – whether it's drones, construction equipment, or super cute shoes – you know it is exhausting. The concrete floors, fluorescent lights, bad food, and people and products incessantly competing for your attention take their toll.
Despite the looming possibility of trade show fatigue, the ShuzyQ team is very, very thorough at each show. They don't just pick their favorites – they evaluate each shoe for its suitableness for Alaska. This means traction and materials that won't be destroyed at the slightest hint of snow or rain. That's not to say that they don't pick dreamy, decadent, just-because shoes (everyone needs a pair of these – I have a pair of over-the-top jeweled sandals that I wear approximately 2x a year… but I love them), but when they do, it's a carefully considered selection. Fall trends for 2015 include rustic chic, wedges, men's tailoring inspired accents, and thicker heels. Metallics are still going strong, and Birkenstocks are BACK (head to the Walking Store for those though, ShuzyQ doesn't carry them).
Apart from the obvious (cute shoes!), here are a few reasons I love ShuzyQ:
Something for everyone – sizes, price points, styles…. ShuzyQ tries to make sure that if you want to buy shoes, there will be a pair that's just right, waiting for you to come along and scoop it up.
Private parties – bring food, wine, a bunch of friends, and shoe shop to your heart's content!
Alaskan advertising – instead of using stock photos for advertising, ShuzyQ photographs employees modeling their favorite shoes on mountains, in the snow, on the beach, in downtown, etc. – basically all the places Anchoragites love to go.
Cute for a cause – the buying team looks for companies that give back; for example, they carry a brand of shoes that gives 100% of proceeds to medical research and several jewelry lines that are fair trade and employ women who are supporting their families with living wages. They also sell a brand that is made in sub-Saharan Africa; all of the design and production happens there, the employees earn three times the national average and receive medical and other benefits.
Community involvement – ShuzyQ events generally focus on something with a positive impact, like the fashion show they hosted with Big Brothers, Big Sisters; the Bigs and Littles were models and attendees could donate to the cause or sign up for a Bowl for Kids Sake team. Fun stuff!
More than shoes – the selection of handbags, belts, socks, scarves, hats, and jewelry is great too!
Next up for ShuzyQ is expanding to a second shop in Anchorage's hottest new space: the storefronts adjacent to South Restaurant and Coffeehouse. Based on quality of product and staff (and mass excitement on Facebook), it's bound to be a huge success – congratulations to Shawna, Dawn, and the rest of the team for taking this step!
The South shop opens September 5th and if you'd like to attend the grand opening, stop by the downtown ShuzyQ for First Friday (they have some REALLY cool stuff planned – details here) for tickets and a chance to win free shoes for a year! Bonus: between 7:30 and 8:30 you get double entries for free shoes – I'll see you all there?!
In terms of my style search, access to a fantastic local options for shoe shopping – ShuzyQ, Her Tern, and Skinny Raven – goes a long way in making me feel chic and confident. Our local boutiques are top-notch, and I'll share more about some of my other favs in the future!