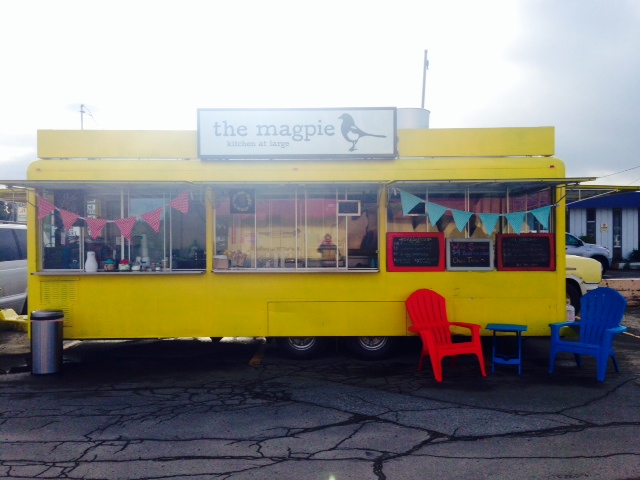 There's a new food truck in town: the magpie.
I've been grieving the loss of my former favorite, Wheel Good Food, but am finally ready to move on. Perfect timing – The Magpie opened a month ago and there's so much to love about a "kitchen at large offering breakfast and lunch, pie and ice cream social, cooking classes, and creative events" especially when it's all housed in a cheerful yellow trailer decorated with pennant banners and lawn chairs out front. Not enough to piqué your interest? The focus is "fresh from farm to fork" which means the food is especially flavorful and delicious.
I stopped by before work one morning to try the famous breakfast sandwich and had the place (parking lot?) to myself, which was the perfect opportunity to get to know a bit about Chef Amanda and the magpie.
Before coming to Alaska, the magpie was a brew truck in Texas, complete with multiple kegs. It's easy to picture – the long counter would make a great bar, and I imagine it was a welcome addition at many a festival and fair. An Anchorage restaurateur bought it with plans to turn it into a taco truck as an extension of his current business but after outfitting it as a full kitchen realized he wasn't ready to expand. Enter Amanda… she's been a chef for 17 years,* but with three children realized she couldn't open her own restaurant or be an executive chef if she wanted to spend time with her family. Previously, she ran the Allen and Petersen Cooking School and starred on a couple cooking shows, but launching the magpie gives her a chance to be back in the kitchen as a full-time chef, cooking what she wants, where she wants, with a flexible schedule for her kids. Perfect for her, and perfect for us!
Learn more about the magpie here: Anchorage Food Truck Community Growing and here: All Aboard the Gravy Train: 'The Magpie' Serves Up The Goods in Anchorage
Like all good restaurants using fresh and local ingredients, the menu is subject to change. Here are the offerings for the day I visited:
Breakfast
Egg Sandwich
Gluten Free French Toast
3 Egg Omelette
Biscuits and Gravy
Lunch
Mac n' Cheese
Egg Sandwich
Hoosier Tenderloin
Fried Green Tomato BLT
Dessert
Wild Scoop Ice Cream – Chai Tea
The Fried Green Tomato BLT is on my "must taste" list. As for my breakfast sandwich, earlier this week a customer asked Amanda, "Do you put magic in that sandwich?" I wouldn't be surprised if the answer is yes… That's how good it is. So so SO good.
If you'd like to meet the magpie, Amanda will be at the following locations during the next week:
Saturday – Delaney Park Strip for Park Founders Day
Tuesday – Pack Rat parking lot
Wednesday – Pack Rat parking lot
Thursday – Chilkoot Charlie's parking lot for the Spenard Food Truck Carnival
Friday – Pack Rat parking lot
I hope you visit the magpie soon; I know I'll be back. And, sign me up for cooking class – can't wait to learn how to make my own magic!
*Fascinating former job: Amanda was the executive chef for haunted Story Inn, a ghost town turned tourist destination, complete with bunk houses and of course, excellent food.